Finance
Cash Won't Be Obsolete in India Anytime Soon
Many still rely on it, even after the government made bank notes hard to get.
By and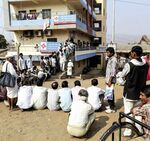 India's road to a cashless economy is going to be longer than many technological optimists had hoped. It turns out people will shift to digital payments very quickly when they're forced to, but they'll still want some paper money in their purses.
Back in November, Prime Minister Narendra Modi shocked the nation by announcing that existing 500-rupee ($7.75) and 1,000-rupee bank notes—about four-fifths of the rupees in circulation—would become invalid almost overnight and had to be exchanged for new bills. The idea was to curb tax evasion and corruption by exposing stockpiles of cash that had stayed outside the banking system and were essentially invisible. Indians have used cash for about 98 percent of consumer payments.
After millions of Indians lined up for hours at banks to deposit their now-useless notes or exchange them for new denominations, economic growth faltered in the first quarter of 2017 as consumer sentiment and cash-dependent industries were hit. With valid paper currency in short supply because the new notes rolled out more slowly than expected, the Reserve Bank of India set daily limits on cash withdrawals from ATMs. As Indians sought ways around the shortages, the value of digital payment transactions surged to a record 150 trillion rupees in March, according to central bank data, up from about 94 trillion rupees in November, the month in which the old notes were voided.
A vanguard of digital payment providers was well-positioned for the shift. The biggest player is Paytm, backed by China's Alibaba Group Holding Ltd., which has seen its customer base surge to 255 million from 157 million since November, according to the company. Paytm allows customers to make payments or send money with their phones, after setting up a virtual wallet or an account with the company's bank.
But the value of digital transactions slumped 27 percent in April from the previous month and barely grew in May, after restrictions on cash withdrawals were lifted in mid-March. Indians seem to be trying to get back to normal. Average withdrawal amounts from cash machines were 20 percent higher in May than they were before the big switch, according to NCR Corp., the country's largest ATM supplier. Customers are withdrawing large sums to ensure they don't face cash shortages in the future, says Navroze Dastur, the company's managing director for India and South Asia. Surging demand means some regions are still experiencing shortages, according to Loney Antony, managing director of Hitachi Payment Services Pvt., which operates about 52,000 ATMs in India.
"Governments across the globe want to curtail cash transactions to curb the shadow economy, but cash is not showing any signs of becoming obsolete anytime soon, even with all the digital payment channels," says Rethish Varma, a Bengaluru-based researcher at MarketSmith India. Many Indians, especially in the hinterlands, lack experience with technology and access to the internet, or they have to deal with patchy wireless service, making digital payments inconvenient. A recent study by the Wireless Broadband Alliance Ltd. and IHS Markit Ltd. said almost 69 percent of Indians don't have access to the web. That translates to 854 million people, the highest national figure in the world. "There's a huge trust deficit toward these mobile phone apps and cards, which most of India doesn't understand," says Varma. "People are choosing to line up at ATMs regularly rather than whipping out their phones to pay."
Still, some of the shift to digital is sticking. Despite the pullback, the value of digital transactions remains 18 percent higher than in November. The cash clampdown "caused a surge, but it's now going back to days of steady growth," says Arnav Gupta, a New Delhi-based researcher covering e-commerce and financial services at Forrester Research Inc.
Even with cash circulation improving, "we continue to witness consistent growth in payments," says Kiran Vasireddy, a senior vice president at Paytm. He cited success with payments using bar codes scanned by phones, which can work when internet connections are limited. Rival payments company One MobiKwik Systems Pvt. is anticipating a bigger gain in June than in May, a spokeswoman says. The sector continues to draw investment: SoftBank Group Corp. recently sank $1.4 billion into Paytm parent One97 Communications Ltd. in what was the largest funding round from a single investor for the country's technology sector. The government's move "has succeeded in creating a buzz around digital payment channels," says Varma. "Building up on that buzz is going to take much more persistent, conscious efforts than what we are seeing now."
Ultimately, the acceptance of digital payments depends on digital infrastructure. In China, which has an internet penetration rate almost double India's, digital payments are common for everyday expenses such as taxis and movie tickets. Reliability matters. "Even a single failed transaction can ­actually be enough to dissuade a customer and have him return to cash, which is convenient and pain-free," says Gupta. 
— With assistance by Anirban Nag
BOTTOM LINE -
The Indian government invalidated some denominations of the rupee almost overnight, giving a sharp boost to digital payments. But not everyone can make the leap.
Before it's here, it's on the Bloomberg Terminal.
LEARN MORE