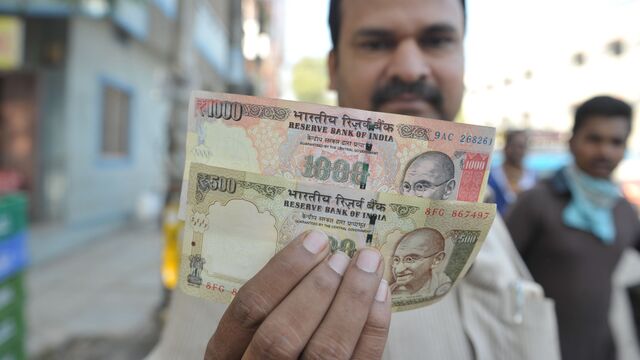 Here's one way to tackle corruption -- remove 86 percent of currency from circulation. That's what India Prime Minister Narendra Modi tried with his unexpected announcement Nov. 8 that all 500-rupee ($7.5) and 1,000-rupee notes would be banned. When the Dec. 30 deadline passed to exchange the notes, about 23 billion now-worthless bills had been switched for new ones or converted into electronic deposits. Modi says his goal is to combat counterfeit cash and unaccounted-for money and to nudge a cash-dominated society in a digital direction. The immediate impact was cash shortages, long lines at banks and post offices, a slowdown in economic activity and a likely delay for another of Modi's major reforms, a national sales tax.
1. Why such a drastic step?
The World Bank in July 2010 estimated the size of India's shadow economy at 20.7 percent of the GDP in 2007. Black money, or income that escapes taxes through illegal means, spurs inflation and deprives the government of revenue that can be used for welfare and development activities. Modi struck a chord in the 2014 national polls by promising to give the impoverished as much as 2 million rupees each from such funds stashed abroad. An amnesty program that ended in September resulted in the declaration of 652.5 billion rupees in unaccounted money, about 0.5 percent of GDP.
2. So, no more high-denomination bills?
No. The Reserve Bank of India, the main issuer of the currency, introduced newly designed 500-rupee and 2,000-rupee bills. The new 500-rupee bill, for instance, differs from the old one in color, size, theme and location of security features and design elements. The windowed security thread changes color from green to blue when the note is tilted.
3. What happens to high-denomination bills people hold?
Dec. 30 was the last day for Indians living in the country to deposit their old high-denomination bills. By then, banks were said to have received 14.97 trillion rupees worth of currency in the old notes, 97 percent of the 15.4 trillion rupees sucked out by Modi's move. Foreigners in India have until Jan. 31, Indians living overseas can deposit their notes through June 2017. For citizens who were abroad during Nov. 9 to Dec. 30, the last day to deposit such bills is March 31, 2017.
4. How will people access cash now?
Cash withdrawals over-the-counter from a bank account are capped at 24,000 rupees a week. The limit on withdrawals from cash dispensing machines has been raised to 4,500 rupees a day. Still, people are spending time in bank queues rather than working.
5. How will transactions take place?
There's no restriction on non-cash payments using checks, demand drafts, debit or credit cards and electronic fund transfers. One can also use mobile wallets. And then there are the 5-, 10-, 20-, 50- and 100-rupee bills and 1-, 2-, 5- and 10-rupee coins. Just carry a bigger bag.
6. Who benefits the most?
The government hopes the move will force people to declare unaccounted income, boosting tax collections. There are other winners too. Payment networks such as Visa Inc. and Mastercard Inc. and mobile wallets like Paytm and Mobikwik will probably add new users and see a surge in transactions. This will ultimately help the government make India less of a cash-dependent society.
7. Who loses?
Those who have avoided taxes by holding their wealth in currency. And political parties going into crucial state elections who are known to use cash to bankroll their campaigns. There will, however, also be a loss to the economy from a drop in demand and business productivity, which analysts are still quantifying.
8. Did the government track the cash that was exchanged?

Tax officials were sent reports on cash deposits that exceeded 250,000 rupees. Deposits between Nov. 10 and Dec. 30 will be matched against income disclosures. If there's a mismatch, it will take action which could include payment of tax as well as penalties. The government has also given citizens the option to preemptively declare previously unaccounted income and pay the tax and penalties.
9. What about the new national sales tax?
The chaos generated by the currency clampdown is delaying India's most significant economic reform in decades, the introduction of a goods and services tax. Due to be implemented in April, it now will likely be pushed back to September.
10. Has any other nation done something similar?
In mid-December, Venezuela surprised its citizens by withdrawing from circulation the 100-bolivar note, its largest and most used bill. In May, the European Central Bank had ended the production and issuance of the 500-euro bill on concerns the banknote could facilitate illicit activities and Australia has set up a panel to consider scrapping the little used A$100 note. Similar steps had been taken much earlier in the Soviet Union and North Korea.
The Reference Shelf
Quotes from this Article
Before it's here, it's on the Bloomberg Terminal.
LEARN MORE