Your Evening Briefing
Here are today's top stories for Europe.
Bloomberg News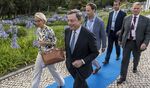 The evening briefing will soon be available in your inbox every day. Sign up here.
He tried to be cautious but spooked the markets anyway. The euro and bond yields surged after European Central Bank chief Mario Draghi talked on Tuesday about what the ECB might do next. Today a trio of officials scrambled to add nuance. Their spin sparked a rapid unwinding of currency, stock and bond positions, even as Bank of England Governor Mark Carney suggested a British interest rate rise could be on the cards. — Andy Reinhardt
Cyberattack spreads. Researchers pinpointed the origin of a "ransomware" attack to a software company in Ukraine. In the hours after it first hit computers at companies including Maersk, WPP and a unit of BNP Paribas, the hack spread to Asia and elsewhere in Europe. For more on ransomware read our Q&A.
Under my thumb. Google's record-breaking €2.4 billion EU fine could end up as small change compared to the longer term costs of complying with the EU's demand to alter its search results. The company will be effectively "on parole" for years to come as the Commission watches for other potential abuses. Here's what annoyed the watchdogs. 

A "goldmine" of customer data. Though it towers over online retailing, Amazon.com is a pipsqueak in digital advertising. That's starting to change as the company rolls out new marketing opportunities for sellers, ranging from e-coupons to ad space on its ubiquitous shipping cartons. Analysts say Amazon's extensive data about its customers could give it a market edge.
Going for broke. French President Emmanuel Macron is so determined to liberalize France's rigid labor code that he will ask the legislature for the right to implement new rules by decree in September. Avoiding drawn out parliamentary debate will help Macron minimize the inevitable pushback from unions to what has been labeled the "mother of all reforms."
Rainy day planning. Scandinavia's biggest economy has so much money it's now looking to take care of the next generation. The Swedish government plans to salt away more funding for future social welfare programs when a demographic time bomb is expected to exert increased pressure on expenditures.
Some like it hot, some like it cold. Miami and Reykjavik are among the top five most expensive destinations in the new Bloomberg World Airbnb Cost Index, which ranks the average daily cost of a two-person Airbnb rental in more than 100 cities. Boston, Dubai and San Francisco round out the top five.

Compiled by Andy Reinhardt 
Before it's here, it's on the Bloomberg Terminal.
LEARN MORE