ECB Sets Record Straight After Draghi's Reflation Talk Sparked a Sell-off
By
Reflation talk sends bonds from Germany to U.S. into tailspin

Deutsche Bank sees euro at 1.16 per dollar as others urge calm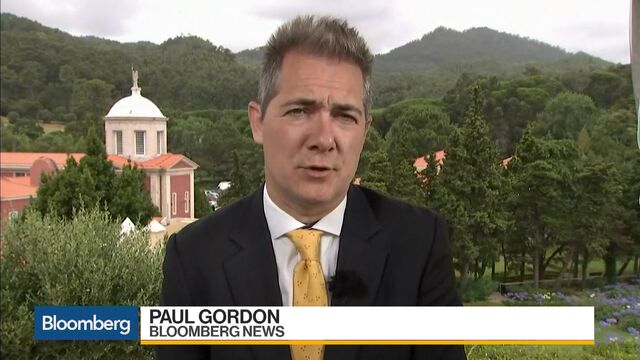 This is what it sounds like when doves screech.
Less than 24 hours Mario Draghi jolted financial markets by saying "deflationary forces" have been replaced by reflationary ones, European Central Bank officials reversed the script, saying markets had misinterpreted the central banker's comments.
What was perceived as hawkish was really meant to strike a balance between recognizing the currency bloc's economic strength and warning that monetary support is still needed, three Eurosystem officials familiar with policymakers' thinking said.
Their dovish interpretation sparked a rapid unwinding of moves in assets from the euro to stocks and sovereign bonds. The shared currency tumbled from the highest since last year's Brexit vote and the selloff in government debt from German bunds to U.S. Treasuries abated. Equity markets stabilized after being rattled by hints from central banks near and far that stimulus's days were numbered.
While the ECB scrambled to set the record straight, other central banks haven't backed down. Hours after Draghi's comments, Federal Reserve Chair Janet noted asset valuations look rich and reiterated that the U.S. could withstand higher interest rates. The Bank of England and Bank of Canada are among other central banks that have signaled a retreat from stimulus measures that have driven asset prices from bonds to equities to record highs in the past decade.
"Central banks are no longer your friends," Peter Boockvar, chief market analyst at The Lindsey Group, wrote in a client note. "About 10 years of extraordinary policies are coming to an end (for now) as the Fed, ECB, BOJ, BOE, BOC and possibly some others take away some of your monetary drugs."
Read more on the Fed's warnings on valuations here.

Deutsche Bank AG raised its forecast for the European currency to $1.16 by year-end, from $1.03. While not the primary driver for the change in view, Draghi's comments marked "the culmination of a number of developments" pointing to a stronger euro, George Saravelos, the London-based global co-head of FX research at Deutsche, said in a client note. "The euro is likely to be the key vehicle via which financial conditions in the Euro-area will be tightened," he said.
It's not only the bond market that's at risk. Equities, too, may pay the price as central-bank rhetoric shifts away from inflation fears, said Greg Gibbs, the founder of Amplifying Global FX Capital LLC. Draghi's comments come just days after New York Fed President Bill Dudley said that "monetary policymakers need to take the evolution of financial conditions into consideration."
Equity Warning
"The market may feel there is something coordinated about these events," Gibbs wrote. "Central banks are shifting their focus surreptitiously from inflation targets to real interest rates and financial conditions. This is a warning to equity investors. Equities are already showing fatigue and are vulnerable to a significant correction."
Citigroup Inc., Barclays Plc and Commerzbank AG are among other lenders interpreting Draghi's comments as pivotal for the course of the euro and bond markets. Others, including Rand Merchant Bank, see it differently.
"To some this argues that the ECB is set to imminently announce a tapering program," John Cairns, a currency strategist at Johannesburg-based RMB, said in a client note. "We, like a lot of the market, are more skeptical. The ECB president has made comments like this before, only for the broader ECB to back off from actually taking any action."

Read more on analysts' reactions to Mario Draghi's comments
Two years ago, bund yields jumped as much as 51 basis points in a week as investors reacted to signs of inflation in the euro region. Draghi added fuel to the fire by saying investors should "get used" to bond market volatility thanks to very low interest rates that can exacerbate price swings on the debt. Within 12 months, those yields were at a record low.
But the current bout of volatility may be short-lived and doesn't signal the start of a bear market, according to Morgan Stanley.
"Central banks taking the punch bowl of liquidity away does not bode well for the outlook for volatility in the short term, leading to position adjustments," Morgan Stanley strategists including Hans-Guenter Redeker said in a client note. "Conditions for the emergence of a proper bear market are not yet in place; even so, yesterday's high trading volume suggests that corrective activity may stay with us for several days."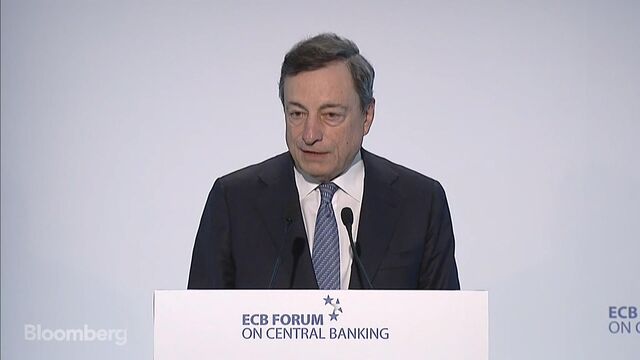 Before it's here, it's on the Bloomberg Terminal.
LEARN MORE