quicktake
How Italy's Bank Plan Leaves Bondholders Confused: QuickTake Q&A
By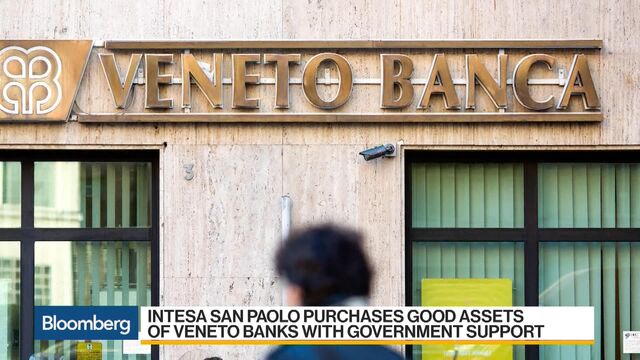 Italy's plan to plow state funds into banks is bringing an end to a drawn-out affair to decide the fate of two struggling lenders based near Venice, in one of the country's wealthiest regions. It's also raising questions for bondholders. European Union officials say the deal complies with guidelines to prevent a repeat of the taxpayer bailouts during the 2008 financial crisis. But when that rulebook will force senior bondholders to take a hit is proving difficult to predict.
1. Are any rules being broken?

No. The European Commission blessed Italy's plan to plow as much as 17 billion euros ($19 billion) into the cleanup of Banca Popolare di Vicenza SpA and Veneto Banca SpA. The deal has tapped what some analysts are calling a "loophole" in the bloc's resolution framework and could effectively leave the government on the hook for only the bad parts of the banks. Bloomberg View columnist Ferdinando Giugliano called the move a "dagger in the heart" of the dream for a euro zone banking union, which was meant to put tough strictures in place against bail-outs.
2. Why did the deal get done this way?

The Italian government wanted to prevent a liquidation of the banks to keep credit flowing. So it appealed to EU regulators to allow it to use domestic insolvency laws, rather than the EU's Bank Recovery and Resolution Directive, which would have put the EU in control of the disposal and forced losses on more bondholders. The EU allowed the move because the banks are small. The two lenders are local, but together have a large market share in the north-eastern Veneto region, an economic powerhouse dominated by small and mid-sized companies, home to the Benetton family and Luxottica Group SpA. The second concern was to protect depositors and avoid wiping out senior bondholders through a so-called bail-in of that tranche of debt. The senior creditors include mom-and-pop retail investors.
3. So who loses out?
Italy's taxpayers are at the top of the list. Shareholders have been expecting to be wiped out for a while. About 600 branches of the two lenders will also be closed, and 3,900 employees lose their jobs. Holders of 1.1 billion euros of subordinated bonds in the two banks are losing their investment, which is required for the injection of government funds to be permitted under the bloc's state-aid rules. Those junior notes have been trading at less than 10 cents on the euro since the bail-in of Spain's Banco Popular Espanol SA earlier this month. While the June 7 resolution of Spain's sixth-largest lender was hailed as a victory for the credibility of the new rules, Italy's move has left investors wondering.
4. Who wins?

Senior bondholders are toasting. They hold about 14 billion euros of debt. Popolare di Vicenza's notes due 2020 were trading at a discount of almost 30 percent this month as investors, which included BlackRock Inc. and Danske Bank A/S, were concerned after the resolution of Spain's Popular. They are now trading above face value and converging with those of the country's second-largest lender, Intesa Sanpaolo SpA, which will take over the good assets of the two banks for a token amount. Shareholders of Milan-based Intesa are celebrating too, as the stock rose as much as 5.3 percent. Intesa Chief Executive Officer Carlo Messina said that the bank will also provide 60 million euros for the reimbursement of subordinated bonds in the two banks sold to retail investors, many of whom may have been mis-sold the securities.
5. What does this mean for other troubled banks?
It's unclear. Bureaucrats in Brussels are showing restraint when it comes to imposing losses on senior bondholders of failing banks, even if rules explicitly allow them to be bailed-in. "Every bank rescue has rules of its own," said Francesco Castelli, a fund manager at Banor Capital in London. "For bank debt analysts, it's pretty frustrating."
The Reference Shelf
Before it's here, it's on the Bloomberg Terminal.
LEARN MORE