markets
Italy's Dual Bank Rescue Tests the EU's New Rules by Tapping Taxpayers
By , , , and
For the third time this year senior creditors escape losses

European Commission says wind-down 'fully in line' with rules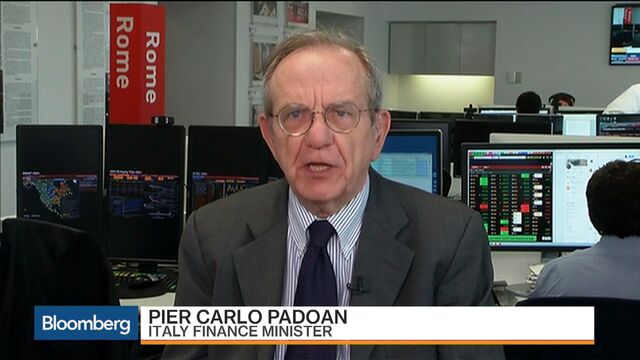 Italy's decision to pour as much as 17 billion euros ($19 billion) into its creaky financial system and spare senior bondholders in the liquidation of two failed banks has left investors wondering whether Europe's post-crisis rulebook is worth the paper it's printed on.
In three big tests this year of Europe's new rules aimed at forcing investors to bear the cost of bank failures, senior creditors have escaped losses each time. The Italian government on Sunday announced the taxpayer-funded wind-down of Banca Popolare di Vicenza SpA and Veneto Banca SpA, two lenders it's been trying to shore up or shut down for months.
By crafting a deal that kept senior bondholders out of harm's way, the government in Rome fueled doubts about the EU's crisis-fighting regime, and its centerpiece, the Bank Recovery and Resolution Directive. While the senior debt of the two failing banks rallied following the announcement, over the longer term lenders may see funding costs rise.
"For global bank investors, the European banking sector and how to invest in it is very confusing, not uniform, and difficult to predict," said David Hendler, founder of Viola Risk Advisors, a credit analysis firm in Montebello, New York. "Thus it will increase the cost of debt and equity capital for all European banks whether large or small."
EU governments provided nearly 2 trillion euros in state aid to prop up the financial industry from 2008 to 2014. The BRRD, which came fully into effect in 2016, was intended to put an end to pricey public bailouts. The Single Resolution Board said that resolution under those rules wasn't warranted in Italy because of the banks' small size.
Read here for more on Italy's Veneto bank wind-down
"The rules that were applied in this particular case are fully in line with the kind of post-crisis framework that was put in place and more broadly in line with the banking union rules," said European Commission spokeswoman Vanessa Mock.
Yet the German Finance Ministry also sounded a note of caution on the commission's approval of the plan.
"It's undisputed in Europe that a major goal of the new banking regulation is to protect the taxpayer," Finance Ministry spokeswoman Friederike von Tiesenhausen told reporters in Berlin on Monday. "The European Commission has the responsibility to ensure that state aid is kept to a minimum, also to prevent a de facto circumvention of settlement rules by national insolvency regimes."
Paschi, Popular
This isn't the first time governments have found their way around imposing losses on senior bondholders. Spain's Banco Popular Espanol SA was wound down and sold to Banco Santander SA for a song without a bail-in of senior debt. Back in Italy, the government has spent six months trying to arrange a rescue of Banca Monte dei Paschi di Siena SpA that avoids resolution altogether.
The Italian government has said that the widespread sale of bonds, including senior debt, to individual investors makes it difficult to force losses on the holders. In the case of the two Veneto banks, individuals do hold plenty of the two banks' senior debt, but the bailout also benefits such institutional giants as BlackRock Inc. and Danske Bank A/S.
"As long as national insolvency regimes are not harmonized, countries have a lot of leeway how much bail-in they want to enforce," said Isabel Schnabel, a professor of financial economics at the University of Bonn and one of German Chancellor Angela Merkel's economic advisers.
While the Single Resolution Board or the European Commission could in principle prevent this, "the current example suggests that their decisions are too strongly influenced by politics," she said.
The Veneto banks' senior bonds predictably surged. By midday in London, Banca Popolare di Vicenza SpA's 750 million euros of notes due March 2020 rose 17 cents on the euro to 102 cents, according to data compiled by Bloomberg. Veneto Banca SpA's 500 million euros of bonds due in May 2019 rose 17 cents to 104 cents, the data show.
"Any country willing to protect senior bondholders (preferred or not) has now a legal route to so," according to analysts at Axiom Alternative Investments, including David Benamou. "The Italian authorities have unearthed a formidable loophole."
— With assistance by Luca Casiraghi
(
Updates with comment by Schnabel in 11th paragraph.
)
Before it's here, it's on the Bloomberg Terminal.
LEARN MORE