business
Flying Taxis, Killer Drones and Five More Paris Air-Show Highlights
By
Boeing jet dominates at air show, but will it devour siblings?

First-responder drone almost saw service amid sweltering heat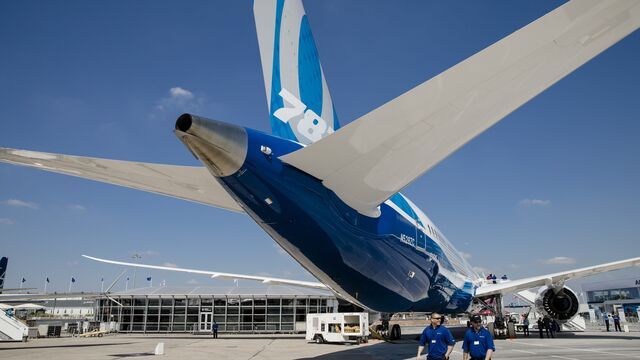 The Paris Air Show is a showcase of the aviation industry's extremes. Alongside billion-dollar deals, this year's expo features flying robo-taxis, killer drones and a bid to revive Concorde-style supersonic travel. Here are some highlights from the biggest gathering of "air heads" this year, which runs through June 25.
Air Taxi
Airbus's A3 Silicon Valley think tank unveiled further details of its proposed Vahana flying taxi. The pilotless, electric-powered helicopter could be hailed like a conventional cab, but won't get stuck in traffic jams like the ones that clogged the roadways to and from the Le Bourget airfield that's hosting the show.

The single-person flying machine could slash journey times for city dwellers over a range of 50 miles, Airbus reckons. But don't delete your Uber app just yet; Airbus admits the project needs further refinements to automation and sense-and-avoid technology. And just in case all that fails the vehicle would be equipped with a ballistic parachute effective even at low altitudes.
Droning On
Some of the latest drones at Paris played at opposite extremes. Kratos Defense & Security's jet-powered Valkyrie model is designed to act as a "wingman" for fighter pilots in aerial battle. Measuring 30 feet long, with a range of more than 3,000 nautical miles and able to cruise close to the speed of sound, it's due to have its first flight in 2018. 
The rather friendlier Falco model from Leonardo will take on a first-responder role in arenas such as fire-fighting and humanitarian relief via a partnership with Heli Protection Europe, according to the Italian company.
Concorde 2.0
Supersonic travel returned to the industry agenda, with Denver-based Boom Technology pledging to bring a 55-seat Mach 2.2 jet to market by 2023. A scaled down test aircraft is to be built by next year.

While skeptics dismissed the plan as another false dawn to be taken seriously only by Concorde die-hards, Boom boss Blake Scholl said the latest composite materials and engines will make the model viable. Given that the proposed plane's droop-nosed predecessor failed partly because of noise concerns from its sonic boom, he might want to think about the name.
Lightning Strikes
Lockheed Martin's F-35 Joint Strike Fighter was the star of the flying display. Also known as the Lightning II, the stealth aircraft had been limited to flypasts and other simple maneuvers at earlier shows, but in Paris was cleared to wow the crowds with a full-throttle routine including a high-G vertical climb and falling turn. Lockheed hopes the display will enhance the jet's credentials as a dogfighter.

A Different Kind of Heat
With temperatures topping 100 degrees Fahrenheit, even the most stalwart defense executives were wilting. Le Bourget's Air & Space museum more closely resembled a slow-cooker. Still, Avianca cabin crew took to the stage in full uniforms and rain ponchos. Marketing comes first.
No less sweltering was the interior of Qatar Air's Boeing 777-300 on static display. It was so stifling that even two pilots used to the heat of Doha looked queasy and were told by their usually persnickety chief, Akbar Al Baker, that they could remove their blazers. The food display in the carrier's new Q Suite seats somehow persevered.
An Unhealthy Appetite?
Boeing's new Max 10 was the success story of the show, racking up more than 361 orders. But almost 60 percent of them came in the form of swaps from other variants of the upgraded 737, eating into existing production backlogs. Has the U.S. manufacturer unleashed a cannibal? 
Airbus shrugged off the Max 10 launch as a desperate bid to respond to the earlier sales success of its own A321neo. Sales chief John Leahy dismissively quipped that the new plane's biggest competitor was Boeing stablemate the Max 9.
Going Even Bigger
Airbus made its latest push to interest airlines in the slow-selling A380 superjumbo by making the double-decker even bigger. The so-called A380plus would include drag-reducing winglets measuring a full 4.7 meters (15 feet). 

Sales chief Leahy said he spent 90 minutes pitching Emirates on the virtues of the enhancements. But he didn't close a deal... yet. Tim Clark, head of the Gulf carrier and the A380's biggest fan, told journalists that he appreciated the move but that he'd need more than an aerodynamic tweak to add to his 140 orders. His main demand—and one that Airbus may struggle to fulfill—is an assurance that the plane won't be canned as build rates dwindle.
End of an Era
With Boeing riding the Max 10 to soundly beat Airbus in orders, Leahy was notably coy about the timing of his planned retirement this year, and after selling more than $1 trillion in planes it's hard to believe that he'll want to bow out on a loss. With Emirates mulling more A380s the door may be open for a last stand at the industry's next major show in November. It happens to be conveniently located in the airline's hometown of Dubai, setting the stage for the legendary salesman's swansong.
See our full coverage of the Paris Air Show
(
Adds F-35 appearance at the show.
)
Before it's here, it's on the Bloomberg Terminal.
LEARN MORE