business
Boeing Beats Airbus in Air-Show Orders as Demand Rebounds
By , , and
U.S. company says it won deals for 571 planes; Airbus had 326

Jet buyers gear up for surge in middle-class travel in Asia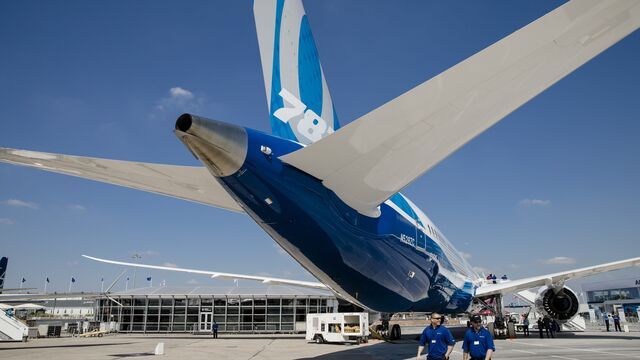 Boeing Co. beat rival Airbus SE in orders at the Paris Air Show this week as a new, stretched version of the U.S. planemaker's 737 workhorse sparked a flurry of intense deal-making at the aviation industry's biggest gathering this year.
Boeing won orders and commitments for 571 planes worth as much as $74.8 billion, Ihssane Mounir, the U.S. manufacturer's head of commercial aircraft sales, said at a press conference at the show. While Airbus pulled out a series of late agreements, it fell short with a tally of 326 airliners valued at just under $40 billion, sales chief John Leahy said at a separate briefing, adding that the two companies were about equal in terms of firm orders, which exclude more tentative agreements to buy.
"It's been very exciting for us," Mounir said. "I've been to many of these, and this is probably one of our busiest" shows.
The deals amounted to more than double the $50 billion posted at last year's show in Farnborough, England, which alternates with the Paris expo as the industry's marquee event. The unexpected surge propelled the purchase tally to the highest in at least eight years. Asian lessors and airlines were particularly active as they girded for an accelerating travel boom. The order binge, driven by demand for single-aisle planes, quieted concerns that demand is fading.
"Maybe people came to the show with muted expectations, but the order activity is positive on the backdrop of relatively strong air-traffic growth," said Kelly Ortberg, chief executive officer of aerospace supplier Rockwell Collins Inc. "New narrow-body introductions are exciting. I think we'll all leave going, 'The show was a little better than expected.'"

Pledges to buy the new single-aisle Max 10, which Boeing began marketing in Paris to combat Airbus's hot-selling A321neo, amounted to 361 airliners, Mounir said. Net new commitments for the model totaled 147 planes, with customers shifting 214 from earlier agreements for other Max versions, thereby eating into those backlogs.
The biggest disclosed buyer at the Paris expo was General Electric Co.'s GE Capital Aviation Services, which ordered 100 Airbus planes valued at $10.8 billion and converted 20 Boeing production slots from earlier purchases to the Max 10, the biggest variant of the 737. Boeing said on Thursday that it signed a sales agreement with an "unidentified major airline" for 125 Max 8s valued at $14 billion.
The boost from the Max 10 should help Chicago-based Boeing's order flow come close to matching deliveries this year, Chief Executive Officer Dennis Muilenburg said earlier at the show. The measure, known as book-to-bill, fell below one during 2015 and 2016 as sales slumped for the manufacturer amid falling oil prices, which sapped demand for new aircraft.
Airlines went on a buying spree earlier in the decade as high fuel prices spurred them to stockpile orders of more efficient planes like Boeing's upgraded 737 Max lineup and Airbus's A320neo. That order flurry has caused Airbus's backlog to more than double, with the figure surging beyond 6,800 airliners after this week's deals in Paris.
Speeding Deliveries
Airbus is now focusing on speeding up deliveries following delays on the A320neo series and wide-body A350, Chief Operating Officer Fabrice Bregier told investors at a conference Wednesday. The Toulouse, France-based manufacturer still plans to hand over about 30 more planes to customers this year than in 2016, which means the company will need to accelerate work in the second half, he said.
One of the largest named airline customers at the Paris show was India's SpiceJet Ltd., which struck a deal with Boeing for 40 of the newest Max model despite being wooed by Airbus, co-founder Ajay Singh said in an interview. The carrier was joined in orders at Boeing by Chinese operator Okay Airways Co. Ltd., Indonesia's Lion Mentari Airlines PT, Japan Investment Adviser Co. and BOC Aviation Ltd.
The leasing arm of China Development Bank signed agreements to buy airliners from both Airbus and Boeing and is mulling potential wide-body jet orders to serve Asia's capacity-constrained markets, CEO Peter Chang said in an interview.
Avolon, the world's third-largest lessor, ordered $8.4 billion of Boeing models. The unit of Beijing-based Bohai Capital Holding Co. decided to lock in deliveries of as many as 125 of the upgraded narrow-body jets starting in 2021 because the slots are "very valuable real estate," Avolon Chief Executive Officer Domhnal Slattery said.
The Max series is oversold through 2020, and capacity is finite for the model favored by budget carriers, Slattery said in an interview. He sees the aerospace market tilting to Asia as the middle class swells by more than 1 billion people over the next decade.
Population Jump
"We have never seen a demographic shift like that ever in the world, in terms of the scale but also the purchasing power," Slattery said. "These people are going to get on planes" and "there's no going back."
The Max 10 will be 5 1/2 feet (1.68 meters) longer than the $119.2 million Max 9, currently the biggest member of the re-engined 737 aircraft family, which was launched in 2011. It will be the first new model from Boeing since the twin-aisle 777X series, now dubbed the 777-8 and 777-9, was unveiled at the Dubai Air Show in 2013.
Still, the deal flurry -- logged during sweltering conditions in Paris -- included large numbers of conversions from previous orders and commitments that may not ever materialize.
"Lessors also increase the risk that the market will have more supply for a particular aircraft due to speculative buying," George Ferguson, an analyst with Bloomberg Intelligence, said in a report, adding that Boeing and Airbus were on par with 144 firm orders each, but Boeing's value was higher due to more wide-bodies.
"Every dog gets his day," said Airbus's Leahy, who plans to retire later this year but left open the possibility of staying on for the Dubai air show in November, which would enable him to end his storied career on a high.
— With assistance by Benjamin D Katz, and Christopher Jasper
(
Updates with Boeing comment in starting in second paragraph.
)
Before it's here, it's on the Bloomberg Terminal.
LEARN MORE