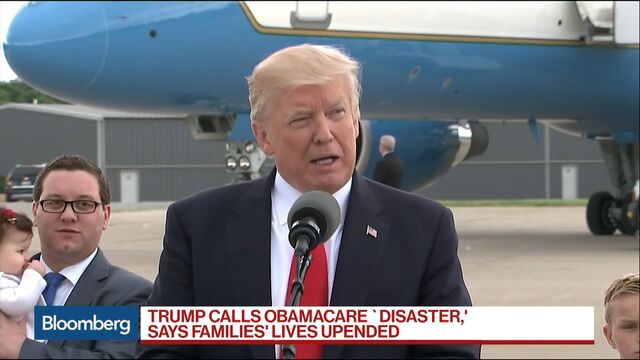 U.S. President Donald Trump says Obamacare, the health-insurance system created by his Democratic predecessor, is collapsing and needs to be replaced. Democrats say Trump is sabotaging Obamacare by scaring insurers away. As proof, both sides point to double-digit premium increases and the departure of a string of national insurers from the individual-policy market under Obamacare, officially known as the Affordable Care Act (ACA).
1. What's the problem?
Climbing prices and narrowing choices. On June 6, Anthem Inc. announced its decision to quit Ohio's ACA market, a step that may leave 13,000 people without any coverage option under the program next year. Anthem offers ACA plans in 13 other states, where its continued participation largely remains a question mark. Meanwhile, other national carriers including Aetna Inc. and Humana Inc. have quit the ACA, reducing choice for consumers in many states. Regional players like Blue Cross and Blue Shield of Kansas City have announced exits as well. Other states, including Maryland and New York, have seen big rate increases. Iowa is asking the federal government for help creating a stopgap program to prevent what it called the "collapse" of its Obamacare market.
2. Why are insurers pulling out?
Financial losses on their plans, Republican efforts to repeal large sections of the law and the Trump administration's efforts to undermine parts of the program. Anthem blamed both a "shrinking individual market'' and "an increasing lack of overall predictability" for its Ohio decision. Senate Republican leaders have said they think they can pass a new health-care law soon but have given no details. House Republicans passed a bill to repeal and replace Obamacare in May.
3. How big a deal are the departures?
Each departure highlights the law's vulnerability and raises the stakes of the political debate. Currently, there are more than 30,000 people with ACA plans who are projected not to have an insurer under the program next year, according to data compiled by Bloomberg. An Anthem exit from all of its states would raise that number to 300,000 people in seven states. (The numbers could change as more insurers decide to join or leave the program; Bloomberg's analysis includes exits by other insurers.) That's a small percentage of the roughly 12.2 million people who bought insurance plans on ACA exchanges for 2017, though many more will see higher prices and reduced choices.
4. How is Trump affecting the marketplace?
The Trump administration has threatened to stop paying subsidies to insurers that help some lower-income people use their insurance plans. That threat has caused insurers to say they'll raise rates for next year, or leave some markets entirely. The administration has also discussed loosening enforcement of the law's individual mandate, which requires people to sign up for health insurance or pay a fine. And it appears to be doing little to push insurers to stay in the ACA.
5. What does Trump say?
In a visit to Ohio on June 7, Trump called on Congress to move quickly with its Obamacare replacement bill, which is being revised by the Senate after being passed by the House. His Department of Health & Human Services secretary, Tom Price, said at a June 8 hearing, "Nobody is interested in sabotaging the system."
6. What do Democrats say?
Senate Minority Leader Chuck Schumer of New York said the Trump administration's decision to hold cost-sharing payments "hostage as a political tool" is to blame for insurance companies deciding not to offer coverage in certain areas. Democrats say they're open to legislation to "repair" Obamacare but not to an effort to repeal it. A group of Democratic senators has proposed raising the income limit for subsidies, so that more people can get financial help to buy insurance
7. Are there other ideas out there?
A number of Republican senators, including John Thune of South Dakota and Susan Collins of Maine, say Congress should take short-term action to stabilize the insurance markets before passing long-term changes.
The Reference Shelf
Before it's here, it's on the Bloomberg Terminal.
LEARN MORE