Paris climate pact isn't workable, U.S. needs coal: Murray

Hundreds of coal mines have shut amid competition from gas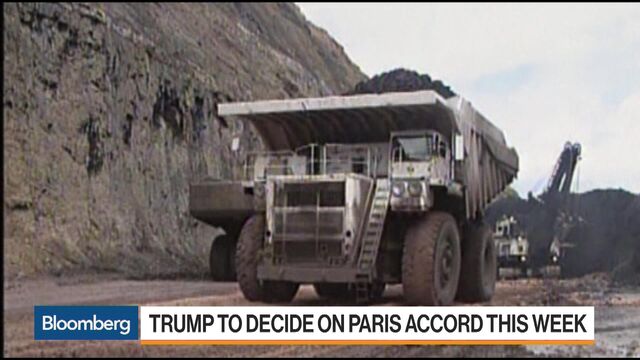 The U.S. coal industry's most outspoken champion says President Donald Trump needs to stop taking advice from his daughter Ivanka Trump, Gary Cohn and other top advisers on climate change policy and withdraw from the landmark Paris climate agreement.
Trump needs to get out of the accord because countries from the U.S. to India need coal to deliver reliable, low-cost electricity, Robert E. Murray, founder and chief executive officer of coal miner Murray Energy Corp., said in a Bloomberg Television interview Tuesday. Cohn, Trump's chief economic adviser, has meanwhile said the president is working to understand Europe's position on climate change and that coal doesn't "even really make that much sense" as a feedstock anymore. Secretary of State Rex Tillerson, White House adviser Jared Kushner and Ivanka Trump have urged the president to stay in the deal.
"Hopefully he'll listen to those who voted for him and not to some members of his staff," Murray said in the interview. "Meaning Gary Cohn, Ivanka Trump, Rex Tillerson. They're wrong in their advice to the president."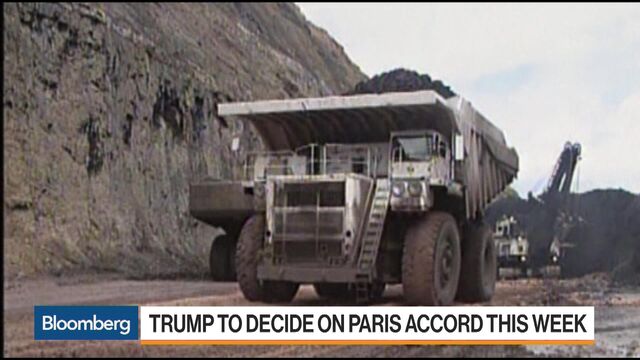 The international pact to curb global-warming emissions has left both Washington and America's energy companies divided. Some oil and gas giants including Exxon Mobil Corp. have called on the U.S. to stay in the agreement. Even coal executives are split. Cloud Peak Energy Inc. CEO Colin Marshall said remaining in the accord would give Trump "influence" to ensure the future of fossil fuels while Peabody Energy Corp., the country's largest coal miner, said it would support Trump if he chooses to exit the pact.
For more on Trump's difficult choice on the Paris climate accord, read this QuickTake.
Murray said Trump has a responsibility to resign from the accord, to uphold a commitment he made while campaigning. Trump vowed during his race to usher in a comeback for a U.S. coal industry battered by its worst collapse in decades. Cheap natural gas has forced hundreds of mines across the country out of business.
'Very Wrong'
"When Mr. Cohn said the other day that we don't need coal, that was very wrong," Murray said. "We need 30 percent coal-fired electricity in America to have a reliable electric power grid and to have low-cost electricity."
Almost 200 nations, including the U.S. and China, pledged to limit fossil-fuel pollution in the 2015 Paris agreement. Trump, who once called climate change a hoax and threatened to pull out of the pact, has sidestepped the issue since becoming president while reiterating promises to bring back the coal industry.
The U.S. is so dependent on coal for power that the Paris commitment couldn't "even be carried out," Murray said.
"You can't store wind at a power plant, you can't store the sunshine at a power plant, you can't even store natural gas at a power plant," he said. "To smooth out the peaks and the valleys and our need for power throughout the day and to keep the lights on, we need a hydrocarbon that can be stored at the plant. And that's coal."
— With assistance by Margaret Talev, Jennifer Jacobs, and Tim Loh
Before it's here, it's on the Bloomberg Terminal.
LEARN MORE