The president hasn't decided whether to remain in Paris deal

Cohn says coal doesn't 'make that much sense anymore'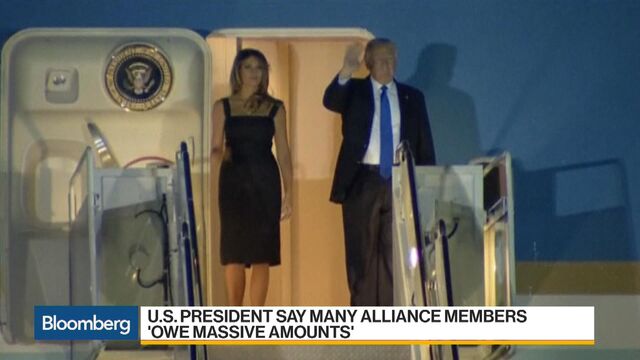 Donald Trump is working to understand the European view on climate change, his chief economic adviser said, suggesting the U.S. president is sensitive to the diplomatic backlash he would face in scrapping the Paris Agreement on global warming.
Trump "feels much more knowledgeable on the topic today," following the Group of Seven meeting, Gary Cohn, director of the National Economic Council, said on the sidelines of the summit in Sicily, Italy. Trump's trying "to understand the European position," he said.
Climate change is one of the most contentious issues facing leaders at the two-day G-7 meeting in the resort town of Taormina, where Angela Merkel of Germany, France's Emmanuel Macron and other leaders are among those pushing Trump to remain in the landmark Paris agreement. The 2015 agreement brought together almost 200 nations led by the U.S. and China in pledging to slash fossil fuel emissions and step up funding to address the impact of global warming.
After deriding climate change as a hoax and pledging to pull out of the Paris deal during his election campaign, Trump has sidestepped the issue and passed up an number of opportunities to outline his international stance toward global warming. Members of his administration are deadlocked about whether the U.S. should remain a part of the pact, with White House advisers warning the pact could be used in legal arguments against Trump's efforts to roll back regulations.
Cohn on Coal
Cohn observed on Thursday that the U.S. is moving away from using coal in power plants.
"Coal does not even really make that much sense anymore as a feedstock," Cohn told reporters traveling aboard Air Force One. "Natural gas, which we have become an abundant producer of, which we're becoming a large exporter of, is such a cleaner fuel. If you think of how much solar and how much wind we've created in the United States, we can be a manufacturing powerhouse and still be environmentally friendly."
Coal emits the most carbon dioxide for each unit of energy created; natural gas releases about half as much carbon dioxide as coal when it is combusted.
But Trump campaigned on a promise to end what he called a "war on coal" by the Obama administration and said in an April 29 speech that "we are putting our coal miners back to work." He signed a bill in February repealing a rule that prevented coal companies from dumping mining waste into streams. Energy Secretary Rick Perry is conducting a study of the U.S. electric grid to examine whether policies favoring wind and solar energy are accelerating the retirement of coal and nuclear power plants.
No Decision
Power companies have made a dramatic shift from coal to cleaner-burning natural gas as an energy source as the fracking boom drove down natural gas prices by about 40 percent from 2006 to 2016.
The amount of U.S. electricity generated from natural gas rose to 33.8 percent in 2016 from 24.7 percent in 2011, effectively dethroning coal as the long-dominant source of power nationwide. Coal, meanwhile, generated 30.4 percent of U.S. electricity last year, the U.S. Energy Information Administration reported.
Secretary of State Rex Tillerson, who supported the Paris deal when he led Exxon Mobil Corp., said earlier this week that Trump hasn't decided on the issue and wouldn't do so until he returns to the U.S.
The delay opened the opportunity for foreign and religious leaders, notably Pope Francis, to press Trump into honoring U.S. commitments on the environment. After German Chancellor Angela Merkel and other G-7 leaders pressed Trump Friday on Paris, Trump stressed his commitment to environmental protection, according to Cohn.
Top Trump administration officials have clashed over whether the U.S. should formally remain a party to the pact signed in December 2015, with environmental chief Scott Pruitt and top strategist Steve Bannon pushing for a pullout. White House advisers Jared Kushner and Ivanka Trump, the president's daughter, have advocated sticking with the deal. Cohn said Trump is aware of pressure on the issue.
"Look as you know from the U.S., there's very strong views on both sides," said Cohn. "Both sides are running ads. So he knows that in the U.S. there's very strong opinions on both sides, but he also knows that Paris has important meaning to many of the European leaders. And he wants to clearly hear what the European leaders have to say."
— With assistance by Reed Landberg, and Jennifer A Dlouhy
Before it's here, it's on the Bloomberg Terminal.
LEARN MORE