quicktake
Why Everyone Is Talking About the Troubles at a Tiny Canadian Lender
By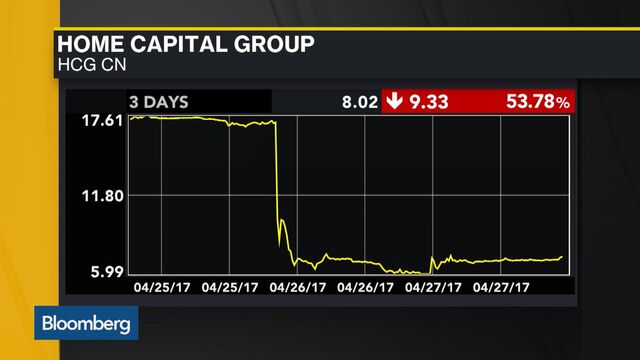 The world is paying attention again to Home Capital Group Inc., the tiny Canadian mortgage lender that's recovering from near-collapse. Over the past few weeks it has settled with the regulator over fraud allegations, its deposits have stabilized and stock has tripled and Warren Buffett has agreed to buy a 38 percent stake. None of that, however, clears up the broader question Home Capital's troubles raised: Was this an isolated case of a struggling mortgage company, or are cracks forming in Canada's red-hot housing market?
1. How did Home Capital get into trouble?
It started in 2014 when the company, formed 31 years ago by Gerald Soloway, failed to screen a pile of questionable mortgages brought in by outside brokers. Some 45 brokers falsified income information on borrowers, prompting Home Capital to cut ties with them, leading to a drop in new business. This eventually led to an investigation by the Ontario Securities Commission, which said on April 19 that Home Capital had misled investors by not disclosing the fraud until five months after they became aware of the problem.



2. Will Home Capital fail?
For a while there were plenty of signs of stress. Since then, however, its stock has tripled after bottoming in May when troubles began to accelerate, though shares remain some 70 percent off from their peak in 2014. The company in June agreed with three former executives to pay more than C$30 million to reach settlements with regulators and investors and on June 20 it sold its commercial mortgage portfolio for C$1.16 billion. The run of wins was capped when Berkshire Hathaway on June 21 agreed to buy shares at a deep discount and provide a fresh C$2 billion credit line.
3. What's next?
The Canadian mortgage company hopes to announce a new chief executive officer in July and is pursuing more asset sales. Shares are also rising in Home Capital's rivals including First National Financial Corp. and Equitable Group Inc. The clutch of alternative mortgage lenders cater to small-business owners, new immigrants and other people who can't get mortgages from the big commercial banks. It's a niche segment but growing, accounting for almost 13 percent of the market. Unlike in the U.S. housing crash when loan defaults soared, there is little evidence of faulty loans so far. Home Capital's delinquency rate, for example, was just 0.20 percent as of February.
4. And what's a 'frothy' housing market?
The housing markets in Toronto and Vancouver have been on a tear, raising the prospect of a bubble bursting. They've however cooled a bit since policy makers stepped in with a 15 percent tax on foreign buyers and tighter mortgage regulations. For instance, Toronto prices rose some 7 percent in early June from a year earlier, compared with a 33 percent surge in March that lifted the average price of a detached home to almost C$1.6 million. Still, Fitch Ratings says risks in the sector are elevated.
5. So will the bubble burst?
Depends on whom you talk to. Ben Carlson, director of institutional asset management at Ritholtz Wealth Management, says Canadian real estate has been on fire for years, making the U.S. real estate market during the boom of the mid-2000s look mild. U.S. shortsellers have said that Home Capital's woes are a sign of "some real problems with Canada". However Buffett cited Home Capital's "strong assets" in a "growing market." Home Capital itself accounts for just 1 percent of the Canadian mortgage market.
The Reference Shelf
A QuickTake Q&A on Canadian governments' bids to cool the housing market and a QuickTake primer on where Canada's economy is headed. 
The Bank of Canada's look at Canada's shadow banking market.
In Bloomberg View, Jared Dillian lays responsibility for the boom in housing prices at the feet of former governor of the Bank of Canada (and current governor of the Bank of England) Mark Carney.
— With assistance by David Scanlan, Maciej Onoszko, Allison McNeely, Kristine Owram, and Doug Alexander
Before it's here, it's on the Bloomberg Terminal.
LEARN MORE