Buffett Follows Goldman Model in Bailout for Home Capital
By and
Buffett's firm to buy shares, supply C$2 billion credit line

Alternative lender attempts comeback after regulatory woes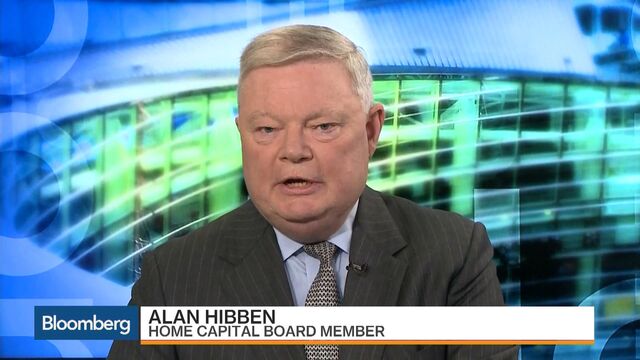 Warren Buffett has become the lender of last resort for Home Capital Group Inc. The billionaire investor agreed to buy shares at a deep discount and provide a fresh credit line for the Canadian mortgage company, tapping a formula he used to prop up lenders from Goldman Sachs Group Inc. to Bank of America Corp.
Buffett's Berkshire Hathaway Inc. will buy a 38 percent stake for about C$400 million ($300 million) and provide a C$2 billion credit line with an interest rate of 9 percent to backstop the embattled Toronto-based lender, Home Capital said late Wednesday in a statement. The interest on the one-year loan would net Berkshire at least C$180 million if it's fully tapped.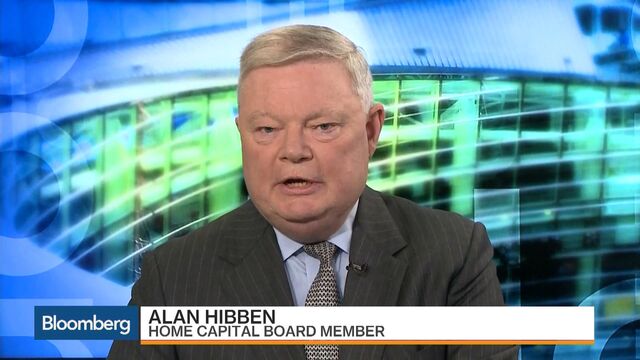 "While the terms of the new credit line with Berkshire Hathaway remain harsh, we believe the purpose of this loan is to motivate Home Capital's management to bolster their own funding sources," said Hugo Chan, chief investment officer at Kingsferry Capital in Shanghai, which owns shares in Home Capital. "This again shows Mr. Buffett's masterful capital allocation skills," said Chan, citing his investment motto: "be greedy when others are fearful."
The financial backing from Buffett sent the stock higher Thursday, though it comes at a cost, in keeping with his past bailouts of financial firms. Buffett has buoyed some of the biggest U.S. corporations in times of trouble, including a combined $8 billion injection to prop up Goldman Sachs and General Electric Co. when credit markets froze during the 2008 financial crisis.
Berkshire's purchase of $5 billion of Goldman Sachs preferred stock paid Buffett's company an annual dividend of 10 percent, and the billionaire also got warrants he later used to get more than $2 billion of the bank's shares in a cashless transaction.
Deal Discount
In the Home Capital deal, Buffett's firm agreed to pay an average price of C$10 a share, a 33 percent discount to Wednesday's closing price of C$14.94. Berkshire would become the largest shareholder in Home Capital, which has a market value of about C$1 billion.
Home Capital surged 27 percent to C$19 in Toronto on Thursday. That gives Buffett a 90 percent return on paper for the equity investment, assuming the deal goes through. Home Capital's bonds recovered. Its 3.4 percent securities due December 2018 traded at 98.4 cents on the dollar, the highest since the end of April, according to Bloomberg data. The investment also sent the Canadian dollar higher and boosted shares in rival lenders including Equitable Group Inc.
"If you have the Warren Buffett seal of approval, people will take you more seriously than if you don't," said Meyer Shields, an analyst with Keefe, Bruyette and Woods. "So you sort of look beyond the settlement and say, 'OK, what matters most now is that Warren Buffett trusts this company. And that in turn, allows Warren Buffett to get much better returns on capital than maybe some other lender would have been able to."

The C$2 billion credit line is only marginally cheaper than the emergency credit provided by the Healthcare of Ontario Pension Plan, which company directors have termed as "costly."
Under the new credit agreement, the interest rate on outstanding balances will fall to 9.5 percent, from 10 percent under the existing HOOPP line. The rate will drop to 9 percent after the initial investment is completed. The standby fee on undrawn funds will dip to 1.75 percent from the current 2.5 percent, then fall further to 1 percent. The credit line is for one year. Home Capital has drawn about C$1.65 billion from the HOOPP loan.
The investment "is a strong vote of confidence," in the long-term value of the business, Brenda Eprile, Home Capital's chairwoman, said in the statement.
New Terms
The move is the latest sign of a turnaround in the 30-year-old lender after a regulator in April accused it of misleading shareholders on mortgage fraud, which sent its shares tumbling, sparked deposit withdrawals and threatened to disrupt Canada's real estate sector. Earlier this week, Home Capital agreed to sell a portfolio of commercial mortgages to affiliates of KingSett Capital Inc. for C$1.16 billion in cash.
"Home Capital's strong assets, its ability to originate and underwrite well-performing mortgages, and its leading position in a growing market sector make this a very attractive investment," Buffett said in the statement.
The share purchase will be done in two parts: an initial investment of C$153 million for about a 20 percent equity stake, then an additional investment of C$247 million taking the stake to about 38 percent. The second phase requires extra approvals.
Berkshire will not be granted any rights to nominate directors and has agreed to only vote shares representing 25 percent of the company's stock, Home Capital said.
Home Capital shares have tripled since bottoming in May when its troubles began to accelerate, though remain about 73 percent down from their peak in 2014. The company last week took full responsibility over allegations the lender misled shareholders about mortgage fraud and agreed with three former executives to pay more than C$30 million to reach settlements with regulators and investors. 
More Confidence
Home Capital directors said on a conference call Thursday the focus on the deal with Berkshire was to restore investor and capital markets confidence. The lender chose Buffett's firm because the name would help restore confidence, even with the high price paid. There were about 70 parties looking at the company and its assets, and the board had several options in front of them including a sale of the entire firm, they said on the conference call.
"It's actually quite brilliant on the part of Home Capital to have secured this deal," said Michael Sprung of Toronto-based Sprung Investment Management. "It would have been a long, hard struggle without bringing in the backing of someone like Warren Buffett to rebuild this company and to reestablish the confidence of not only shareholders but depositors and mortgage brokers."
On the executive search, Home Capital said they were making progress and hoped to announce a new chief executive officer in July.
Buffett's Berkshire Hathaway is wading into a tense Canadian housing market, with Toronto house prices cooling after being hit with a 15 percent tax on foreign buyers and tighter mortgage regulations, and confidence shaken by the Home Capital drama. Meanwhile, prices are surging in Vancouver again after being sideswiped by similar policy moves. 
— With assistance by Scott Deveau, Sree Vidya Bhaktavatsalam, Katherine Chiglinsky, Kristine Owram, Jacqueline Thorpe, and Maciej Onoszko
Before it's here, it's on the Bloomberg Terminal.
LEARN MORE