Samsung Gives Activist Elliott Concessions But Not Restructuring
By
Samsung says it's not desirable to convert to holding company

Elliott welcomes Samsung's plan to cancel treasury shares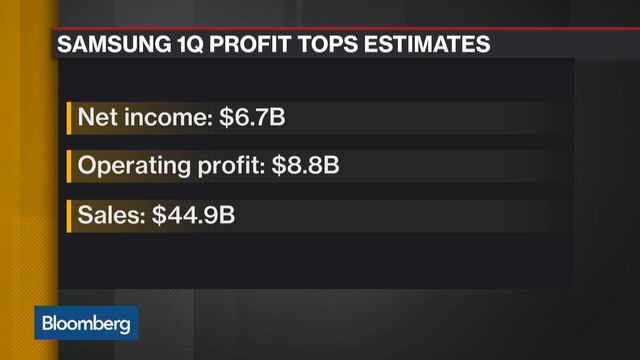 Samsung Electronics Co. turned down activist invest Paul Elliott Singer's push for a corporate restructuring, offering instead to reward shareholders by paying its first-ever quarterly dividend and canceling tens of billions of dollars in treasury shares amid a surge in profits.
The Suwon, South Korea-based firm said Thursday that transforming into a holding company, as Singer advocated, wouldn't help Samsung's competitiveness and could face regulatory hurdles. The company also reported first quarter net income of 7.49 trillion won ($6.7 billion), the highest level in almost four years and far ahead of the 6.77 trillion won expected by analysts. Shares climbed to a record high.
The strong financial performance comes despite other challenges. Vice chairman and de-facto chief Jay Y. Lee is on trial in an influence-peddling scandal and remains in detention.
"We are encouraged that Samsung Electronics has agreed to take the bold step of optimizing its balance sheet through a cancellation of its legacy holding of treasury shares," Elliott Management Corp. said in an emailed statement. "We think there is room for even more progress due to the company's announced commitment to enhance its board."
What's Behind the Samsung Bribery Allegations: QuickTake Q&A
The shares initially fell on Samsung's announcement not to pursue a holding company but jumped to a record when Samsung said separately it planned to cancel 40 trillion won of treasury shares in two stages. Samsung has about 12.9 percent of its own common stock in its treasury holdings. At today's prices, its treasury holdings are valued at about $35 billion. The quarterly dividend will be 7,000 won a share.
"The plans announced today to increase returns for shareholders trumped the announcement not to turn into a holding company," said Lee Jae-yun, an analyst at Yuanta Securities Co. "Many shareholders to a degree had also expected the holding company bid would not become a reality."
The stock surged as much as 4 percent to 2.226 million won, the highest ever on an intraday basis, before trading to 2.9 percent higher as of 2:37 p.m.. in Seoul. This year it has shrugged off Lee's detention and last year's Note 7 smartphone recall, as the company boosts returns to investors and earnings surge on demand for high-end screens and chips for cloud servers and mobile devices.
Activism in South Korea Might Be an Oxymoron No Longer: Gadfly
Elliott called on Samsung to restructure in October, releasing a 10-page letter that detailed his push for a holding company, more independent directors, a Nasdaq listing and the payment of 30 trillion won of dividends.
While Samsung has returned more cash to investors, it cited an increasingly uncertain "legal and regulatory environment" for its decision against a holding company. Calls to reduce the power of families behind South Korea's conglomerates are growing ahead of the May 9 presidential election and parliament has been reviewing proposals that could make it harder for Lee to control the crown jewel of the nation's biggest company.
Turning into a holding company would have taken up to a year and those pending proposals may been approved more quickly if Samsung moved in that direction, Robert Yi, head of investor relations, told analysts in a conference call. Lee expressed no particular view when he was informed of the decision not to split into a holding company, he said.
Lee, grandson of the Samsung founder, is fighting charges that he paid bribes to a confidante of the country's former President Park Geun-hye to win government support of a merger of affiliates that tightened his grip. Both Lee and Park have denied the allegations.
The Lee family has maintained control for decades with a complicated web of cross-holdings that has generally protected it from outside influence. In November Samsung said it would consider ways to streamline its corporate governance amid a push by Singer for changes.
Operating profit for the quarter was 9.9 trillion won the company said, confirming preliminary numbers released earlier this month.
The mobile unit had operating profit of 2.07 trillion won. Samsung unveiled the new Galaxy S8 in March with first deliveries of its most expensive handset starting this month. Pre-orders of the device, and the larger S8+, beat the record of the previous model in the high-end Galaxy range.
After being overtaken by Apple Inc. in the fourth quarter of 2016 when Samsung pulled its Note 7 from shelves because the phones tended to catch fire, the Korean company reclaimed the global top spot with 26 percent of shipments in the three months ended March, according to market researcher TrendForce.
While Apple is expected to unveil a new iPhone later in 2017 -- the 10th anniversary of the iconic device -- it's said to be adopting a display using organic light-emitting diodes that is made by Samsung.
Operating income from Samsung's chips unit was 6.31 trillion won while the display business had earnings of 1.3 trillion won. The consumer electronics unit, which includes TVs and appliances, had profit of 380 billion won.
Samsung said it plans to increase its investment "significantly" compared to last year, concentrating on memory chips and displays. It also said it's reviewing a policy for shareholder returns for 2018 to 2020 and will meet with investors to hear about it.
"The anticipation for a holding company has helped the shares rally, but now that the idea is scrapped, shareholders will demand Samsung make up for it with greater returns," said Claire Kim, an analyst at Daishin Securities Co. "Given Samsung has been performing well, it has the wherewithal to meet such demands."
Quotes from this Article
Before it's here, it's on the Bloomberg Terminal.
LEARN MORE