Billionaire Activist Singer Appeals for Modernizing Samsung
by and
His Elliott Management wants electronics unit to split in two

Hedge fund is betting Samsung's heir apparent will bite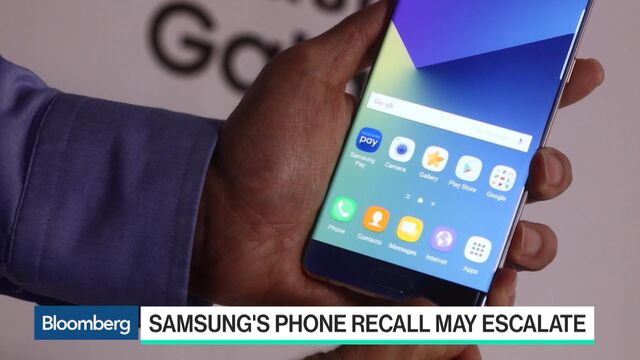 Billionaire activist Paul Elliott Singer is betting Samsung Electronics Co.'s heir apparent is so keen to modernize his family's empire without losing control that he'll embrace a complex proposal to break up the company, say people familiar with the matter.
Singer's Elliott Management Corp. -- through affiliates Blake Capital LLC and Potter Capital LLC -- proposed that Samsung separate into an operating company and a holding company, dual-list the former on a U.S. exchange, pay shareholders a special dividend of 30 trillion Korean won ($27 billion) and improve governance by adding three independent board members. Elliott is arguing that the new plan would make Samsung Electronics' business more transparent, simplify the ownership structure and provide tax benefits, all of which would push up the stock. Shares surged 4.5 percent to a record high close.
Last year, Elliott narrowly lost a bid to halt a takeover by parent Samsung Group that the firm deemed a bad deal for investors. Elliott's proposal Wednesday may be in the interest of Samsung's heir apparent Jay Y. Lee because he needs to put his stamp on South Korea's largest conglomerate and embrace more shareholder-friendly governance. Plus, while Elliott lost the last fight, it was an eye-opening education for many South Korean investors.
"It takes some time for this notion to get through that shareholders are the owners and they have say," said Wei Jiang, a finance and economics professor at Columbia Business School who tracks and researches activist shareholder trends. South Korean investors are just starting to understand this notion, with U.S. activists helping to "shift the perception of the shareholders to make them feel not completely like passive players in this game."
Overseas activists historically have struggled to influence Asian companies. In South Korea, the conglomerates known as chaebol use a complicated system of cross-shareholdings to protect them from external influence. As a result, outside investors have rarely taken on Korean companies, which have managed to fend off most corporate raiders and activist hedge funds.
Singer's demands fall broadly in line with changes that Samsung's Lee himself had been contemplating, the Wall Street Journal cited an identified executive as saying without going into specifics. The company had said in an e-mail statement it "will carefully review the shareholders' proposals" and that it is committed to creating long-term, sustainable value for all of its stakeholders. The company added it "believes in a constructive and open dialogue with investors with a view to maximising shareholder value."
Shares rose to 1.69 million won at the close in Seoul, the highest since June 1975. The stock has climbed 34 percent this year.
Separately, U.S. regulators are investigating a report from Southwest Airlines Co. that smoke from a passenger's Samsung smartphone forced the evacuation of a plane in Kentucky. The Korean company has been struggling to contain the fallout from battery fires in its Note 7 devices that led to a recall of 2.5 million phones.
Tradition Under Stress
The chaebol establishment is under increasing pressure from ordinary South Koreans concerned about cronyism and the stifling of small business. The government and investors have pushed to unravel the conglomerates to free up capital and make corporate governance more transparent. Activist funds, having already tapped most of the "low-hanging fruit" in the U.S., are eyeing South Korea as the next frontier, Jiang said. The country is attractive because its corporate governance laws are similar to the U.S. -- it's the culture that's different, she said.
"At the fundamental level, management understands that their job is to maximize shareholder value, but that's not how they operate on a day-to-day basis," she said. 
Last year's push by Elliott was one of the biggest and most public fights the country had ever seen, setting the stage for the firm's latest salvo. Over a six-week campaign that got progressively nastier, Elliott Associates LP fought to block a proposed acquisition of construction firm Samsung C&T by the group's de facto holding company Cheil Industries Inc. The hedge fund argued that the purchase price offered by Cheil Industries was too low and would deny shareholders a decent return. 
In a barrage of ads, Samsung sought to persuade shareholders that voting for the merger was patriotic. Critics of Elliott even issued anti-Semitic diatribes against Singer and others. After three Korean publications ran stories calling Jews "ruthless and merciless" among other things, Samsung was forced to issue statements assuring the world it wasn't anti-Semitic. In the meantime, Elliott helped fuel anger among Samsung C&T shareholders by emphasizing that they were being lowballed. At a packed shareholders meeting, one man tried to charge C&T's chief executive officer. In the end, Samsung bowed to some of Elliott's demands and won the vote by a 3 percentage point margin.
Uncertain Leadership
Singer is striking at a moment when Samsung's management team has been without clear leadership for more than two years. Lee Kun-Hee, the Samsung patriarch who is chairman of both the electronics unit and the broader conglomerate, suffered a heart attack in 2014 and hasn't been back to the business since. Jay Y. Lee hasn't taken his father's title because Korean culture precludes such a move while the elder Lee is alive. The younger Lee is scheduled to join the board later this month, which would help him exert more authority over the company's direction.
If Jay Y. Lee would like to restructure Samsung Electronics to move away from the chaebol system and formalize the family's control, he can only achieve it with the support of foreign investors. The type of restructuring Elliott has proposed would require a two-thirds vote and almost 60 percent of Samsung Electronic Co.'s stakeholders are overseas investors.
Many of those international holders are keen to support efforts to deliver higher returns, said the people, who requested anonymity to discuss a private matter. What's more, given Chairman Lee's health, the family must be considering a looming multibillion-dollar inheritance tax bill, some of which could be offset with the new structure, the people said.
This may be an easier sell than the anti-merger fight because the underlying logic is to boost shareholder returns and make companies more efficient -- areas where all stock owners' interests seem aligned. Plus, Elliott's proposal to split the company would ensure that the Lee family retains its sway, making it an easier pill to swallow for Samsung and South Korean shareholders wary of foreign interlopers. In Samsung's last feud with Elliott, the hedge fund's efforts to block the merger would have prevented the family from strengthening its grip over the group, which was a critical step for Jay Y. Lee to consolidate power and eventually succeed as chairman.
This time around, Elliott also has an extra weapon gained from the last fight with Samsung: small and individual investors in South Korea, who had been overlooked, ignored and derided as "ants" for their perceived lack of importance and influence. Excluding institutional investors, minority shareholders held almost a quarter of C&T's shares. Singer's people galvanized a group of thousands to oppose the deal and helped educate them on their rights and roles. The voices of this newly enfranchised cohort almost upset the merger, and Samsung will be hard pressed to ignore them if there is a battle ahead.
Before it's here, it's on the Bloomberg Terminal.
LEARN MORE