Orban Undaunted as Hungary Passes Law Targeting Soros's CEU
By
Soros's CEU university in Budapest says law aims to close it

Legislation triggers protests, fuels debate over democracy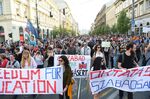 Hungarian Prime Minister Viktor Orban pushed through a bill that critics say is aimed at shutting down a university founded by George Soros, a conflict that's become emblematic of concern that liberal democracy is in retreat in the eastern European nation.
Parliament, where Orban's party has a commanding majority, approved the bill tightening regulation on foreign universities on Tuesday, the same day legislators had the first chance to debate it. Ignoring street demonstrations, ruling-party lawmakers amended the bill on Monday to tighten deadlines for universities to meet new regulations.
Thousands of Hungarians marched on Sunday to protest for academic freedom. The government denies it's targeting Central European University, the institution Soros founded to train a new generation of democratic leaders in eastern Europe after decades of communism. Orban has spurned checks and balances on his power and regularly blames the Hungarian-born billionaire investor and philanthropist, who also funds organizations that seek to promote human rights and government transparency, for trying to undermine him.
"We are committed to use all legal means at our disposal to stop pseudo-civil society spy groups such as the ones funded by George Soros," Minister of Human Capacities Zoltan Balog, Hungary's top education official, said before the vote in parliament.
'Spectacular Breakdown'
Orban was the first European Union leader to embrace Russian President Vladimir Putin's model of the "illiberal state," pushing through a new constitution over opposition protests and extending his influence over independent institutions, including the judiciary.
The U.S. is "disappointed by the accelerated passage of legislation targeting Central European University, despite the serious concerns raised by the United States, by hundreds of local and international organizations and institutions, and by thousands of Hungarians who value academic freedom," Charge d'Affaires in Budapest David Kostelancik said in an emailed statement.
German President Frank-Walter Steinmeier also criticized the decision, telling the European Parliament in Strasbourg, France that "Europe must not be silent when civil society, even academia, as now at Central European University in Budapest, is deprived of air to breathe."
Opposition to the legislation has emboldened Orban, who on Friday called CEU, one of Hungary's top-ranked universities that's also accredited in the U.S., a "cheat," even as the government later acknowledged that it's run in line with Hungarian law. The U.S. last week urged Hungary "to avoid taking any legislative action that would compromise CEU's operations or independence."
Academic Freedom
"The new law puts at risk the academic freedom not only of CEU but of other Hungarian research and academic institutions," CEU said in an emailed statement. The university will contest the constitutionality of the law, CEU President Michael Ignatieff said.
An amendment added to the bill on Monday forces foreign universities to close unless there's a bilateral agreement in place between Hungary and their "home" government and unless they have a campus abroad. CEU currently meets neither new criteria. The law takes effect Wednesday, instead of the originally planned Sept. 1. Universities that fail to meet the rules will be barred from enrolling new students as of Jan. 1, instead of September of next year as foreseen in the bill's earlier version. CEU said the changes made the law "even more punitive" than originally planned.
Before it's here, it's on the Bloomberg Terminal.
LEARN MORE