Soros's University Turns Into Democracy Battleground in Budapest
By
CEU's fight shows retreat of liberal democracy, Ignatieff says

Hungarian premier steps up campaign against liberal democracy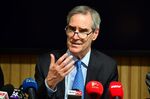 The fight over the survival of a university in Budapest founded by billionaire financier George Soros is part of a bigger battle over the future of liberal democracy in eastern Europe, according to Michael Ignatieff, the head of Central European University.
Thousands of Hungarians took to the streets on Sunday to protest for academic freedom in response to government legislation unveiled last week which Ignatieff, a Canadian, said was targeted at shutting down CEU. Soros established CEU in his birth city after the fall of the Iron Curtain to train a new generation of leaders to build democracy in eastern Europe after decades of communism.
Now CEU is in the crosshairs of Prime Minister Viktor Orban, the first European Union leader to embrace Russian President Vladimir Putin's model of the "illiberal state." Hungary presented a bill last week that cited "national security considerations" to tighten rules on foreign universities. While the government denies it's targeting CEU, Orban has spurned checks and balances on his power and regularly blames Soros, who funds organizations that seek to promote human rights and government transparency, for trying to undermine him.
EU Precedent?
"The regime has been slowly but steadily consolidating its power over Hungarian society, and it sees us as an obstacle," Ignatieff, the 69 year-old former head of Canada's Liberal Party, said in an interview in his office on March 30. "This is the first time in the history of the European Union in which a member state has taken an action whose purpose is to shut down a free educational institution, and that's why this is a fight we have to win."
The U.S. State Department expressed its concern in a statement on Friday and urged Hungary's government "to avoid taking any legislative action that would compromise CEU's operations or independence." Seventeen Nobel laureates were among thousands who've signed petition in solidarity with CEU, the university said in an email Sunday. That has only emboldened Orban, whose deputy asked parliament on Monday to expedite the legislative process and to vote on the bill on Tuesday. Lawmakers were originally scheduled to start debating the bill on Wednesday.
Illiberalism Spreads
It's a sensitive juncture for the EU, which is trying to forge its future while negotiating Britain's exit from the bloc and preparing for elections this year in Germany and France where populists are seeking to wrest control from mainstream parties. On its eastern flank, Poland has followed Hungary on the illiberal route, becoming the EU's first member to face an official probe over whether it's observing democratic norms.
"It's more important than ever to preserve free institutions in this part of the world," Ignatieff said. "Our heartland has always been the states of the former Soviet empire. We're one of the few universities where Americans, Russians and Ukrainians can sit in the same classroom."
Ignatieff, who's married to a Hungarian and who gave up a professorship at Harvard to take the helm of CEU last year, recalled that until recently he'd been the one telling critics that Hungary "is still a free society" when asked about what it's like living in Orban's idea of illiberal democracy. In power since 2010, the Hungarian leader has pushed through a new constitution over opposition protests and extended his influence over independent institutions, including the judiciary, ignoring objections from the EU at each turn.
Foreign-Funded NGOs
Foreign-funded NGOs may also face tightened regulation as a new measure in the works may force them to register their special status or be closed down, 444.hu reported late Sunday, citing a draft of a separate bill it obtained. The leaked document doesn't necessarily represent the final version of the legislation, the government's press office said by phone.
Following last week's proposal, Ignatieff has gone on the offensive, calling on the cabinet to withdraw the bill that officials argue is part of a regular review of foreign universities. He also demanded that CEU's continued operations be tied to a new agreement that ensures any future legal conflict be handled by a court outside Hungary. Ignatieff argued that Orban, who back in 1989 received a Soros-funded scholarship to study at Oxford University, has "shredded the independence of institutions we'd prefer to go to, namely Hungarian ones."
"This is a fight to preserve a free institution and that's what I think a democracy must absolutely have," Ignatieff said. "Winning for us means staying Budapest with a long-term, stable legal regime to operate in Hungary."
Before it's here, it's on the Bloomberg Terminal.
LEARN MORE