Huishan Turmoil Highlights China's $8 Trillion Shadow Loan Risk
Bloomberg News
Jiutai Bank discloses 1.35 billion yuan credit to Huishan

Some Huishan loans were arranged as investment receivables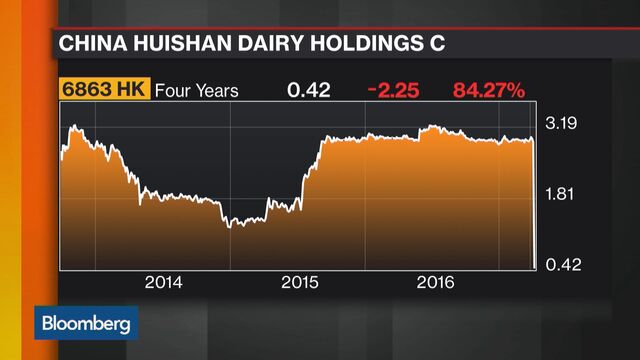 Turmoil at a small Chinese dairy company is shedding rare light on the final destination for some of the country's estimated $8 trillion of shadow banking loans.
Jilin Jiutai Rural Commercial Bank Corp., a major creditor to embattled China Huishan Dairy Holdings Co., said late Tuesday it has extended a total of 1.35 billion yuan ($196 million) in credit to the dairy producer, including 750 million yuan through the purchase of investment receivables from a finance lease company.
Investment receivables -- a category that can include using wealth-management products, asset-management plans and trust-beneficiary rights to disguise what are in effect loans -- allow banks to reduce the amount of cash they need to set aside for capital and provisions for loan losses.

The practice of recording loan-type exposures on balance sheets under categories including investment receivables has allowed hundreds of smaller Chinese banks to boost assets and profits. At the same time, it has created opaque risks that could lead to failures, bailouts or liquidity shocks with the potential to jolt national and global markets.
The external public relations agency for Jiutai didn't immediately reply to an email seeking comment. The bank doesn't appear to have broken any disclosure rules on its receivables.
China's shadow banking system could lead to losses of $375 billion, CLSA Ltd. estimated in September. The brokerage said such financing expanded at an annual 30 percent pace from 2011 through 2015 to reach 54 trillion yuan, or 79 percent of the nation's gross domestic product. But details have rarely surfaced on the specifics of individual shadow banking arrangements.
QuickTake Q&A: Don't Say You Weren't Warned About China's WMPs
"Chinese banks are lending more and more money to companies in recent years through investment receivables, partly to circumvent regulatory or internal rules," said Yulia Wan, a Shanghai-based banking analyst at Moody's Investors Service. Lenders don't disclose enough information about where the money goes, according to Wan.
In addition, the banks usually don't provision enough for such exposures, and they fund the transactions through short-term borrowing from other financial institutions, Wan said. "This practice poses risks to both investors and banks themselves."
While China's shadow-financing system is smaller and less complex than in developed markets, the challenges include poor disclosure, which hampers investors' assessment of risks. The nation's financial regulators have taken steps since August to limit exposure at smaller lenders that used short-term interbank borrowings to boost investments in opaque products issued by other financial institutions.
Huishan's Woes
Huishan Dairy called a meeting with eight creditors on Monday asking them not to call in outstanding loans, delay new loans or file lawsuits, according to a message posted Wednesday morning by Hongling Capital Chairman Zhou Shiping in the company's media WeChat group. The P2P lender has brokered loans to Huishan.
Jiutai said in its statement Tuesday that there have been no defaults on interest due from the 1.35 billion yuan in total credit to Huishan Dairy, which includes 750 million yuan extended on Dec. 1 and 600 million yuan on March 7. The lender also said it will take all necessary measures to ensure the security of the credit.
About two weeks after the first loan, Carson Block, the short seller and founder of Muddy Waters LLC, issued a report on Huishan Dairy alleging the company was worth "close to zero."
Jiutai, based in the northeast city of Changchun, had 191 billion yuan of total assets as of Dec. 31, of which 31 percent was categorized as loans, according to its annual report. The report listed the size of Jiutai's 10 largest loans, the biggest of which had an outstanding amount of 615 million yuan. That suggests the bank didn't categorize its 750 million yuan Huishan transaction on Dec. 1 as a loan.
Jiutai's investment receivables amounted to 11 billion yuan, or 5.6 percent of the bank's total assets. The figure for Jiangsu Jiangyin Rural Commercial Bank Co., another rural lender, was 0.86 percent.
In Huishan Dairy's first detailed statement since it halted trading in its shares on Friday after a 85 percent tumble, the company said Tuesday that it had been unable to contact one of its executive directors for the past week. Huishan said it was late on some bank payments and that its stock would stay suspended until the board received an update on the firm's financial position.
Watch Next: China Huishan Dairy Loses $4.1B in Value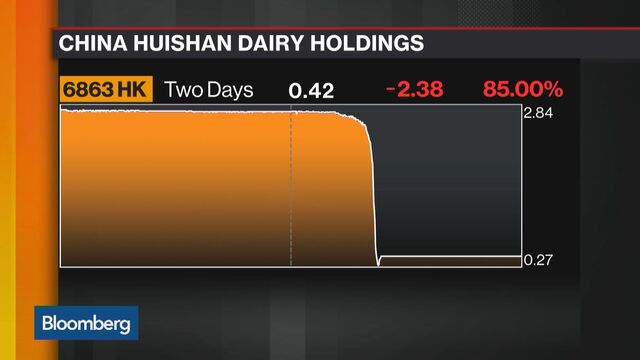 — With assistance by Jun Luo, Judy Chen, and Lisa Pham
Before it's here, it's on the Bloomberg Terminal.
LEARN MORE