markets
Unreachable Huishan Executive Exposes China Debt, Bank Risks
Bloomberg News
Dairy company says stressed-out treasurer can't be contacted

Huishan targeted by Carson Block's Muddy Waters in December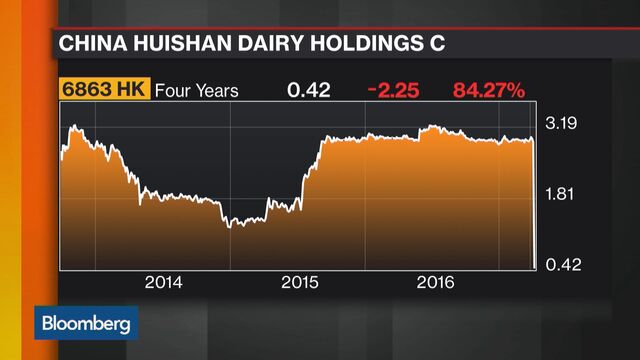 An unreachable corporate treasurer. An emergency meeting with creditors. A $4.1 billion stock collapse. And a vindicated short seller.
All that and more converged in a remarkable week for China Huishan Dairy Holdings Co., a milk producer with outsized ambitions that may turn into the country's latest poster child for weak corporate governance, the dangers of leverage and the potential for financial shocks.
Four days after a sudden 85 percent drop in Huishan shares left investors grasping for answers, the company laid out its version of events in a Hong Kong exchange filing on Tuesday.

Ge Kun, the executive director who managed Huishan's treasury operations, has been unreachable for a week, the company said. Huishan's last contact with her was a March 21 letter to Chairman Yang Kai explaining that work stress -- heightened by a critical report from short seller Carson Block in December -- had taken a toll on Ge's health and that she didn't want to be contacted. That same day, Yang said he realized the company had been late on some bank payments. By March 23, Huishan had arranged an emergency meeting with creditors and government officials in Liaoning province, where the company is based.
Huishan said its major lenders, including Bank of China Ltd., expressed confidence at the meeting. But that was before the stock collapsed on March 24, and Huishan couldn't provide any assurances that their support would continue. The company said its shares, which were halted after losing most of their value in less than 90 minutes, would stay suspended until the board received an update on the firm's financial position.
"There's ongoing concerns about corporate governance," said Daniel So, a Hong Kong-based strategist at CMB International Securities. "But now the real concern is the banks' asset quality. The risk management of banks may come under scrutiny."
Read more: A QuickTake explainer on China's debt problems
Huishan is just one of many Chinese companies finding it more difficult to keep up with debt payments as interest rates rise. At least eight onshore bonds, four of which were issued by companies in Liaoning, have defaulted so far this year, compared with seven in the first quarter of 2016, according to data compiled by Bloomberg. China's corporate debt climbed to 156 percent of gross domestic product at the end of 2016, the highest level since Bloomberg Intelligence began tracking the figures in 2004.
Bank of China said it couldn't comment when contacted by Bloomberg News on Monday, while calls to the Liaoning government's financial services office weren't answered. At Huishan's office in a tower near Hong Kong's main business district on Tuesday, a Bloomberg reporter rang the doorbell several times without getting an answer. A phone inside the office could be heard ringing after calls to the company's investor relations line, but nobody picked up.
Read more: Gadfly's take on the Huishan slump
It's been a dramatic turn of events for a company that promoted itself as China's most vertically-integrated dairy firm -- Huishan produces everything from cow feed to raw milk to high-end dairy products -- and commanded a nearly $5 billion market value as recently as last week. Until Friday, the company had even appeared to shake off allegations of wrongdoing from Block, with Huishan shares trading in an unusually narrow price range after his report.
Questions remain about how the company got itself into this position and whether it can survive the storm. But with more than 11,600 employees and 11 billion yuan ($1.6 billion) of debt due within a year as of September 2016, Liaoning's government and Huishan's banks have big incentives to avoid a collapse.
State help for struggling companies "is not uncommon in China, where corporate visibility and transparency are very low," said Kevin Lai, Hong Kong-based chief economist for Asia Pacific ex-Japan at Daiwa Capital Markets.
Yang's Holdings
Whether or not Huishan is rescued, minority shareholders in Hong Kong could be stuck in their positions for the foreseeable future. The former British colony is notorious for its extended trading halts; more than 30 companies in the city have had their shares suspended for at least a year. Hanergy Thin Film Power Group Ltd., whose sudden stock collapse almost two years ago resembled that of Huishan, has been frozen ever since.
Adding to the risk for Huishan shareholders -- and Chinese lenders -- is Yang's leveraged ownership stake in the company. Champ Harvest Ltd., an entity controlled by Yang, owns almost 71 percent of Huishan, with most of those 9.5 billion shares used as collateral for loans.
Some 3.4 billion shares were pledged to Ping An Bank Co., which said in an exchange filing that Champ Harvest had HK$2.1 billion ($270 million) in outstanding loans as of March 24. Another 1.9 billion shares were being used to secure other Champ Harvest loans; some 750 million were backing loans to different companies controlled by Yang; and about 3.3 billion were deposited in brokerage accounts to secure margin financing, according to Huishan. While Yang is still checking with his brokers, it doesn't look like Ping An spurred Friday's selloff by dumping shares, Huishan said.

In another twist, a bank part-owned by Yang emerged last week as a major lender to Huishan. In January, Champ Harvest paid about $69 million in an off-exchange transaction to become the biggest holder of the Hong Kong-listed shares of Jilin Jiutai Rural Commercial Bank Corp. The lender was among the Huishan creditors that expressed confidence in the company during the emergency meeting on March 23. On Monday, Jiutai Bank's shares tumbled amid concerns about its exposure. The lender announced after Hong Kong markets closed that it planned a bond sale of as much as $189 million to bolster its capital.
Huishan's selloff came more than three months after Block issued a report alleging the company was worth "close to zero." His thesis was based on several allegations, including that Huishan had misrepresented its self-sufficiency in alfalfa (used to feed cows), overstated its revenue and made an unannounced transfer of assets to an entity controlled by Yang. Block, who built his reputation on uncovering financial improprieties at Chinese companies, also said Huishan's "excessive leverage" had put the company at risk of default.
"Over the past few years, we have seen so many accounting frauds or companies with serious corporate governance problems," said Chaksum Lau, Hong Kong-based assistant portfolio manager at China Securities International Asset Management Co. "It's becoming a phenomenon now. This is not the first time on the Hong Kong stock exchange and it's mainly Chinese companies."
'Cautionary Tale'
Huishan's concentrated ownership should have been a red flag for investors, Lau said. Hong Kong's exchange needs to adopt stricter rules on corporate governance, ownership structures and independent directors, he said. Lorraine Chan, a spokeswoman for Hong Kong Exchanges & Clearing Ltd., said the bourse operator doesn't comment on individual companies. Ernest Kong, a spokesman at the Securities and Futures Commission, declined to comment.
Huishan has said that the allegations in Block's report were groundless and contained misrepresentations. In its statement on Tuesday, the company said it categorically denies approving the issue of any forged invoices and "doesn't believe" there has been any misappropriation. Yang has also denied misappropriating 3 billion yuan to invest in real estate, Huishan said.
In an interview on Friday, Block said he's never seen one of his short-selling targets act quite like Huishan. When Block issued his report, the shares dipped just 2.1 percent on the day, recovered within a week and then flatlined for months -- until the rout on Friday came without any advance notice.
"It's definitely not what I expected to happen," he said. "Hopefully it will serve as a cautionary tale."
— With assistance by Dominic Lau, Kana Nishizawa, Rachel Chang, Simon Lee, Gregory Turk, Richard Frost, Emma Dai, Philip Lagerkranser, Sofia Horta E Costa, and Lisa Pham
(
Updates with background and quotes from ninth paragraph.
)
Before it's here, it's on the Bloomberg Terminal.
LEARN MORE