markets
Tainted Meat? That's No Reason to Cut Back for Many Brazilians
By , , and
Brazil's meat exports tumble, but domestic demand stays strong

Beef sales took biggest hit, already showing signs of rebound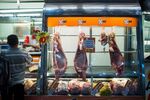 Tainted meat may be cause for alarm in most of the world, but Brazilians' appetite for beef is still going strong.
Just over a week after federal authorities accused at least 20 meatpackers of bribing government inspectors to approve the sale of contaminated or spoiled beef and chicken, many Brazilians appear to be gobbling up their steaks just as fast as before. Some may have never slowed down to begin with. In a nation that produces 20 percent of the world's red-meat exports and 40 percent of its chicken, eating meat and especially beef is practically a part of the national DNA. For most, Brazil's low-cost beef is a staple of lunch and dinner.
While the March 17 police raids at slaughterhouses were "shocking," 37-year-old designer Aline Polycarpo says she never stopped buying meat. "In no moment did it enter my mind," she says at a Rio de Janeiro supermarket. "I have a small daughter and I think beef is essential for her."
Official sales and consumption figures are hard to come by this soon after the scandal made global headlines and prompted some of the world's biggest meat buyers to set limits on Brazilian meat. But inside Brazil, butchers are reporting that sales have stayed relatively steady, says consulting firm Scot Consultoria, which does a weekly survey of meat producers in Sao Paulo state. Abrafrigo, the Brazilian association of beef producers, says nationally sales may have declined by about 10 percent."The main perception is that Brazilians are still buying beef," spokesman Norberto Staviski says, "but now more carefully."
The national sales dip, while certainly painful, is half as severe as the export plunge and provides some consolation for Brazil's producers who sell 80 percent of their output at home. The first weekly data from Brazil's Trade Ministry showed daily average meat exports plunged 19 percent March 20-26, a fresh blow to an economy trying to emerge from its worst recession ever.
In Sao Paulo and Rio de Janeiro, plenty of folks are taking the allegations in stride, based on two dozen interviews of customers and workers at steakhouses and grocery stores in recent days.
"Nothing happened here," says Amadeu Fernando, a 35-year-old taxi driver in Rio. While he doesn't eat beef every day, he says he never turns it down at a barbecue, which goes hand-in-hand with Brazil's other favorite pastime: soccer. "If there's a game, Brazilians are going to barbecue and there's no way to have a barbecue without meat."
Supervisors at the protein departments at two Sao Paulo supermarkets said beef sales took the biggest hit, even though the bulk of the allegations involved chicken production. As the scandal stops making daily front-page news, many consumers are already reverting back to their own buying habits.
That's already the case for Marcia Nascimento, a 60-year-old social worker in Sao Paulo who says she usually buys about 8 kilograms (18 pounds) of beef a week for her family of five. (The average American eats a little more than 1 pound a week.) Amid protests from her family, she swapped out the ground beef and fillets for chicken in the days following the allegations, but was ready to resume her regular routine.
"My family prefers beef," she says while standing in the protein aisle at her supermarket. "I might try to get a cut of beef today if it looks good."
— With assistance by Gerson Freitas Jr, and Kariny Leal
Before it's here, it's on the Bloomberg Terminal.
LEARN MORE