World's Biggest Meat Producer Struggles With Bad Beef Allegations
Acid on your steak? A Brazilian probe of the industry could hurt the IPO prospects of JBS.
By and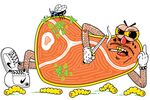 Not long ago, JBS SA was in the vanguard of Brazil's global ambitions, transforming itself into the world's largest meat producer by snagging overseas rivals in a decade-long, $20 billion acquisition spree. Now, just as Brazil is mired in recession and a seemingly endless corruption scandal, JBS is facing a crisis of its own.
Authorities in Brazil said on March 17 they're investigating evidence that employees of JBS and at least 20 other companies bribed government officials to approve the sale of tainted meat. Federal police raided slaughterhouses and alleged some operators stuffed sausages with cardboard, used acid to mask the smell of spoiled steaks, or knowingly shipped salmonella-tainted cold cuts. In a statement, JBS says it "is not accused of selling tainted or rotten meat," nor have any actions been taken against JBS executives or managers.
Although the accusations involved only a small part of JBS's operations in Brazil, they add to a series of allegations over the past 14 months that have been piling up against the company's controlling shareholders, the billionaire Batista family and its holding company, J&F Investimentos. Federal police raided the parent company's São Paulo headquarters twice last year in other corruption probes, and the federal budget court is investigating injections of capital into JBS by a state development bank.

J&F has repeatedly denied any wrongdoing, and longtime investors to a large extent have stood firm behind them. However, the barrage of accusations is the biggest blow to JBS's reputation and could undo years of hard-won growth. The latest crisis "could actually be quite serious," because it not only raises doubts about the safety of the company's key product but involves claims of bribery, says David Tawil, a co-founder of Maglan Capital in New York. What troubles investors most is that the scandal could further delay plans for an initial public offering in New York of JBS's non-Brazilian assets and its Brazilian processed-food unit. JBS had been expected to carry out the sale by midyear, but "if there's any truth to these allegations, then the IPO won't even be a possibility," Tawil says.
Beyond imperiling the company's stock offering, the tainted meat scandal complicates Brazil's efforts to emerge from a two-year recession that's the worst on record. The fallout was swift when an investigation was announced. China, the European Union, and Singapore were among major importers that rushed to set limits on supplies from Brazil, the world's top exporter of beef and chicken. A temporary ban in Asia could be particularly painful: China and Hong Kong consume about a third of the Latin American nation's $5.5 billion in annual beef exports.
The crackdown and investigation, called Operation Weak Flesh, is looking into the role of 33 federal food-safety inspectors; more than 30 arrest warrants have been issued. Police have also released transcripts of recorded conversations in which alleged bribes—sometimes in the form of prime cuts of beef—were discussed. In one instance, police videotaped a JBS employee arriving at an inspector's house with a Styrofoam cooler so heavy it took two people to carry it inside. In a joint statement, the federal police and the agriculture ministry said the alleged actions of the meat inspectors don't "represent a generalized malfunction of Brazil's inspection system."
Since the scandal broke, JBS and BRF SA, Brazil's biggest chicken producer, also named in the investigation, have been bombarding Brazilian consumers with full-page ads and prime-time TV spots extolling the safety of their products. Brazilian President Michel Temer tried to calm international anxieties by taking ambassadors from China and other importing nations to an all-you-can-eat steakhouse on March 19.
Key buyers of Brazilian meat may have little choice but to stay the course. The U.S. Department of Agriculture says Brazil accounted for almost 40 percent of the world's broiler-meat exports in 2016. The U.S., the world's second-largest exporter, has been banned from shipping its chicken to China and other countries since 2015, when an outbreak of bird flu in the American Southeast wiped out more than 48 million birds. As bird flu spreads, "the world doesn't have many supply alternatives left," says Ricardo Santin, a director at Brazil's chicken and exporter group, ABPA.
The outlook for JBS's stock and bonds is less certain. Until the recent raids and allegations, JBS hadn't been directly accused of any wrongdoing in investigations involving the Batistas' holding company. Now it can't escape the spotlight. "Selling proteins that aren't fit for human consumption generates horrible headlines," says Ray Zucaro, chief investment officer of Miami-based RVX Asset Management LLC. "I don't think this scandal is the one that will blow them up, but it's another scratch in their armor."
 
—With Aline Oyamada
The bottom line: Corruption scandals and a raid on slaughterhouses could singe JBS, the world's largest meat producer.
Before it's here, it's on the Bloomberg Terminal.
LEARN MORE