markets
Wall Street Is Suddenly Bullish On Snap
But will it last more than 24 hours?
By and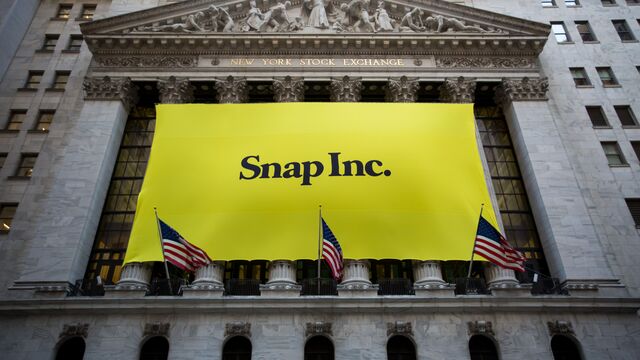 Snap! The maker of Snapchat is enjoying a sudden rush of love from sell-side analysts.

Banks including Goldman Sachs Group Inc., Morgan Stanley and JPMorgan Chase & Co. on Monday issued a raft of 'buy' or 'neutral' ratings on newly-listed Snap Inc. stock. The recommendations follow the expiration of a waiting period that prevented underwriters on the company's $3.1 billion initial public offering earlier this month from publishing research immediately after the listing.

Snap stock has since dipped to $23 a share -- below its $24 first-day opening price and an initial 'pop' to $27 a share -- after analysts at firms including Cantor Fitzgerald LP and Pivotal Research Group LLC published downbeat commentary and 'sell' recommendations.

The fresh reports take a far more positive view of the photo-messaging application's ability to generate revenue. Including the new targets, 41 percent of Wall Street analysts now rate Snap stock as a 'buy,' while 38 percent have it at 'neutral,' and 21 percent say it's a 'sell,' according to data compiled by Bloomberg. The average price target is $23.67 -- or essentially unchanged from today's level.
RBC Capital Markets LLC analyst Mark Mahaney is the most bullish, mainly due to Snap's strong mobile presence. He expects the stock to trade at $31 over the next year.:
"Snap has become an innovation leader -- for both consumers and advertisers – in arguably the single fastest advertising medium today -- Mobile. It has also emerged as one of the leading Media Platforms for Millennials. We believe that if it sustains its current level of innovation, it can sustain premium growth for a long time and scale to profitability."
Goldman Sachs Group Inc. analyst Heath Terry says Snap offers nearly a 20 percent return over the next 12 months, and is a chance to by "a venture stage investment in the public markets." His price target sits at $27: 
"While this clearly carries a higher risk profile, we believe it also comes with higher reward potential. With Snap's large, valuable, and highly engaged user base generating ad inventory and the monetization path in mobile now well worn, we believe the potential for outperformance as the company continues to innovate against the growing mobile opportunity outweighs those early stage risks."
Morgan Stanley's Brian Nowak also issued a buy rating with a $28 price target. He's optimistic on the shares due to the firm's potential to generate a lot of ad revenue:
"We believe Snap's millennial audience and differentiated online video ad inventory are in demand by advertisers, and Snap's growing direct ad sales efforts, recently opened advertising [for third parties], and continued ad unit innovation will pull ad dollars toward their platform."
Citigroup Inc. analyst Mark May also issued a buy rating and says the stock will trade up to $27 over the next 12 months due to engagement. He believes the firm could reach more than $13 billion in revenue by 2024:
"While user growth and audience scale may remain modest compared with Facebook, the low rate of monetization currently and the high rate of engagement and penetration of Snapchat's product within its core 13-24 age demo should enable significant revenue growth and margin leverage. "
Cowen Group Inc. analyst John Blackledge called Snap a "leading social and messaging service" that should send shares to $26 over the next year:
"We expect Daily Active Users to grow 14 percent  annually between 2017 and 2022 coupled with rising advertising monetization of the platform to drive revenue growth and higher incremental margins over time. "
Before it's here, it's on the Bloomberg Terminal.
LEARN MORE