business
Dutch Disease Drives Aussie Mining Hub Slump, Political Rout
By
W.A. didn't learn lessons from past Australian commodity booms

Gross state debt to surpass 20% while property prices drop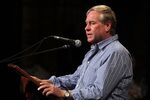 Mining booms often turn to busts. Most Australians know this, except it seems, the outgoing administration of the nation's resource-rich west.
Western Australia's now former Premier Colin Barnett bungled the bonanza -- splurging windfall cash during the good times only to find the cupboard bare in the bad ones. The upshot is the state's budget deficit and debt have spiraled, the AAA rating is gone and people are fleeing -- the latter at least has the advantage of containing an unemployment rate that's already the nation's highest.
"There's an element of Dutch Disease there, and the government certainly mismanaged the boom, but it also reflects the sheer size of the mining sector in W.A. so when it collapses it drags everything down," said Shane Oliver, head of investment strategy at AMP Capital Investors in Sydney. "W.A. didn't seem to learn any of the lessons from Australia's past mistakes during commodity cycles and now the state is effectively in recession."

Norway is the touchstone for a commodity-dependent economy with its oil fund that's topped up when crude prices are high and distributes cash to the budget when they're low. While economists have criticized Australia's handling of its recent mining investment boom -- it failed to salt away enough cash in the Future Fund and is now struggling with budget deficits -- it did avoid a blowout as happened in the past.
In those days, high mining salaries would generally trigger a wage spiral that stoked inflation. That would force policy makers to slam on the brakes by raising interest rates, triggering a recession. At a state level, that's the path Western Australia has broadly followed.
Western Australia's Treasury was projecting the revenue windfall from mining would still be continuing in 2018-19 -- despite commodity prices peaking in the third quarter of 2011 and mining investment not too long after. As a result, the government has been trying to cut outlays in a weakening economy and there's even been talk of tax increases as gross debt is on course to surpass 20 percent of gross state product in coming years.

As Western Australia's population expanded during the boom it set off a round of housing construction. That continued even as the population flow started to reverse in response to the waning boom, leaving the state with an overhang that's helped push down prices by 10 percent since the end of 2014.

Western Australian bonds have offered a stronger total return over the past year than provincial peers, delivering 2.1 percent, based on a Bloomberg AusBond index of state government notes. The average yield premium on its notes over federal securities has narrowed to about 31 basis points from 36 a year ago, the indexes show.
Michael Turner, fixed income strategist at Royal Bank of Canada, said he remains cautious on Western Australian Treasury Corp. bonds given concerns over the budget.
"Firstly, the W.A. government's underlying fiscal position leaves WATC with large new money needs," Turner said in a research report. "While the rise in iron ore has helped, it has begun to move lower and our bulk analysts expect this will continue. Secondly, unlike Queensland, the W.A. government has limited capacity to manage its balance sheet to meet these new money needs via avenues other than debt financing."
— With assistance by Kimberley Verschuur, and Benjamin Purvis
(
Updates with comment from strategist in final two paragraphs.
)
Before it's here, it's on the Bloomberg Terminal.
LEARN MORE