Australian PM Faces Uphill Battle in Struggling Mining Heartland
By
PM's jobs and growth pledge rings hollow in Western Australia

Labor targeting Liberal seats in Perth in July 2 election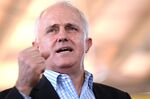 In the one-time engine room of Australia's resources bonanza, Prime Minister Malcolm Turnbull's election pledge of creating jobs and growth is ringing hollow for many voters.
An economic downturn in Western Australia and claims the Liberal state government squandered the proceeds of the mining boom are a fillip for the opposition Labor party ahead of the July 2 election. Polls indicate Labor could make its first net gain in the state in almost two decades, loosening the prime minister's grip on power nationally.
"Where is Turnbull going to get the jobs from?" said Bernadette Heath, 55, at a shopping center in the electoral district of Burt -- one of four lower house seats being targeted by Labor around the state capital, Perth. "There are no jobs to be had." Her 57-year-old husband, Brian, took a 40 percent pay cut in his mining industry job amid the downturn, she said.
Western Australia, whose vast Pilbara region is the world's biggest supplier of iron ore, is no stranger to boom and bust years. But it's criticism that state Premier Colin Barnett mismanaged the once-in-a-lifetime commodity supercycle that could prove contagious for Turnbull's Liberal Party at a federal level.
For a story on the effects of Western Australia's mining boom, click here.
Barnett, who's been premier since 2008, rode the crest of the mining boom, as Chinese demand for the state's natural resources drove unprecedented wealth in the region. Unskilled workers earned in excess of A$200,000 ($150,000) as the world's biggest miners including BHP Billiton Ltd. and Rio Tinto Group ramped up production. Property prices across the state surged, with apartment rents in some remote mining towns exceeding those of Manhattan penthouses.
The state government racked up debt as it raced to build infrastructure, including new roads, hospitals and a A$1.5 billion sports stadium, to cater for an expanding population.
When a global supply glut combined with faltering Chinese demand, the state's fortunes turned. Western Australia lost its Aaa credit rating from Moody's Investors Service in 2014, having lost an equivalent ranking from S&P Global Ratings a year earlier, as slumping iron ore prices decimated the state's revenues. The projected deficit of A$3.914 billion for 2016-17 is the worst in the state's history and Barnett is selling off assets to turn things around.
"The state government is quite unpopular at the moment and there is concern among the federal Liberals that it's going to impact heavily on their vote," said Martin Drum, associate professor of politics and international relations at Notre Dame University in Perth. "With the economy slowing and people not doing so well, that is partly responsible for the swing towards Labor."

With unemployment forecast to reach a 15-year high of 6.75 percent next year, from just 2.34 percent in 2008, Turnbull's catch cry of jobs creation isn't cutting through for some Western Australians. The median home price in Perth has fallen about 5.4 percent since November 2014, compared with a 12 percent gain in Sydney over the same period, according to CoreLogic Inc.
The state government "screwed up badly" and squandered the windfall from the mining boom, said Heath, who hasn't decided yet how she'll vote.
Further hurting Turnbull is a lingering perception that Western Australia, which tried to secede from Australia in the 1930s, isn't being treated fairly by the federal government some 2,000 miles away in Canberra. Barnett and his Treasurer Mike Nahan have complained bitterly the state isn't receiving a fair share of revenues collected federally from a 10 percent Goods and Services Tax, or GST. Turnbull himself has acknowledged the state has had a "raw deal.''
Party Pledges
Turnbull's pledges to the state include A$6 million for an upgrade to a Perth baseball park and A$261 million for a freight tunnel in the city. The Labor party has committed A$1 billion to a Metronet rail project and A$43 million for a traffic bridge over a local highway.
The fight over marginal seats in Western Australia is one that's playing out across the nation in the tight election contest, in which Labor and the Liberal-National coalition are tied, according to the latest Newspoll.
Perth-based Foreign Minister Julie Bishop told reporters on Thursday that she was "looking forward to a strong result in Western Australia because this is a state that understands the need for a plan as our economy transitions from economic growth boosted by the mining and resource sector to a broader-based economy."

The coalition had 90 seats in the 150-member House of Representatives in the last parliament, which is a comfortable buffer. In contrast, Labor must pick up 21 seats nationally to form a majority government -- a mountain that may be too steep to climb.
The seat of Burt is probably Labor's best prospect in the state, with Matt Keogh expected to take it from Liberal Matt O'Sullivan with a swing of eight percentage points, according to a Newspoll in The Australian newspaper on June 18. Labor is also targeting the Liberal districts of Cowan, held by a margin of 4.5 percent, Hasluck (6%) and Swan (7.3%).
"We need jobs and to bring the economy back up," said Teresa Hall, a 46-year sales assistant who is supporting a family of four adults and two teenagers on her single income and is yet to decide who will win her vote in Burt. "We need change."