N.Z.'s English Signals Immigration Change, Sees Trump Trade Risk
By
Businesses clambering for skilled migrants to fill new jobs

New Zealand economy one of developed world's best performing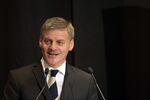 New Zealand Prime Minister Bill English signaled he might adjust the nation's immigration program and joined the global chorus of concern about the risk to trade from the Trump administration as he gears up for a September election.
English, who took over as prime minister in December, has the tailwind of one of the best performing economies in the developed world and a budget in surplus that could allow him to offer tax cuts. But there are challenges: a housing boom is locking many first-home buyers out of the market and saddling others with huge debts. In the biggest city, Auckland, the average house price is now more than NZ$1 million ($703,000). 
High immigration only adds to demand, and in a TV interview Saturday English said he'd always anticipated New Zealanders would begin leaving the country to look for work, as they had in the past. That hadn't occurred because of the economic outlook. 
"People just keep turning up and Kiwis keep staying home," he said, referring to record immigration of 71,305 in the year through January. "So our real challenge is responding to that growth and investing to support it so that people can have the quality of life here that they come for."
Tweaks to the program would be about getting a better balance of people, he said. "There are more calls coming from businesses and the labor market about the need for skills, because we are creating so many new jobs, on the one hand," English said . "On the other hand, making sure we're getting the people who can match those skills."
Trump's Cross-Hairs
New Zealand's small, open economy is reliant on trade and vulnerable to the whims of major nations. Its biggest partner, China, is in the cross-hairs of U.S. President Donald Trump, who accuses the government in Beijing of artificially lowering its currency and stealing American manufacturing jobs. English, like other developed world leaders, has said New Zealand will have to wait and see whether the president acts upon his campaign rhetoric.
"It's the policies that will matter," he said. "Probably the area where we've got the most concern is trade. That if they do actually put in place significant protectionist measures, that will have an impact on us and on our trading partners."
New Zealand's proportional representation electoral system is conducive to coalition governments, and despite the strong economy and recent opinion-poll readings, English's National Party could be unseated by just a small swing toward the Labour and Green opposition parties. National will be aiming to win a fourth term in office, which is historically rare in New Zealand, and the loss of English's charismatic predecessor, John Key, will be a blow to the party's chances.