business
English Facing Daunting Task Replacing a Popular Prime Minister
By
Mild-mannered N.Z. finance minister thrust into the limelight

'In parliament 26 years, but in a way we still don't know him'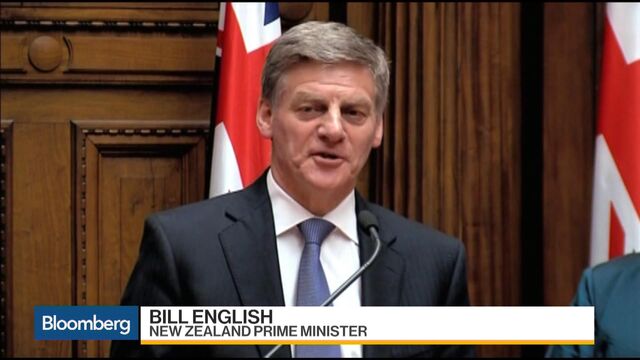 Bill English needs to come out of his shell.
Since leading New Zealand's National Party to its worst-ever election defeat 14 years ago, English has stayed out of the limelight, preferring the role of mild-mannered finance minister and behind-the-scenes policy architect. All that changed Monday, when the 54-year-old father of six became the nation's 39th prime minister.
English is stepping into the shoes of arguably the most popular politician New Zealand has ever known, elevated to the top job after John Key unexpectedly resigned a week ago. His challenge will be to win over a public shocked by Key's departure and, less than a year out from a general election, keep National riding high in the polls.
"Key had that rare personality that an overwhelming number of New Zealanders quite like -- approachable, ordinary, no airs or graces, people felt they knew him," said Raymond Miller, a political scientist at Auckland University. "English has been in parliament 26 years, but in a way we still don't know him."
The doubters are circling. The astute Key, who appeared invincible in his 10 years as National leader and eight years as prime minister, won't be there to dominate the headlines, and opponents have been quick to remind English of his ill-fated 2002 campaign, which exposed a lack of authority and decisiveness.
"You learn as much from losing as you do from winning," English said last week when asked about that failure. "I'm certainly older and certainly wiser."
Roller Coaster
English is a career politician, entering parliament in 1990 and staying there ever since.
His early years in politics were a roller coaster. He was promoted into the cabinet in 1996 and served as health minister then finance minister before the 1999 election.
National lost, and two years later its caucus selected English as leader, backing him to turn the party around in the 2002 vote. He failed spectacularly, losing to an ascendant Labour leader Helen Clark in National's worst showing in a general election. In late 2003, English was ousted from the leadership.
But by 2006, English had built a close relationship with Key and was restored to the finance role and selected as deputy leader. The pair led National to resounding victories in 2008, 2011 and 2014.
Conservative Progressive
One of 12 children from a catholic farming family in New Zealand's deep south, English is socially conservative and opposes abortion and euthanasia. But in many respects he is a progressive politician, driven by a belief that government should improve people's lives. His wife, Mary, is a practicing doctor.
As finance minister, English has overseen deep reforms of the public service aimed at both improving social outcomes and reducing costs.
His so-called social investment initiatives use predictive models to identify people most at risk of long-term welfare dependence. The aim is to intervene early and stop them becoming costly burdens on the state.
Officials could now identify families with "million-dollar kids" -- those with a high probability of needing welfare support or going to jail later in life -- English said in a 2015 interview. "By the time they are 10, their likelihood of incarceration is 70 percent. You've got to do something about that," he said.
Numbers Man
Yet his public profile is one of an uninspiring numbers man. Asked last week if he was boring, English told Radio New Zealand: "No I'm not, but talking about GDP all the time can give people that impression."
Under English, New Zealand steered a careful course out of the global financial crisis and the fiscal shock of the devastating Canterbury earthquakes, which saw the 2010-11 budget deficit blow out to NZ$18.4 billion ($13.1 billion).
The government targeted a return to surplus, using it as a driver of tighter cost control across the public service and elimination of wasteful spending.
The surplus was achieved in 2015 and is today projected to grow to NZ$8.55 billion by 2021, giving English the option of offering tax cuts in next year's election campaign.
Housing Boom
But there are also economic challenges ahead, not least a housing boom that is locking many first-home buyers out of the market and saddling others with huge amounts of debt. In biggest city Auckland, the average house price is now more than NZ$1 million.
Winning a fourth term in office is historically rare in New Zealand, and the loss of the charismatic Key is a blow to National's chances.
The country's proportional representation electoral system is conducive to coalition governments, and despite a strong economy and recent opinion-poll readings as high as 50 percent, National could be unseated by just a small swing toward the Labour and Green opposition parties.
To stop that happening, English will need to connect with the New Zealand public in a way he couldn't 14 years ago.
"We need to know more about Bill English and his qualities as a person," said Miller. "He is a safe pair of hands, he's got experience, he's got competence, but he has to become the familiar face and voice that people feel assured by."
Before it's here, it's on the Bloomberg Terminal.
LEARN MORE