Deutsche Boerse, LSE Caught in Brexit Political Crossfire
By , , and
LSE said it was unable to sell Italian bond-trading platform

London heaquarters has long been ensnared by politics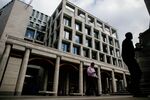 As Deutsche Boerse AG's $13 billion takeover of London Stock Exchange Group Plc teeters on the verge of collapse, there's only one thing participants agree upon: LSE's explanation is only part of the story.
While an LSE statement cited impossible regulatory demands, half a dozen people familiar with the discussions say that obscured other hurdles. These include a stalemate over the location of the headquarters, which was magnified when the U.K. voted to leave the European Union. That decision exposed key parts of the business, like euro clearing, to political riptides, said the people who asked not to be named because the talks are private.
''Things changed totally after the Brexit," Volker Bouffier, premier of the German state of Hesse, said in an interview Tuesday. Hesse regulates Deutsche Boerse and will review the deal if it survives EU scrutiny, which now seems unlikely. "In our point of view, we can't have a European stock exchange outside of Europe.''
The politics spanned London, Paris, Frankfurt and Brussels, but the latest twist emerged from Italy, which has rarely been a public part of discussions in recent months.
LSE said the European Commission's demand that it sell its MTS unit, a trading platform in Italy for government bonds, was impossible. Based on dialogue with Italian officials, LSE said in its statement late Sunday that it was "highly unlikely" a satisfactory sale could be achieved and that such a move would hurt its relationships with regulators there.
Deutsche Boerse, on the other hand, was prepared to sell MTS and didn't see the divestment as a problem, according to people familiar with the plans. And Thomas Schaefer, Hesse's finance minister, said in an email Tuesday he got the "impression" that LSE's Italian unit story was an excuse to end the deal talks and blame European regulators instead. LSE and Deutsche Boerse declined to comment.
In any case, the acrimony is growing. Reuters reported on Monday that LSE Chairman Donald Brydon had contacted Deutsche Boerse's board after an insider-trading probe against the company's CEO began, saying he wasn't fit for the role. Deutsche Boerse's chairman replied that no guilt against Carsten Kengeter had been found and it was too early to make such a claim, according to a person familiar with the correspondence.
Bouffier's comments Tuesday added to the drumbeat from Hesse over a deal that left the merged company's headquarters in London. LSE has maintained that the terms of the deal, including the holding company, are set and not open to negotiation.
"There are a lot of deep-seated political interests at work now, as well as the antitrust concerns, and it seems now the combination of the two means they won't get the deal over the line," said Ben Kelly, a risk-arbitrage analyst at Louis Capital Markets in London.
Some lawyers say Deutsche Boerse is likely to head to the EU's courts in Luxembourg. Waiting for regulators to veto deals rather than pulling out allows companies to go to court to ask judges to declare regulators mistaken.
"Sometimes companies want the prohibition so as to be able to appeal," said Alec Burnside, a lawyer at Dechert LLP. They can "then say to shareholders: 'The commission was wrong. We acted properly going into this deal and had no reason to think it would be blocked.'"

The tension has obscured the deal's original goal: To create Europe's dominant operator in everything from indexes to stock markets and clearing, with businesses in more than 30 countries. It would potentially be the most profitable company in its industry. Some even think it could bridge financial centers at a time when politics threatens to pull them apart.
"Without this merger, we don't have a big European exchange, but that's what we need," said Michael Fuchs, a German lawmaker who is deputy leader of the governing party's coalition. "Frankfurt alone and London alone" can't stand against the big U.S. exchanges.
— With assistance by Ruth David, Stephanie Bodoni, Aoife White, and Christoph Rauwald
Before it's here, it's on the Bloomberg Terminal.
LEARN MORE