Draghi Calls for ECB Oversight of U.K. Clearing After Brexit
By and
Draghi says ECB must "carefully" analyze LSE takeover

CFTC's Massad says he's sympathetic to clearing concerns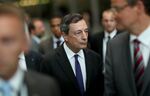 Mario Draghi said the European Central Bank should maintain oversight of U.K.'s vital clearing business even after Britain leaves the European Union, touching on an issue that became a battleground after the June referendum.
The supervision of U.K. clearinghouses has been thrown into question since the Brexit vote, with both Germany and France seeking to chip away at London's dominance in the business. Britain's exit could lead to a loss of ECB oversight of such institutions, ECB President Draghi said in a letter to lawmaker Pervenche Beres.
"It will be important to find solutions that at least preserve, or ideally enhance, the current level of supervision and oversight," Draghi said in the letter, dated Jan. 10.
While Draghi didn't mention it in his letter, the ECB has tried in the past to claw euro-derivatives clearing away from the U.K. Some $2.7 trillion of interest rate swaps change hands each day, and the biggest clearinghouse -- which stands between derivatives traders to prevent a default from spiraling out of control -- is a London-based unit of London Stock Exchange Group Plc. Intercontinental Exchange Inc. also operates a U.K. clearinghouse.
"The location of clearing houses for euro payment and settlement services after the U.K. leaves the European Union will depend on details of the exit agreement," said ECB spokesman Rolf Benders.
To read about how Brexit puts London's financial clearing work at risk, click here.
Dollar interest-rate swaps are also cleared in London, and the U.S. hasn't restricted that market. Instead, authorities rely on registration to provide some level of oversight, Commodity Futures Trading Commission Chairman Timothy Massad said Tuesday in an interview.
Massad, who has spoken against restrictions on the location of clearing, said that he could still appreciate the EU's desire to have oversight of clearinghouses in London that are crucial for euro-denominated products and the entire European economy.
Draghi also said the ECB must "carefully" analyze Deutsche Boerse AG's takeover of LSE, which would create the region's biggest exchange operator. Deutsche Boerse's Eurex unit, for example, is licensed as a bank.
"When a merger leads to a change in ownership of a euro-area bank, as could be the case for entities within Deutsche Boerse and LSE Group that are licensed as banks, the ECB has to analyze it carefully from a prudential perspective," Draghi said.
The EU's executive arm, the European Commission, is already weighing whether the LSE-Deutsche Boerse tie-up would damage competition. Beres, a French member of the European Parliament, in November said it needs to go further. The deal should be considered by the full commission, not just its competition arm, she said.
A Deutsche Boerse spokeswoman said the firm is in constructive dialogue with the commission.
— With assistance by Alessandro Speciale, and Trista Kelley
Before it's here, it's on the Bloomberg Terminal.
LEARN MORE