Mnuchin's Zeal for Fannie-Freddie Overhaul Tested by Ruling
By
Treasury secretary says staff working on housing-finance plan

Lawmakers have competing priorities such as Obamacare, taxes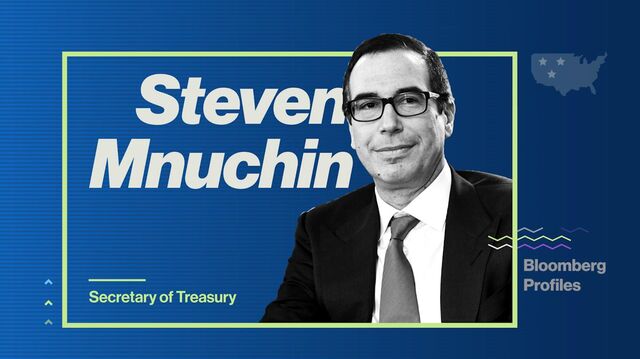 U.S. Treasury Secretary Steven Mnuchin's seriousness about overhauling the nation's $10 trillion mortgage market will soon be tested.
A federal appeals court dealt a major blow to hedge funds that own Fannie Mae and Freddie Mac shares Tuesday, ruling that investors weren't entitled to billions of dollars of profits. The decision clears an obstacle to addressing an issue that has vexed policy makers for almost a decade: What to do with the government-controlled companies that guarantee 43 percent of U.S. mortgages.
Yet some housing industry groups and analysts said they're skeptical anything will happen quickly because Republican lawmakers have bigger priorities, such as repealing Obamacare and overhauling the tax code. And while most everyone agrees something must be done about Fannie and Freddie, there isn't much consensus over how to proceed.
"The court decision will force Mnuchin to show just how high a priority housing-finance reform is for the Trump administration," said Brandon Barford, a partner at Beacon Policy Advisors, a Washington-based policy research firm, and former staff member for the Senate Banking Committee.
Fannie and Freddie Died But Were Reborn, Profitably: QuickTake
The answer might be: Not as high as some shareholders would like.
Mnuchin, in interviews Thursday on CNBC and Fox Business Network, said taxes are Treasury's first priority. Mnuchin said he hopes to get an overhaul of Fannie and Freddie done in "this administration."
In an interview with Bloomberg News, he said Treasury is working on a housing-finance plan, while decisions on the legal claims of Fannie and Freddie shareholders' would be made by the Justice Department.
Appeal Likely
While shareholders are likely to appeal the court ruling, the decision makes it less likely private investors will have sway in forcing action on the fates of Fannie and Freddie. That puts more onus on Congress and Mnuchin, who has said that figuring out a solution is a priority and would play a leading role in coaxing lawmakers to act.
Fannie and Freddie buy mortgages from lenders, put them in securities and make guarantees to investors in case of default.
The government took over the companies during the 2008 financial crisis, eventually injecting them with $187.5 billion in bailout money. In return, the government received warrants to acquire nearly 80 percent of the companies' common stock along with a new class of "senior" preferred shares that originally paid a 10 percent dividend.
In 2012, the government changed the terms, requiring the companies to send nearly all of their profits to the U.S. Treasury and make no payment in times of losses.
Bailout Money
Former President Barack Obama's administration said the decision was an effort to wind down the companies and would prevent the companies from needing more bailout money to pay the 10 percent dividend. Shareholders say the change in terms was illegal.
Those arguments have carried little weight with the courts as judges around the country dismissed shareholders' complaints. Many investors expected the appellate court on Tuesday to give them another chance to fight for most of the claims in a lower court.
That could have given them more leverage to push for a settlement. A full reversal could have even put Fannie and Freddie on the path of being recapitalized and released from conservatorship, an outcome that could have made the shareholders billions of dollars.
"This is one less thing hanging over everyone's heads," said Michael Bright, a former staff member for Tennessee Republican Senator Bob Corker and author of a plan to turn Fannie and Freddie into lender-owned insurers. "If a court decides down the road that the legacy shareholders deserve money, that is now a separate issue from debate over the enterprises' future."
A ruling against the government may have caused lawmakers to act quickly and given shareholders negotiating leverage over the companies' future, some analysts said. Without that urgency, it could take time.
'Toxic Climate'
Senator Mike Crapo of Idaho, the Republican chairman of the Senate Banking Committee, last week said it could take two years before housing-finance legislation advances.
"The climate right now in the Senate is as toxic as I've ever seen it," Crapo said at a Washington conference.
That leaves Mnuchin in the driver's seat.
Mnuchin said at his confirmation hearing last month that he will pursue a bipartisan approach that doesn't put taxpayers at risk and that doesn't eliminate capital for the housing market. He hasn't laid out more specific plans since then.
'Solution Needed'
"What I am focused on is we need housing reform and a solution," Mnuchin told the Senate Finance Committee. "The status quo is not acceptable."
In the past year, former policy makers and trade groups have proposed turning the companies into utilities, converting them into lender-owned insurers or merging them into a new government-owned corporation.
Democratic lawmakers, including Representative Michael Capuano of Massachusetts, along with some lenders and affordable housing advocates, have said the companies should be allowed to retain funds to protect against the need for future bailouts.
Some shareholders have argued that the Treasury Department, along with the Federal Housing Finance Agency, could decide to allow Fannie and Freddie to rebuild capital and possibly release them back into the private market without Congress passing a bill. Lawmakers have objected to that path, and legislation approved in 2015 forbids the Treasury Department from selling the government's stake in the companies until next year.
— With assistance by Kevin Cirilli, and Elizabeth Dexheimer
Before it's here, it's on the Bloomberg Terminal.
LEARN MORE