Hedge Funds Lose Bid to Quash Fannie, Freddie Profit Grab
Andrew Harris and Joe Light
Appeals court upholds bulk of ruling dismissing challenge

Institutions might qualify for inclusion in contract claim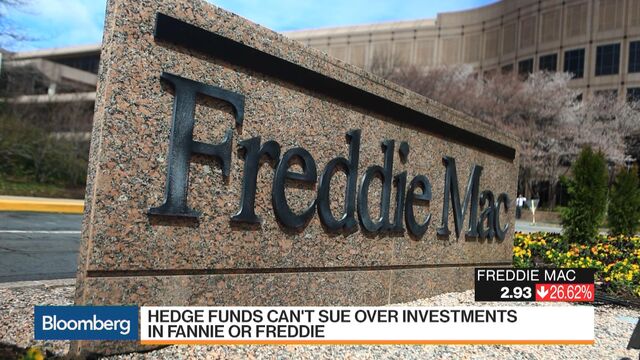 Hedge funds largely failed in their legal challenge to the U.S. government's capture of billions of dollars in profits generated by Fannie Mae and Freddie Mac after their bailout, sending shares of the mortgage guarantors plunging.
Perry Capital LLC, the Fairholme Funds and other big investors lost a bid to overturn a judge's ruling that said they can't sue the government over the dividend change. The change known as the "net-worth sweep" forced the companies to send almost all their profits to the U.S. Treasury, leaving shareholders with nothing. The companies have been under government control since being bailed out during the 2008 financial crisis.
The funds may still be able to pursue some contract-based claims.
A split ruling by a federal appeals court in Washington Tuesday mostly rejecting the hedge funds' appeal sent shares in the government-sponsored enterprises swooning. Fannie Mae fell 35 percent to $2.71 in New York trading, while Freddie Mac shares were down 38 percent to $2.47. Some classes of Fannie's preferred shares were down more than 30 percent.

The appeals panel allowed shareholders with valid contract-based claims to pursue that part of the lawsuit. The revived case likely returns to U.S. District Judge Royce Lamberth, who threw it out in 2014.
Class Action
"The institutional plaintiffs could still benefit from the damages claims brought by the class, assuming they fall within the definition of the class, which they likely do," said Hamish Hume, a lawyer who represented some of the prevailing shareholders.
The hedge funds can also ask for a rehearing by the full appeals court in Washington, or ask the U.S. Supreme Court to hear the case.
Fannie Mae and Freddie Mac provide housing-market liquidity by buying mortgages, then bundling them into securities on which they guarantee payments of principal and interest. In place since January 2013, the net worth sweep allowed the U.S. to recapture all of the $187 billion in taxpayer money it spent to stave off the companies' collapse -- and more.
Perry Capital and Bruce Berkowitz's Fairholme Funds Inc. are among the major owners of Fannie's and Freddie's preferred shares, while Bill Ackman's Pershing Square Capital Management is a major owner of the companies' common shares.
Corinne Russell, a spokeswoman for the Federal Housing Finance Agency, declined to comment on the court's decision. Treasury Department spokeswoman Wendy Wagner Smith referred requests for comment to the Justice Department. Justice Department spokeswoman Nicole Navas declined to comment.
Matthew McGill, a lawyer for Perry, highlighted the fund's chance to pursue some of its claims while adding that the firm and its client were considering its options with respect to the court's decision that the FHFA had the authority to impose the sweep.
Court Conclusion
"We obviously disagree with that," he said. He paraphrased the court's conclusion as, "You may have been allowed to do it, but if you breached the contracts with the stockholders, you may still have to pay."
Fairholme Funds attorney Charles Cooper said: "The net-worth sweep repudiated shareholders' contracts with Fannie and Freddie, and we are pleased that today's decision shows that shareholders will not be left without a remedy for this breach of contract."
Shares Soared
Shares of Fannie and Freddie had soared since the election, as Treasury Secretary, Steven Mnuchin, said the administration would move quickly to end government-control of the companies. Neither President Trump nor Mnuchin have specified what they want to do with the companies, but some shareholders have said that they expect Trump to let them share in the companies' profits.
While each has reported an annual profit since 2012. Fannie Mae's and Freddie Mac's earnings power has fallen sharply. In some quarters, the earnings wouldn't have been large enough to meet what would have been owed under the original 10 percent dividend, a point that government lawyers have said shows that the change in dividend structure was a sound decision. Freddie Mac, for example, has booked a loss in two of the past six quarters.
Fannie Mae last Friday said it earned $5 billion in the fourth quarter of 2016. Freddie on Thursday reported fourth-quarter earnings of $4.8 billion. With the earnings, Fannie and Freddie said they expected to pay the Treasury a combined $10 billion in March.
After those payments, the companies will have sent a total of $265.8 billion in dividends to the Treasury.
Fannie Mae owned or guaranteed 28 percent of the $11 trillion residential-mortgage market through September 2015, according to its annual report filed with the U.S. Securities and Exchange Commission. Freddie Mac had 18 percent of that market, according to its data.
In 2008, as the global economic crisis worsened, Congress passed the Housing and Economic Recovery Act, or HERA, legislation that created FHFA and empowered it to take control of the teetering government-sponsored enterprises. At that time, they were guarantors of more than $5 trillion in residential mortgages, about half the U.S. market, according to a government court filing.
Market Share
Treasury pumped $187 billion into Fannie Mae and Freddie Mac under what was billed as a conservatorship meant to rehabilitate them. Initially, the U.S. was to be repaid with fixed quarterly dividends. In Aug. 2012, that plan was altered to enable the government to capture substantially all of the companies' profits, sparking lawsuits in Washington, Delaware, Iowa and elsewhere.
Lamberth threw out the Perry-Fairholme case, as well as a related class action, in September 2014, finding HERA blocked most of their claims. Dividends, he said were payable at the discretion of the companies' directors.
"The plaintiffs' grievance is really with Congress," he said then. "It was Congress, after all, that parted the legal seas so that FHFA and Treasury could effectively do whatever they thought was needed to stabilize and, if necessary, liquidate the GSEs."
CapWealth Advisors LLC CEO Tim Pagliara, who has clients who own Fannie and Freddie shares, said that the case kept some of the shareholders' claims alive, but that he disagreed with much of the decision.
"We disagree with the two members of the panel who believe FHFA has unlimited powers to do what it wants with the companies," Pagliara said in an e-mail. The law governing the bailout "doesn't grant that power, and nor does any other statute. We believe the plaintiffs will and should appeal this case to the United States Supreme Court."
In a letter to investors, Perry Capital principal Richard Perry in September said he was winding down his New York-based flagship fund after 28 years, explaining that his investment style no longer worked.
The case is Perry Capital LLC v. Mnuchin, 14-5243, 14-5254 and 14-5262, U.S. Court of Appeals, District of Columbia Circuit (Washington).
Before it's here, it's on the Bloomberg Terminal.
LEARN MORE