Merkel Doesn't Look Like She's About to Help Theresa May on Brexit
By and
German chancellor holds key to unlocking complex negotiations

U.K. mistake is to think Merkel favors business over politics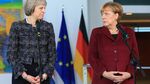 When it came to wooing Angela Merkel, U.K. Prime Minister David Cameron pulled all the stops with a prestigious invitation to address Parliament, box sets of her favorite British crime series and even an invitation to spend his 49th birthday together.
As the linchpin of the European Union, the German chancellor was the key to granting the concessions on immigration Cameron needed to persuade voters to keep the U.K. in the bloc. But she refused and Britain backed Brexit.
A guide to understanding Merkel, the dominant force on the European stage
Cameron's fatal error was to assume that Merkel could be charmed into putting economics ahead of politics. Now with Brexit negotiations looming, there are signs his successor, Theresa May, is making the same mistake as two of her advisers say they are confident the chancellor can be persuaded to help the U.K. win control of immigration, yet still enjoy easy trade with the continent.
That may again prove wishful thinking. British diplomats in Berlin say their warnings that Merkel means what she says in public about prioritizing EU stability over safeguarding trade with the U.K. have so far been ignored. Past decisions to bail out Greece and slap sanctions on Russia attest to Merkel's political resolve.
Sign up to receive our daily Brexit Bulletin in your inbox, and follow @Brexit on Twitter.
Delusional Britain
Cameron aides have said since the June referendum that they were overly reliant on Merkel, only for her to dash their hopes she would help their push to reform the EU. Instead, she rejected an emergency brake on EU immigration and refused to join Cameron in trying to block the 2014 appointment of Jean-Claude Juncker as EU Commission president.
"There is still some delusion in London about the role Germany and Merkel will play in Brexit negotiations," said Holger Schmieding, chief economist at Berenberg Bank. "Merkel's political interest in keeping the EU-27 together outweighs any interest the German car industry or any other industry has in the British market. Political interests take absolute precedence."
Chancellor of the Exchequer Philip Hammond is serving as May's chief emissary to Berlin, meeting with Finance Minister Wolfgang Schaeuble twice in January, first in Berlin and then at the World Economic Forum in Davos, Switzerland. International Trade minister Greg Hands has made several trips to Germany and U.K. diplomats are trying to get Schaeuble and Brexit Secretary David Davis together as soon as divorce talks begin.
Natural Ally?
From a business perspective, May's team view Merkel as a natural ally. Tariffs would hit Europe's long-term economic engine hardest because Germany exports roughly twice as much to Britain as it imports. The hope is that if the U.K. concedes on its hard-line immigration stance, Germany will reciprocate with access to trade.
Merkel is also aware that humiliating the U.K. in the negotiations could increase the likelihood of May tightening her embrace of U.S. President Donald Trump, who has repeatedly annoyed EU leaders by cheering Brexit and predicting the bloc will lose other members.
Still, Merkel has repeatedly said that the U.K. won't be able to "cherry pick'' the advantages of EU membership without accepting responsibilities, meaning May won't succeed in her bid to limit labor flows and at the same time clinch a far-reaching free trade with Europe.
"The be-all and end-all is that Europe doesn't let itself be divided, and we will ensure this," Merkel said in January.
A parallel can be drawn with Merkel's decision to maintain sanctions on Russia even when it took a toll on its industry and business confidence. Her treatment of Greece, where she imposed austerity in exchange for more aid, showed the ultimate commitment to EU unity and a degree of intransigence.
Arm's Length
There are plenty of other signs Germany is keeping its distance. The country's company executives have been told not cave to short-term business interests, while the head of the German-British Chamber of Industry and Commerce told Bloomberg News last month that Merkel will always put EU principles ahead of the interests of exporters like Volkswagen AG.
Germany's trade surplus with the U.K. amounts to about 1 percent of the gross domestic product of Europe's biggest economy, and "if 1 percent of German GDP grows slightly less or slightly more, it doesn't really matter to the German economy," said Ulrich Hoppe, director general of the trade association.
"The idea that Germany from a business point of view will be very flexible towards the U.K. in the Brexit negotiations is a dream," he said.
So far, Merkel has also kept May at arm's length.
When May went to Berlin a week after becoming prime minister she was told there would be no pre-negotiations either "formally or informally." A meeting in Malta earlier this month was downgraded by Germany to a quick ten-minute public walk around St John's cathedral in the medieval capital of Valletta.
May needs to "understand the red lines of the EU really are the red lines," Rupert Harrison, a former aide to Hammond's predecessor, George Osborne, and now chief macro strategist at BlackRock Inc., told Bloomberg Television. "That's not a negotiating position that's the truth and the U.K. needs to understand that."
— With assistance by Thomas Penny, Arne Delfs, Brian Parkin, and Alex Morales
Before it's here, it's on the Bloomberg Terminal.
LEARN MORE