Trudeau Affirms His Faith in Openness After Fatal Mosque Attack
By
Quebec shooting shows Canada not immune to religious violence

PM touted country as welcoming after Trump issued refugee ban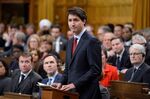 Prime Minister Justin Trudeau's vision of an open Canada faces its biggest test since he came to power.
The shooting Sunday night that killed six people at a Quebec City mosque was an unprecedented act of violence against Muslims in Canada, shaking a nation that revels in its reputation as one of the world's most peaceful societies.
While police have declined to identify the perpetrator or speculate on motive, authorities are treating the incident as a terrorist attack. In a speech to Parliament on Monday, Trudeau said the violence was an attack on "our most intrinsic and cherished values."
"The people who commit these acts mean to test our resolve and weaken our values. They aim to divide us, to sow discord and plant hatred," Trudeau said in his address to lawmakers. "We will not close our minds. We will open our hearts."
As recently as this weekend, Trudeau was touting Canada as a nation that was welcoming to foreigners -- in contrast to the U.S., where President Donald Trump signed an executive order last week barring citizens from seven mainly Muslim countries.
Police have said that all the victims are male, ranging in age from 39 to 60 years old, and had gathered for prayers at the Islamic Cultural Centre in a suburb of Quebec City. Five other people were seriously injured, including two who are in "life or death" condition, according to hospital officials. Two men were arrested following the shootings, though only one remains a suspect.
Religious Tension
The violence shows that religious intolerance still permeates parts of Canadian society. This runs counter to Trudeau's brand of inclusive politics, which has made him one of the most vocal proponents of diversity and immigration among world leaders.
Diversity -- and the Syrian refugee issue in particular -- have been the hallmarks of Trudeau's administration, after he swept to power in 2015 as a pro-immigrant feminist pledging a more inclusive government.
The accommodation of Muslim traditions, such as wearing of the niqab, has surfaced intermittently in Canadian politics. Whether Muslim women should be forced to reveal their face while taking the oath of citizenship was brought up as an issue by the Conservatives in the last election campaign. The separatist Parti Quebecois also proposed a Charter of Values in the 2014 provincial election, which would have banned public servants from wearing religious symbols.
The mosque attack also came a few days after Trudeau -- who was hailed recently by outgoing Vice President Joe Biden as one of the last global icons of liberalism -- took to Twitter to defend Canada's openness, as a rebuttal to Trump's executive order creating barriers to entry for refugees.
Refugee Welcome
"To those fleeing persecution, terror & war, Canadians will welcome you, regardless of your faith. Diversity is our strength," Trudeau wrote. He ended the message with the hashtag "#WelcomeToCanada," then tweeted a picture of himself greeting a Syrian refugee.
At his daily briefing Monday, White House press secretary Sean Spicer said the Quebec attack was a "terrible reminder of why we must remain vigilant and why the president is taking steps to be proactive rather than reactive when it comes to our nation's safety and security."
Sunday's attack was one of the worst ever in Canada. Fifteen people were killed in 1989 when a gunman opened fire at a Quebec women's college. More recently, Michael Zehaf-Bibeau shot and killed a soldier at the National War Memorial in Ottawa in 2014 before driving up to the main Parliament building and storming in. He shot a guard in the foot before being brought down in a hail of bullets. Police later released a video manifesto from the Canadian-born gunman, who said the attack was in retaliation for Canadian participation in air strikes against Islamic State militants.
The government is still coping with the aftermath of that attack as it considers how to amend the nation's anti-terrorism legislation to balance security risks while safeguarding freedoms.
"We're not immune to this and we never should have thought we were," said Fen Hampson, a professor of international affairs at Carleton University in Ottawa.
Before it's here, it's on the Bloomberg Terminal.
LEARN MORE