Quebec University Student Charged After Mosque Rampage
By
Terrorist attack left six dead, five seriously injured

Prime Minister Trudeau condemns 'senseless' mosque attack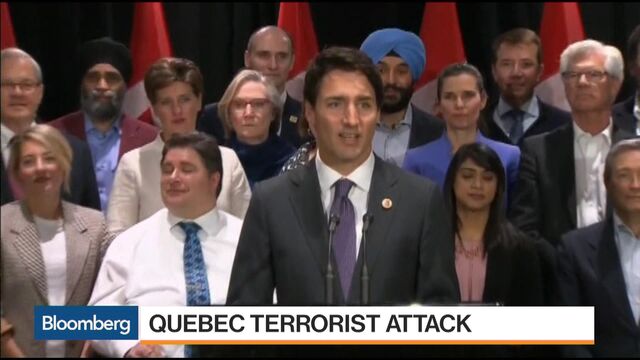 A Canadian university student has been charged following an assault on a Quebec City mosque that left six people dead and seriously injured five others in one of the worst terrorist attacks in the country's history.
Alexandre Bissonnette, 27, was charged with six counts of premeditated murder and five counts of attempted murder, said Jean-Pascal Boucher, a spokesman for the provincial government. Bissonnette was a political science student at nearby Laval University and grew up in the Quebec City area, Le Presse reported. Police initially arrested a second man at the scene before releasing him.
Although investigators are still working to determine the motives, police are treating the incident as a terrorist act, Martin Plante, a superintendent with the Royal Canadian Mounted Police said Monday. A special anti-terrorist unit, made up of members of the provincial and municipal police forces, together with RCMP officials, has been set up to lead the investigation, he said.
The six male victims in the shooting spree ranged in age from 39 to 60 years old, and had gathered for prayers at the Islamic Cultural Centre in a suburb of Quebec City Sunday evening. Five other people were seriously injured, including two who are in "life or death" condition, according to hospital officials.
"I can't express the grief that has touched our community," Mohamed Labidi, a spokesman for the Quebec City Islamic Cultural Center, told reporters. "This tragedy occurred in a place of prayer, with people who were praying."
Fled Mosque
Bissonnette fled the scene in his car and was arrested about 20 kilometers (12 miles) from the mosque after calling 911 and discussing the attack, Andre Goulet, an investigator with the provincial police force, told reporters in Quebec City.
Bissonnette was not known to law enforcement authorities, officials said earlier Monday, without identifying him at the time.
Bissonnette was a student in the faculty of social sciences at Laval University, the school said in a statement posted on its website. He has been expelled from Laval pending
the conclusion of the judicial process, effective immediately.
Mohamed Belkhadir, whom police initially suspected of working with Bissonnette, was arrested while providing assistance to the victims, he told La Presse newspaper in an interview. Belkhadir said he tried to run away when he mistook a policeman for the gunman, leading to his arrest. He wasn't charged and was released.
Trudeau Visit

Canadian Prime Minister Justin Trudeau condemned what he termed a terrorist attack, calling it an act of "senseless violence."
"Diversity is our strength, and religious tolerance is a value that we, as Canadians, hold dear," he said. "Muslim-Canadians are an important part of our national fabric, and these senseless acts have no place in our communities."
Trudeau echoed those sentiments in the House of Commons Monday afternoon and was scheduled to travel later to Quebec City, according to a notice from his office.
The killings come at a sensitive time for Trudeau, whose open-door immigration policies stand in contrast to those of the U.S., where President Donald Trump signed an executive order last week barring citizens from seven mainly Muslim countries. Canada's House of Commons resumed sitting Monday after a six-week break, and Trudeau is likely to face questions from Conservative lawmakers, some of whom favor a more Trump-like approach.
Trump called Trudeau Monday to express his condolences to him and to the people of Canada following the shooting, the prime minister's office said in a statement.
Barbaric Violence
Quebec "categorically rejects this barbaric violence," Premier Philippe Couillard told reporters in Quebec City earlier Monday. Muslims "are at home in Quebec. You are welcome here. We are all Quebeckers."
Mosques across Canada are under police surveillance, Couillard also said.
Canada and Quebec must remain "a beacon, a landmark of tolerance and openness in this troubled world," Couillard said. "Our society is a very open, tolerant and hospitable place, but we're not different from other societies. We have the same devils as other societies: xenophobia, racism, exclusion exist in Quebec too."
Montreal Mayor Denis Coderre, who runs the province's largest city, couldn't hide his anger at the attack.
"This is a terrorist act against the Muslim community," Coderre said at City Hall. "Terrorism hits everybody. I'm disgusted by what happened in Quebec City. The Muslim community is part of our community."
Male Victims
The attack is one of the worst ever in Canada, a country that prides itself on a low crime rate and openness to immigration and diversity. Fifteen people were killed in 1989 when a gunman opened fire at a Quebec women's college. More recently, Michael Zehaf-Bibeau shot and killed a soldier at the National War Memorial in Ottawa in 2014 before driving up to the main Parliament building and storming in. He shot a guard in the foot before being brought down in a hail of bullets. Police later released a video manifesto from the Canadian-born gunman, who said the attack was in retaliation for Canadian participation in air strikes against Islamic State militants.
Quebec City's mosque has been targeted by acts of vandalism from time to time over the years -- including last year, when local media reported that a pig's head was left at the door of the building. Quebec City is home to about 7,000 Muslims, TVA television network reported Monday.
At a televised press conference including Couillard and Quebec City Mayor Regis Labeaume, representatives from Quebec's Muslim community said they would ask for more police protection to secure their worship places. Recent incidents had already prompted them to step up surveillance and add security cameras, they said.
Still, disbelief reigns. Quebec City had gone 21 months without a recorded murder, Labeaume said.
"This hits us like a train," Labeaume said. "How can this happen in Quebec City?"
— With assistance by Sandrine Rastello, and Greg Quinn
Before it's here, it's on the Bloomberg Terminal.
LEARN MORE