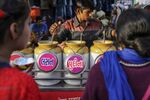 Some 100 bureaucrats have been locked away in a basement in New Delhi, a single desk phone among them, planning the generation and expenditure of $300 billion. India's budget day is approaching, and the officials responsible will have huddled in isolation for two weeks by the time Finance Minister Arun Jaitley delivers his Feb. 1 speech. In a process steeped in tradition, the task of guiding India's economy begins with a sugary Indian dish and culminates in a speech laden with literary references. For all the tradition, there's a lot that's different this year.
1. What's different?
There's a new U.S. president making protectionist noises, plus the dramatic clampdown on cash in India. Economists are still gauging the impact of Prime Minister Narendra Modi's November order to remove 86 percent of currency in circulation in a bid to tackle corruption. Then there's budget day itself, which has been moved forward by about a month to allow businesses more time to prepare for the new financial year, starting April 1. There's also a break with colonial-era tradition by merging the railway and federal budgets for the first time since 1924 and ditching the post-independence practice of classifying expenditure in Soviet-style five-year plans. Some are speculating about a change in the financial year, though that's unlikely this time.
2. Why so much fuss over an annual budget?
India's "annual financial statement" allows investors to assess the nation's fiscal health and policy shifts. For instance, a proposal in 2012 to tax certain transactions retroactively to 1962 -- hidden in the dregs of the budget document -- triggered swings in equities and scared off some foreign investors. The state's allocation of funds to various sectors helps identify economic winners and losers. India's budget has set the direction of the nation's financial planning since its inception in 1860 when India was a key revenue earner for the British Empire.
3. What can we expect?
The Statistics Office forecasts gross domestic product through the end of March to grow at its slowest pace in three years -- 7.1 percent, still among the fastest in the world. Economists say this makes narrowing India's budget deficit, the widest in Asia, more difficult and heightens the risk of market volatility before the rollout of a landmark national sales tax by September. The current year's deficit target of 3.5 percent of GDP will most likely be met, backed by a surge in tax receipts as the cash ban and amnesty programs lure people out of India's vast shadow economy. Budget day will also likely see the release of recommendations from a government-appointed panel on public finances, which Jaitley has vowed to improve.
4. What is the panel likely to say?
The five-member committee on fiscal responsibility and budget management may suggest easing next year's goal of a 3 percent deficit. That's because the government may need to stimulate consumption in the wake of the currency crackdown. Sweeteners may come in the form of tax breaks or even a universal basic income, according to some media reports.
5. What was the impact of the currency crackdown?
Several analysts say it may be too early for Jaitley to make informed decisions as the resulting economic shock is still playing out, with cash shortages expected to continue through May.
6. What about that sugary Indian dish?
It's called Halwa. This popular dessert, made of semolina, sugar and clarified butter, is the centerpiece of the quirky traditions surrounding the budget. In a high-profile ceremony, the finance minister symbolically stirs a giant pan of the syrupy mixture. The delicacy is then served to his officials before they get banished to the basement for their two weeks of work. On the day of the budget, the finance minister is photographed on the steps of parliament carrying a briefcase, an echo of the British budget-day tradition.
7. And those literary references?
The finance minister's speech is typically peppered with couplets from revered Indian poets as well as Shakespeare and even dialogues from Bollywood. For a flavor, how about this snippet from Jaitley's first full budget, translated into English: "Some of our flowers have blossomed, and some are yet to bud. The concern is that predecessors have left us a thorny garden."
The Reference Shelf
Before it's here, it's on the Bloomberg Terminal.
LEARN MORE