What's Behind the Samsung Bribery Allegations: QuickTake Q&A
by , , and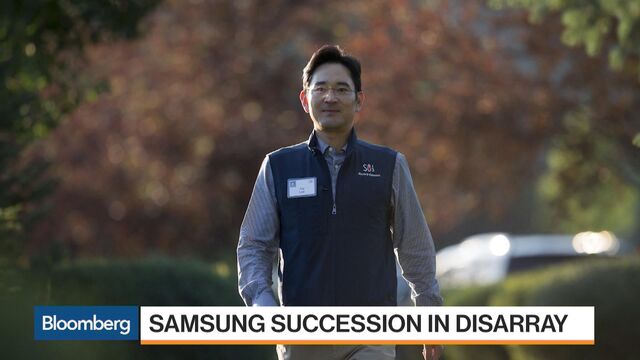 Samsung Group's de facto leader Jay Y. Lee has been ensnared in an influence-peddling scandal that's transfixed South Korea and reached into the highest ranks of politics and business. The saga took a dramatic twist when a South Korean court green-lit his arrest on allegations of bribery and embezzlement, an extraordinary step that jeopardizes his ascent to the top of the country's most powerful corporation.
1. Why is Samsung caught up in the presidential investigation?
Samsung Group is accused of playing a central role in a scandal that has already led to the impeachment of South Korea's President Park Geun-hye. Lawmakers originally questioned the heads of nine Korean companies to understand whether they gave money to foundations controlled by the president's friend, Choi Soon-sil, in exchange for political favors. A special prosecutor was appointed to investigate and he has focused on Samsung's contributions, including a 1 billion won ($850,000) horse given to Choi's daughter.
2. Why would Samsung give that kind of money?
Lee, 48, confirmed in his testimony the company gave millions to Choi's foundations, but he said Samsung had done nothing wrong. Korean companies say they are often asked to give money to support charities and sporting events. 
The prosecutor won approval on their second attempt for an arrest warrant on allegations of bribery and embezzlement in the early hours of Feb. 17. Samsung has denied repeatedly ever offering bribes. "We will do our best to ensure that the truth is revealed in future court proceedings," Samsung Group said in a statement following the court's ruling.
3. What does the prosecutor say happened?
The special prosecutor contends Samsung made the contributions to win government support for Lee's efforts to take over management control from his father. Specifically, Samsung wanted to merge two of its affiliated companies to give the younger Lee greater control over Samsung Electronics Co., the world's largest maker of smartphones and crown jewel of the conglomerate. Korea's National Pension Service, a $450 billion fund with money from 22 million citizens, cast the deciding vote in that 2015 merger. The former chairman of the NPS has been indicted for abusing his authority.
4. How much will this hurt Lee?
Now that prosecutors have won approval for an arrest, they still need to prove their case in a court trial. That may prove difficult; they have not shared evidence of Lee's actions so far. Prosecutors however have added allegations of concealing criminal profits and hiding assets overseas to earlier claims of bribery, embezzlement and perjury.
Even if Lee is convicted, it wouldn't mean the end of his career. At least five chaebol executives have been convicted of wrongdoing in South Korea and eventually returned to leadership roles. In fact, Lee's father was prosecuted for tax evasion, breach of duty and bribery, convicted and ultimately returned to the helm of his company.
Including myriad procedural steps and appeals, it may take as long as 18 months for a trial and verdict.
5. What is all this doing to Samsung's business?
Investors have been surprisingly sanguine. After a strong earnings report in January, Samsung Electronics shares surged to an all-time high. While the company is still dealing with the fallout from its fire-prone Note 7 smartphone, its semiconductor and display businesses have been performing well. The Lee family historically hasn't been that involved in day-to-day operations, leaving those responsibilities to trusted lieutenants. In the case of Samsung Electronics, there are three co-chief executive officers who continue to look after the businesses.
The Reference Shelf


Bloomberg Businessweek reports how South Korea is trying to

rein in

its biggest companies.

Bloomberg News shows how events in South Korea in 2016

drove

support for change.


Before it's here, it's on the Bloomberg Terminal.
LEARN MORE