Property Developer Sunac Slumps as $2.2 Billion Bet on China's LeEco Questioned
Bloomberg News
Deal to increase developer's debt, lacks synergies: analysts

Sunac to seek growth through health, finance, resources deals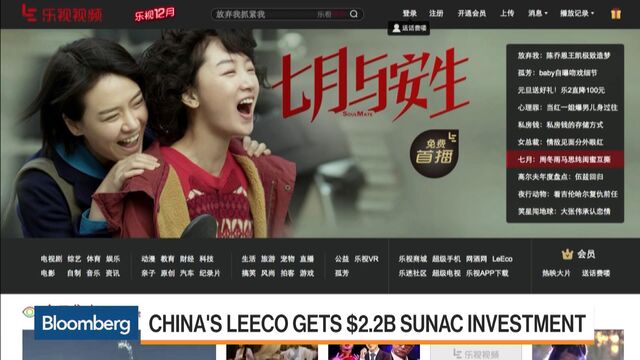 Sunac China Holdings Ltd. fell the most in more than 16 months in Hong Kong as investors questioned the real estate developer's $2.2 billion bet on Chinese tech tycoon Jia Yueting's cash-strapped LeEco empire.
The stock slumped as much as 10 percent, the biggest intraday decline since Aug. 26, 2015, and traded 6.2 percent lower at HK$6.84 as of 1:37 p.m. local time, paring this year's gain to 6 percent.
The investment in three companies affiliated with LeEco marks Sunac's first foray beyond its mainstay property holdings. Chairman Sun Hongbin said at a briefing in Beijing on Sunday that while he expects "very rapid" growth for Sunac and other leading developers as the real estate industry consolidates over the next five to 10 years, he's looking at other opportunities to propel growth beyond that period. Areas of interest include healthcare, finance and natural resources, he said.
"Overseas investors see this as relatively negative to Sunac," said David Yang, a Shanghai-based analyst at UOB Kayhian Investment Co. "The deal will certainly push up the company's net gearing, while it can hardly bring much profit contribution in the near term."
Even Sun admitted some of the people he consulted before making the investment in LeEco, whose interests range from electric cars and TVs to entertainment, were skeptical about the deal.
'Very Different'
"Everybody said it's worth looking," Sun told reporters in a packed auditorium in a five-star Beijing hotel on Sunday. "That's always followed by a 'but,' and what comes after is very different," he added, citing issues from LeEco's profitability to a lack of cash flow.
"I want to say, I've seriously considered their opinions," he said. "But I don't feel their opinions are enough to overthrow our decision."
Tianjin-based Sunac was among China's most active real estate buyers last year, striking the largest number of deals and becoming the third-largest acquirer by total deal value, according to data compiled by Bloomberg. It's been involved in 13 deals totaling $4.2 billion over the past 12 months. Most of its acquisitions involved its main business of real estate, including property assets from Legend Holdings Corp. and a stake in Beijing Homelink Real Estate Brokerage Co.
"While we're firmly optimistic about the real estate industry for the next five to 10 years, we've since long ago started an exploration journey to prepare for 10 years later," Sun said.
Balance Sheet
The 15 billion yuan LeEco investment works out to almost a quarter of Sunac's cash balance of more than 60 billion yuan ($8.7 billion) at the end of 2016, which was disclosed by Sunac at the press briefing.
Sunac's net gearing may have climbed to 124 percent as of Dec. 31, after a "fairly aggressive" year for acquisitions strained its balance sheet, UOB's Yang said. The LeEco deal may help push net gearing to 162 percent by the end of this year, compared with an industry average of 89 percent at the end of June, he said.
That the investment lacks synergy with the developer's main business is shaping up to be another concern, said Toni Ho, an analyst at RHB Osk Securities Hong Kong Ltd.
Sunac on Friday said it will buy 8.6 percent of Leshi Internet Information & Technology Corp., the video-streaming and TV giant, for about 6.04 billion yuan. It also agreed to buy 15 percent of Le Vision Pictures for 1.05 billion yuan, and a 33 percent stake in Leshi Zhixin, the TV unit, for 7.95 billion yuan, it said in a Hong Kong stock exchange filing. Shenzhen-listed Leshi Internet said in a separate filing it will also receive 1.83 billion yuan from other investors, bringing the total cash injection to more than 16.8 billion yuan.
Cash Crunch
LeEco is the holding group for a range of technology companies run or controlled by Jia that market products from electric cars to smart TVs. In November, the entrepreneur admitted his group faced a cash crunch after launching too many products and expanding too quickly in past years. Jia cut his own salary to 1 yuan and warned of hard days to come.
In a six-hour meeting a month ago between the two tycoons, Sun said he was impressed by the "impeccable" business logic of the operation and Jia's entrepreneurial spirit, while Jia said the deal was "love at first sight."
Sun said on Sunday that the deal was designed to completely solve the funding shortfall and improve LeEco's corporate governance structure. The company "lacked nothing but money," he said.
— With assistance by Edwin Chan, David Ramli, Dingmin Zhang, and Emma Dong
Before it's here, it's on the Bloomberg Terminal.
LEARN MORE