Six-Hour Meeting of Chinese Tycoons Eases LeEco Cash Crunch
Bloomberg News
Jia, Sun meeting in December led to $2.2 billion investment

LeEco will use cash to take on Baidu, Alibaba and Tencent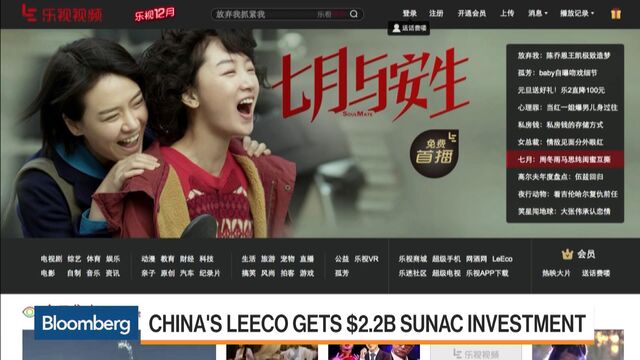 It took Jia Yueting just over six hours in December to snag $2.2 billion from a Chinese real estate mogul to keep LeEco afloat. In so doing, the entrepreneur secured a vital financial and strategic ally as he prepares to do battle with the likes of Tencent Holdings Ltd. and Tesla Inc.
Jia's LeEco, the sprawling conglomerate with interests ranging from electric cars and TVs to entertainment, announced Friday its cash crunch was almost over after winning 16.8 billion yuan in strategic investments, mostly from Sun Hongbin's Sunac China Holdings Ltd. Jia declared he'll now use the money to "far surpass" China's three biggest internet companies: Baidu Inc., Alibaba Group Holding Ltd. and Tencent.
Jia said on Sunday most of the money, around 10 billion yuan, will be paid to him in exchange for the shares he controls. The deal makes Sun and his company the second-largest shareholder in LeEco and ends a months-long quest for capital that quickened after Jia publicly admitted in November LeEco had expanded too quickly and was facing a squeeze.
"With Sunac China, LeEco will no longer fight alone," Jia told journalists in a five-star Beijing hotel ballroom on Sunday. "This is the first time for LeEco has introduced or had a second major shareholder so it's a very important turning point."
Jia wouldn't specify exactly what the money would go towards, apart from saying "most if not all" would bankroll non-listed businesses under the LeEco banner. That may encompass everything from Faraday Future, the secretive venture that's trying to build a space-age super-car out in the Nevada Desert, to sports broadcaster LeSports.
It would likely exclude listed LeShi Internet Information & Technology Corp., the video streaming and TV company Jia controls that's sometimes referred to as China's Netflix. Asked about reports of unpaid bills related to phone components and sports streaming licenses, Jia would only say the money is intended to solve LeEco's problems. Leshi's shares plummeted more than 36 percent in 2016 and have been suspended from trading since December.
Shares in Sunac, which is venturing well away from its main business with the LeEco investment, dived as much as 10 percent at the outset in Hong Kong. Leshi's stock, resuming trade after a month-long suspension, climbed as much as 4.8 percent in Shenzhen. Coolpad Group Ltd., a supplier to LeEco chaired by Jia, leapt as much as 11.6 percent in Hong Kong.
"The storm has finally ended," Jia said.
Tianjin-based Sunac is the white knight that's signed on to Jia's vision. Chairman Sun Hongbin, who hails also from Jia's home province of Shanxi, said he was inspired to invest after the meeting with Jia, who at the time was trying to sell company property to raise money. A month of due diligence followed involving PriceWaterhouseCoopers and conversations with analysts as well as critics of Jia's associated companies, according to Sun. Some on his board expressed reservations but extensive conversations with LeEco's senior management eventually convinced them to commit.
"After my conversation with Jia I had the impetuous urge to invest because the important thing is YT has a good strategy and vision – especially his strategy in the auto industry," he told reporters as Jia looked on. "The most impressive thing is YT's spirit - this kind of entrepreneurship is rarely seen in this age."
Sun is buying into one of China's most outwardly ambitious technology companies. Beyond cars, smartphones and TVs, the company has talked about plans to get into finance, sports management and the production of movies. The company had aggressively pursued funding and placed bets on new ventures from an electric car plant in Nevada to a $2 billion acquisition of California TV maker Vizio Inc. Jia is a major shareholder in listed LeShi, a key part of the sprawling LeEco empire. Analysts have begun to question LeEco's longer-term prospects, given the opacity surrounding investments by its various subsidiaries and a reliance on equity-backed loans.
"On that day I spoke with him for six hours - a warm and fruitful discussion and on that day we became good friends," Jia said, adding he was still hunting for investors for the car part of his business. "Apart from the auto side of the ecosystem, this 16.8 billion yuan will be enough to satisfy our need for future development."
— With assistance by David Ramli, and Dingmin Zhang
Before it's here, it's on the Bloomberg Terminal.
LEARN MORE