Merkel Orders German Security Review
By
German chancellor's bloc declines in poll after Berlin attack

Merkel presses Tunisia to take back rejected asylum seekers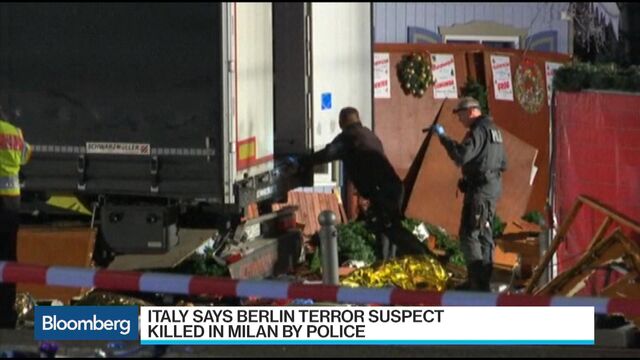 Chancellor Angela Merkel ordered a review of German anti-terror measures after the Berlin Christmas market attack and pressed Tunisia, the suspected attacker's homeland, to take back more asylum seekers.
With 12 people dead and about 50 injured after the assailant drove a truck driven into a festive crowd on Monday, political risks for Merkel have increased further as she seeks re-election next year. Support for the anti-immigrant Alternative for Germany party rose and backing for Merkel's Christian Democrat-led bloc declined in a poll published Friday.
"We will now urgently review to what extent the measures taken by the state need to be changed," Merkel said in a statement to reporters in Berlin. "Where changes in the law or in policy are deemed necessary, the government will agree on and execute the required measures quickly."
Hours earlier, Italian police killed the suspected truck driver, Anis Amri, in an exchange of gunfire in Milan. Merkel said Amri came to Germany in July 2015. German media reported that security officials had him under observation for months and authorities couldn't send him back to Tunisia because he didn't have identity papers.
Merkel said she told Tunisian President Beji Caid Essebsi in a phone call on Friday that "we have to sharply speed up the repatriation process" of Tunisians who have been denied asylum in Germany.
Faced with online vilification and pressure from political foes attempting to link the attack to her open-border refugee policy, Merkel said terrorism is a long-range threat. Any German accomplices Amri had will be brought to justice, she said.
Populist Party
Alternative for Germany, known as AfD, has rallied voters disaffected by Merkel's decision to keep the country's borders open as more than 1 million refugees arrived since last year. Support for the chancellor's two-party bloc declined 1.5 percentage points to 31.5 percent, the lowest in a month, according to the weekly INSA poll for Bild newspaper.
The AfD polled 15.5 percent, compared with 13 percent last week, and the Social Democrats, Merkel's junior coalition partner, declined 1 percentage point to 20.5 percent. Bild gave no margin of error for the Dec. 21-23 poll of 2,083 eligible voters.
"For me and the entire federal government, the state's supreme duty is to protect its citizens," Merkel told reporters. "In these times of great challenges, we're doing everything humanly possible to make our state a strong one."
Before it's here, it's on the Bloomberg Terminal.
LEARN MORE