business
Lend Millennials Cash for Houses, Ontario Realtor Chief Says
By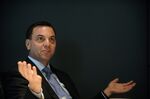 The head of a realtor group in Canada's largest province said he'd support a program that would lend first-time buyers cash to buy houses and get them out of their parent's basement.
Tim Hudak, chief executive officer of the Ontario Real Estate Association, said Wednesday he liked the newest housing announcement from British Columbia Premier Christy Clark, who announced last week her province would match down-payments of as much as C$37,500 ($27,980), or 5 percent of the purchase price, for new buyers.
"Young people don't often have that nest egg," Hudak, the former leader of the Progressive Conservative Party of Ontario, said in an interview with Bloomberg TV Canada's Pamela Ritchie. "The closing costs around paying the taxes, paying your lawyer, the move, all that kind of stuff, plus the deposit -- you can't finance that. And a lot of folks in their twenties and thirties don't have that available."
Clark estimated the measure would cost British Columbia about C$700 million over three years. Some economists voiced concern that without a new supply of housing, handing out cash would drive up prices for existing homes and fuel the nation's debt binge.
Toronto is overtaking Vancouver for the title of Canada's most in-demand housing market. While the average price of a detached home in Vancouver is still the highest in Canada at C$1.5 million, price gains are slowing and sales are falling in the Pacific Coast city after various levels of governments imposed new rules designed to slow demand. Meanwhile in Toronto, prices and sales continue to rally amid a dearth of supply.
In Toronto, sales jumped 16.5 percent in November from the prior year, compared to a 37 percent slide in transactions in Vancouver over the same period. The trajectory of prices for detached properties are also diverging in Canada's two hottest markets: they climbed 28 percent to C$1.06 million in Toronto in November from the prior year.
Meanwhile in Vancouver, though detached prices are still 23 percent above last year's level, they've been eroding month-over-month. The price of the average single-family home in Vancouver in November fell 2.2 percent below October's price, and October's average price was 1.4 percent lower than September's.
"I think any politician who brings that up is going to find a lot of millennials -- and their moms and dads -- are going to say 'right on. I like this policy,'" Hudak said. "It would be very popular."
Before it's here, it's on the Bloomberg Terminal.
LEARN MORE