Uber Creates Support Fund for French Drivers Amid Union Feud
By
Pledges 2 million euros in new fund to help drivers in France

Strikes gave way to union negotiations due until Jan. 31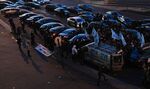 Uber Technologies Inc. pledged 2 million euros ($2.1 million) to help chauffeurs facing difficulties in France, after drivers traded days of striking and blocking traffic for labor union negotiations that are set to stretch into the new year.
The announcement of the new fund came Tuesday afternoon from a company representative in Paris, after two days of intense talks involving unions, Uber, local rival LeCab, and advisers to France's transport minister. The chauffeured-car platform and unions will be back at the table for more discussions -- this time under the watchful eye of a mediator -- until January 31, Minister Alain Vidalies said Tuesday in an e-mailed statement.
Uber declined to reverse a recent increase in the percentage it keeps of drivers' revenues, despite his request for such temporary action, Vidalies said. The company on Dec. 8 raised its prices in France by as much as 15 percent and simultaneously increased its cut to 25 percent of each ride, from 20 percent previously, saying the net positive effect should help drivers cope with the increase in costs in recent months.
Employee Status
With more than $10 billion in capital raised to fund global expansion, Uber faces push-back from regulators and drivers, as workers organize and seek employee status. The company recently agreed to settle a class-action lawsuit brought by drivers in Massachusetts and California, all the while arguing that drivers are independent contractors and therefore not entitled to benefits. Last month it agreed to start a guild for 35,000 drivers in New York.
In France, chauffeurs were on the streets over the weekend blocking some roads, asking for tariff increases and for Uber and services like it to lower the fee they keep on each ride. Pricing, labor costs and welfare will be among the topics discussed through end-January, the transport ministry said.
Before it's here, it's on the Bloomberg Terminal.
LEARN MORE