business
French Drivers Ask Uber for Raise Amid Threat to Block Paris
By , , and
Chauffeur labor unions blocked roads to airports this weekend

Talks under way with Uber, also involving French government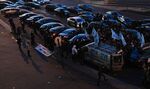 French drivers are asking Uber Technologies Inc. and its rivals for a raise -- or else.
Labor unions for the chauffeurs, whose protests over the weekend blocked roads to Paris airports, are in talks with representatives of Uber, local rival LeCab and advisers of France's transport minister. The drivers are threatening to strike again if the car services they work for don't hike prices or lower the cut the company takes from each fare.
"If we don't get a raise, Paris risks a full blockage," said Hassan Benbarak, a member of the Capa-VTC union who is part of the discussions. "We need a price rise of 30 or 40 percent right now."
While unions are keen on a price hike and focused on commissions, other aspects are also being considered in the talks, according to a person familiar with the matter, who asked not to be named discussing private negotiations that are still under way. Paying drivers for waiting time, contributing to a welfare fund for chauffeurs, or softening regulation to reduce costs are among options being explored, the person said.
With more than $10 billion in capital raised to fund global expansion, Uber faces pushback from regulators and drivers, as workers organize and seek employee status. The company recently agreed to settle a class-action lawsuit brought by drivers in Massachusetts and California, all the while arguing that drivers are independent contractors and therefore are not entitled to benefits. Last month it agreed to start a guild for 35,000 drivers in New York.
Uber hosts talks regularly in France with union representatives of drivers who work for the service, a spokesman said by phone. The company on Dec. 8 raised its prices in France by as much as 15 percent and simultaneously increased the fee that it keeps to 25 percent, from 20 percent previously, saying the net positive effect should help drivers cope with the increase in costs in recent months.
Eggs, Flour
Drivers were on the streets this weekend, with as many as 300 blocking access to Orly airport on Saturday, according to Agence France-Presse. A few of them were arrested after fights broke out with police and between drivers, involving smoke grenades, eggs and flour. Uber filed a complaint against three unions for defamation and threats against its drivers.
"One or two groups managed to gather 100 to 200 very violent and very harsh drivers, not all of them working for the Uber platform," Uber's France Chief Thibaud Simphal told newspaper Le Parisien on Sunday. "They're troublemakers who are taking France hostage."
Other services, including local Uber rival Chauffeur-Prive, declined to be part of the talks, saying the debate doesn't concern them.
A few hours after the French talks started on Monday, some 30 drivers were waiting outside the transport ministry in central Paris. Many told reporters they couldn't make ends meet at current rates, because of rising gas prices, but mostly because companies including Uber who operate the platforms take too big a cut.
Among them, 38-year-old Farid, who declined to give his full name because he said he was afraid to be banned from the Uber platform, said he worked 80 hours a week to earn between 1,200 and 1,500 euros a month ($1,250-$1,565) at best. Uber is keeping a bigger share of each fare, he said. Still, "everyone has to work with Uber. If you don't, your phone will ring maybe five times a day, if you're lucky," he added.
"I have to pay charges and costs out of what I earn," said Adel, 31, who also declined to give his full name, and said as many as 70 percent of his rides come from Uber. "Uber pays nothing -- it goes straight to their pocket. Meanwhile everyone is forced to align to their prices."
(
Updates with potential issues of talks underway, starting in paragraph 4.
)
Before it's here, it's on the Bloomberg Terminal.
LEARN MORE