Partner at Peter Thiel's Founders Fund Speaks Out Against Trump
by
The firm's Geoff Lewis says he's afraid of incoming president

Thiel spoke at Republican convention, joined transition team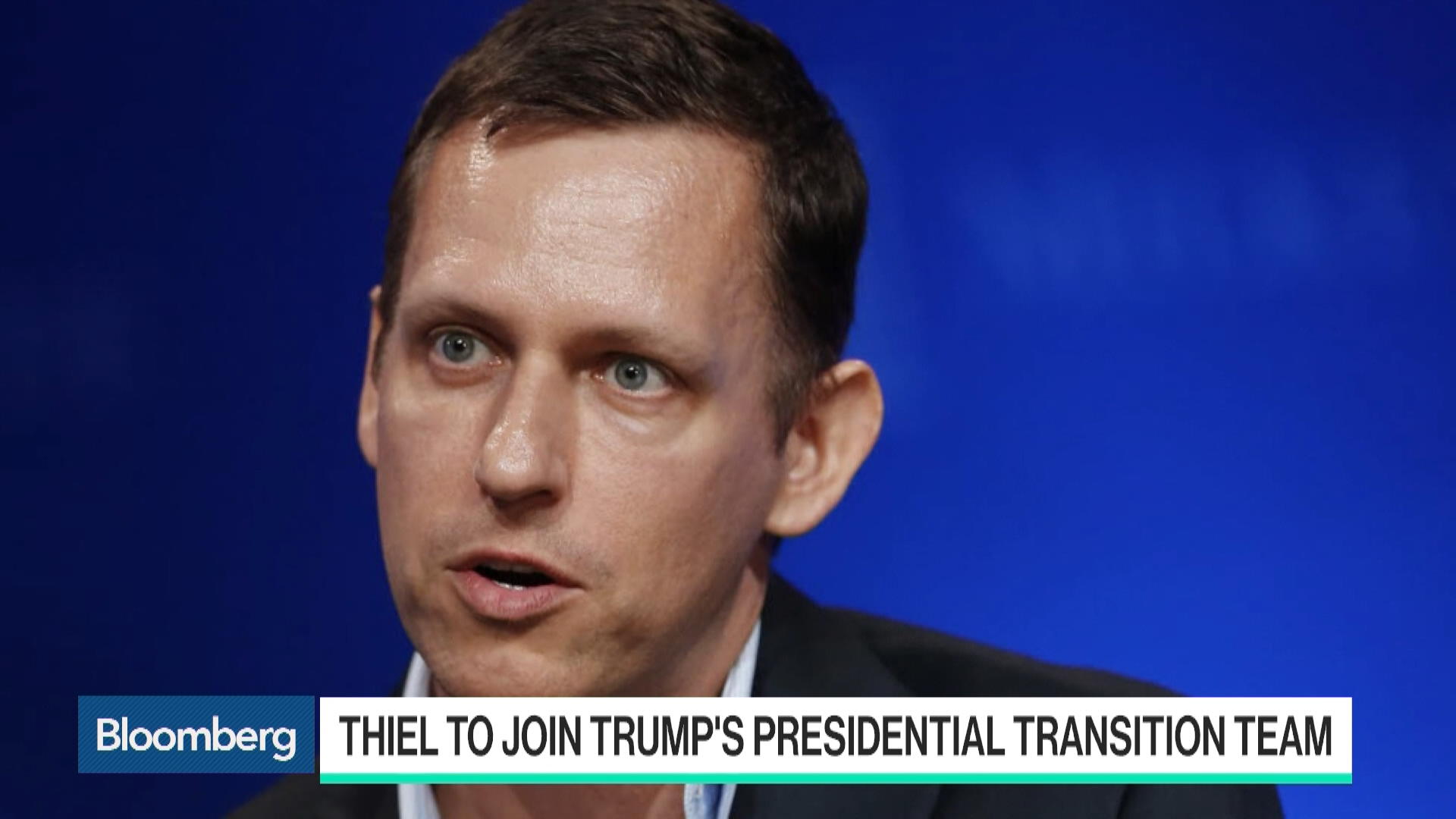 A partner at Peter Thiel's venture firm Founders Fund broke with the iconoclastic billionaire, writing in a blog post Sunday that he's fearful of Donald Trump's presidency and that he thinks the technology industry bears some of the blame for Trump's rise.
Founders Fund's Geoff Lewis became the first partner at the firm to speak out publicly against Trump since the election. The warning comes as Thiel has become ensconced in Trump's inner circle. Thiel is a member of Trump's transition team, people told Bloomberg this week. The chief executive officer of Lyft, one of Lewis's own portfolio companies, was even floated as a possible secretary of transportation in the upcoming administration.
Lewis had spoken out against Trump back in August, telling Bloomberg News "I am very strongly against Trump as a person. I think he is not fit for the presidency."
In a blog post titled "#TurnOnReality," Lewis blamed social media for the country's polarization. "Unsurprisingly, we have a tendency to stack them full of people quite similar to ourselves. For every Clinton voter who couldn't name a single Facebook friend supporting Trump, there was a Trump voter who couldn't name a single Facebook friend supporting Clinton."
Big League
Lewis writes that Silicon Valley investors have every incentive to pour money into social media companies because "when they win, they win big league. Just like Donald Trump."
In his post, Lewis doesn't address Thiel's support for Trump directly, but his post implicitly critiques his boss's decisions. Thiel was one of Facebook's earliest investors and much of his fortune comes from that investment, yet Lewis pins the rise of Trump on social media sites like Facebook.
While Thiel has been a staunch defender of Trump, Lewis says he is afraid of a Trump presidency. "If we take Trump seriously, it may not be safe for me to write a post like this a year from now," he says. "If some of the most frightening rumors circulating already are true, then I will face retaliation just for writing these words today. I hope and pray those rumors are false. Time will tell."
Lewis, who is also an investor in the e-commerce company Wish and the Brazilian financial technology company Nubank, said that he thought the technology industry helped to elect Trump president, even as most Silicon Valley tech employees vocally supported his opponent Hillary Clinton.
Reeling Valley
Silicon Valley was reeling after Trump's election and is still coming to grips with the result.
Facebook Inc. faced recriminations from the left about Trump's victory on Tuesday. The New York Times reported on Saturday that top Facebook executives had questioned the company's role in the election results as votes were tallied late Tuesday night.
On Saturday night, Facebook CEO Mark Zuckerberg responded to the growing controversy in a Facebook post. "Our goal is to give every person a voice. We believe deeply in people. Assuming that people understand what is important in their lives and that they can express those views has driven not only our community, but democracy overall. Sometimes when people use their voice though, they say things that seem wrong and they support people you disagree with."
Zuckerberg acknowledged that Facebook had allowed some viral fake news stories to flourish. He said the company was working to find ways to cut down on clearly false news stories, but he said those stories were relatively rare and that they occurred across the political spectrum.
"Our goal is to show people the content they will find most meaningful, and people want accurate news," Zuckerberg wrote. "We have already launched work enabling our community to flag hoaxes and fake news, and there is more we can do here."
Thiel is a Facebook board member.
Before it's here, it's on the Bloomberg Terminal.
LEARN MORE