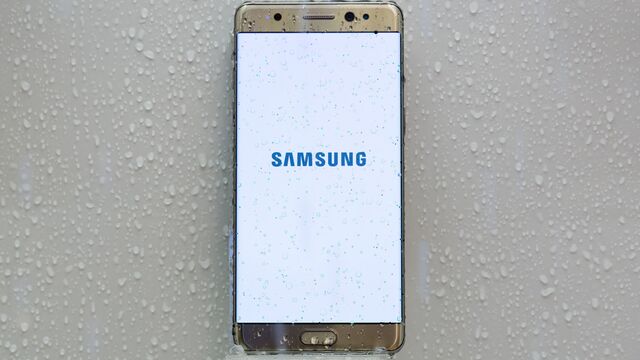 Turmoil at two of South Korea's biggest companies is fueling scrutiny of the family-run conglomerates that dominate the nation's economic production. They're known as chaebols, and activist shareholders have long pressed to unravel their complex and insular corporate structures. While Samsung and Lotte Group are going through very different crises -- Samsung had to abandon a popular smartphone due to batteries that caught fire; Lotte's founding family faces trial on charges of embezzlement and tax evasion -- both now face questions about corporate leadership, governance and culture.
1. What's a chaebol?
It's a corporate dynasty. The grandchildren of Samsung's founder, for instance, control a sprawling empire with interests in electronics, shipbuilding, construction, insurance, theme parks, advertising and film production - nearly 60 businesses in all. Chaebols differ from conglomerates in the U.S. and elsewhere both in terms of their out-sized influence on the country's economy and their dynastic rule.
2. How did they come about?
Chaebols, which means "wealth cliques" in Korean, is widely believed to have been influenced by Japan's zaibatsus -- both share the same Chinese characters and meaning. Like the chaebols, zaibatsus were family-controlled conglomerates that dominated Japan's economy until they were disbanded by the U.S. government shortly after World War II. In Korea, establishing chaebols was viewed as a key way to fast-track the country's economic development. Shortly after taking over the government in a military coup in 1963, Park Chung-hee, father of the current president, launched a modernization effort driven by "guided capitalism" in which government-selected companies undertook major projects often financed with government-backed loans.
3. How many chaebols are there?
There are 45 conglomerates that fit the traditional definition of a chaebol, according to Korea's Fair Trade Commission. To understand their economic influence, the top 10 chaebols own more than 27 percent of all business assets in South Korea.
4. What's the problem with them?

While chaebols were key economic drivers of the the country's stunning growth, ordinary South Koreans are increasingly questioning the consolidation of wealth among a handful of families and the stifling effect they've had on small businesses and startups. Amid public criticism, regulators and investors have been pushing to unravel cross-shareholdings and revamp governance of the chaebols. Foreign investors in particular have said the lack of transparency in the management structure has led to a so-called "Korea discount" in which stocks of chaebol affiliates trade at lower prices than comparable companies overseas.
5. Has this come up before?

Yes, the first major call for change came in the aftermath of the Asian financial crisis in 1997 that the public blamed on the wanton growth of the chaebols. The cozy relationship that chaebols enjoyed with government and banks led to managers -- free from oversight by banks or the demands of profitability -- wasting funds on uneconomic projects while starving potentially more productive and innovative parts of the economy of resources. At the height of the crisis, more than 3,500 companies filed for bankruptcy every month. After a humiliating bailout by the International Monetary Fund, more stringent banking regulations were imposed including preventing chaebol affiliates from guaranteeing each other's loans, making it harder for weaker businesses to survive.
6. What changes might be in store at Samsung? Lotte?

Billionaire activist Paul Elliott Singer has proposed that Samsung split into an operating company and a holding company and add three independent board members, moves that would simplify the ownership structure. Samsung insiders have said that the proposal is in line with the family's broader plan. As for Lotte, its chairman has said the company is looking at reducing cross-shareholdings and creating a holding company to be more transparent. Both chaebols are looking to restructure, at least on their own terms, rather than being forced by regulators.
7. Could the chaebol system be nearing an end?
Not any time soon. Chaebols are so ingrained in Korea's social and economic fabric that some economists believe any attempt to unravel them completely could be catastrophic. The case in point is the difficulty that President Park Geun-hye has had in pushing for restructuring particularly at a time when the economy has been sluggish. Any attempt at chipping away at a chaebol has a direct bearing on the economy.
The Reference Shelf
Before it's here, it's on the Bloomberg Terminal.
LEARN MORE