Will Ban Ki-moon Be the Next President of South Korea?
By
No clear favourite yet for presidential vote in December 2017

UN chief Ban cited as front-runner; opposition figures trail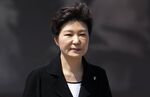 An influence-peddling scandal engulfing President Park Geun-hye has put the spotlight on the most powerful office in South Korea, rekindling interest in potential presidential candidates for next December's election.
Park, whose support rate is at an all-time low as she heads into her final year in office, apologized in a nationally televised address Tuesday, acknowledging that she consulted a friend on "certain documents" in the early part of her time in office. Her remarks came a day after a cable TV station reported that her friend, a private citizen, edited some of her presidential speeches.
Her speech followed a proposal to revise the constitution limit on presidential terms to a single five-year spell, a move dismissed by the main opposition Democratic Party of Korea as an attempt to divert public attention from the scandal that is dominating the front pages and leading TV newscasts.
The next president would be required to not only address the higher tensions with North Korea, but also an economy at risk of slowing. The leader would have to deal with issues such as a widening income gap, an aging society, and an ongoing corporate restructuring that includes large-scale layoffs. All this as ties cool with China, the nation's largest trading partner.
While big names are staying tight-lipped, the political landscape is heating up with some minor candidates confirming their candidacy and turning more vocal in criticizing the Park administration. Here are some of the potential runners that are frequently mentioned in domestic opinion polls:
Ban Ki-moon


The United Nations Secretary-General holds the lead in most polls, even though he'll remain in his post until the end of this year. Ban has sought to use his position to visit North Korea to revive dialogue with the isolated nation, but has refrained from commenting on political affairs in the South.
Ban served as South Korea's foreign minister under President Roh Moo-hyun from 2004 to 2006, helping to implement a policy of engagement. He was dubbed "slippery eel" in local media for his often slick and ambiguous comments. The 72-year-old hails from a central province which has proven a bellwether in past elections. It's unclear whether Ban would side with Park's party or the opposition should he run.
Moon Jae-in

Moon, 63, trails Ban closely in polls. The former human rights lawyer lost narrowly to Park in the 2012 presidential election and stands at odds with her on issues from the economy to North Korea.
He served as Roh's chief of staff between 2007 and 2008 and was chairman of the Democratic Party until early this year. He advocates dialogue rather than pressure to get North Korea to drop its nuclear aspirations, raising incomes to address widening economic disparities, and cracking down on the improper business practices of family-controlled conglomerates.
Ahn Cheol-soo

Ahn, 54, founded the People's Party that doubled its parliamentary seats in April elections to become the country's second-largest opposition party. He resigned as leader in June to take "responsibility" for a graft scandal that engulfed his party. Before entering politics, he worked as a medical doctor and founded South Korea's leading anti-virus software developer Ahnlab Inc.
Ahn offers a centrist alternative to the main political groupings but disagrees with Park's tough stance on North Korea, calling it "a complete failure." He prefers a pro-business approach to reviving economic growth, and has called for the elimination of loopholes that allow conglomerates to pay less tax than smaller companies.
Outsiders
Seoul mayor Park Won-soon. He founded the country's biggest civic organization and argues that Park's economic policies have failed to address unemployment and create a new engine for growth
Former ruling party floor leader Yoo Seong-min. He has advocated the introduction of U.S. ballistic missile defense systems on South Korean soil to defend against North Korean provocations. He's also called for raising minimum wages
Former Saenuri Party chief Kim Moo-sung. He has called for easing regulations to boost growth, and warns that South Korea will slide into a long period of stagnant growth unless it carries out labor market reforms
Seongnam city mayor Lee Jae-myung. He is seeking to expand welfare programs and dismantle what he calls a monopoly on the economy by a handful of family-run conglomerates
South Chungcheong province governor An Hee-jung. He has called for a bigger push to reach out to North Korea and follow up on past summit agreements with Pyongyang
Former Seoul mayor Oh Se-hoon. He stepped down in 2011 after losing a city referendum in which he opposed expanding free lunches to public schools due to concerns over increased welfare spending
Gyeonggi province governor Nam Kyung-pil. He proposes that South Korea develops its own nuclear arms to deter North Korean aggression, and wants to replace mandatory military service with a voluntary conscription system
Before it's here, it's on the Bloomberg Terminal.
LEARN MORE