South Korea's Park Apologizes Amid Influence-Peddling Claims
By
President admits to sharing 'certain documents' with friend

TV station has reported friend edited presidential speeches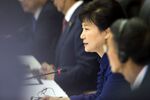 South Korean President Park Geun-hye made an unusual apology in a nationally televised address Tuesday, admitting she shared "certain documents" with a close friend who is alleged to have peddled influence over the leader.
In a hastily called briefing, Park said Choi Soon-sil advised her on speeches during her presidential campaign in 2012 and gave her opinion on some documents after Park became president. JTBC cable TV reported Monday that Choi, a private citizen, edited some of her presidential speeches, citing transcripts found in what it said was Choi's discarded computer.
Park didn't take questions from reporters or say how long her friend had helped her.
In recent weeks, Choi has been the target of opposition party lawmakers who claim that she used her relationship with Park to raise funds from a business lobby group for two foundations she controls. Kim Byung-wook, a legislator with the main opposition Democratic Party of Korea, said last week that Choi's daughter may have received special favors from her university.
"Park thought this would get out of hand unless she quickly apologized," said Choi Chang-ryul, a political commentator and professor of liberal arts at Yong In University. "But the question is, will this be swept under the rug because she apologized? If presidential documents were handed to someone outside the government, that would mean Choi intervened in state affairs."
The analyst said it's likely a special prosecutor will open a probe into the allegations -- as some opposition lawmakers propose. However, the professor said the opposition is wary of trying to impeach the president due to concerns such a move may backfire.
Ratings Slump
Park is heading into her last 12 months in office with her approval rating at an all-time low. She said Monday she stopped consulting her friend after she arranged her presidential staff.
Park's relationship with Choi dates back to the years when her father Park Chung-hee was president. Choi is the daughter of a late pastor who led a volunteer organization that Park helped run in the 1970s.
The apology came a day after Park called for changing the constitution limiting presidential terms to a single spell. The opposition party said the proposal was mostly as a move to divert attention from the scandal.