Brazil's Real Gains With Ibovespa as Temer Vows to Push Reforms
by
Currency, Ibovespa advance on optimism over economic recovery

New government seen as more skillful political negotiaters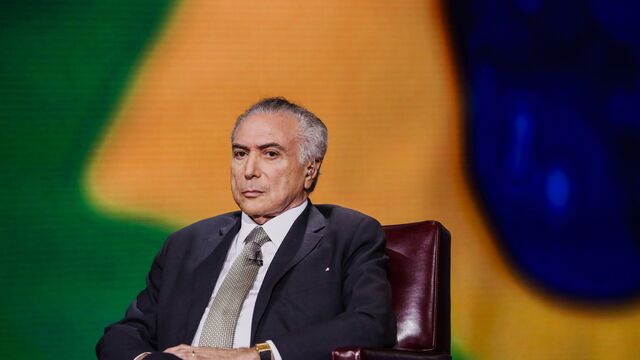 Brazil's real and stocks gained, extending the world's best performances this year, as President Michel Temer reinforced his commitment to reforms aimed at restoring growth and shoring up the budget.
The real rose 0.4 percent to 3.2589 per dollar and the Ibovespa climbed 0.7 percent to 57,736.46 Tuesday in Sao Paulo after Temer, in an interview Monday at Bloomberg's headquarters in New York, vowed to push ahead with the unpopular measures. He said his intentions not to seek a new mandate in the next presidential election gives him a free hand to act.
Brazilian assets have advanced in 2016 on bets that the new federal administration will succeed in putting in place a turnaround plan that includes spending limits after the country was cut to junk in 2015, during Dilma Rousseff's presidency. While the political crisis that led to her impeachment last month is still seen as a risk, Temer's actions so far have helped sustain investor optimism regarding the prospects for the rebound.
"Temer's biggest asset, which also makes him different from Rousseff, is his political ability," said Jason Vieira, the chief economist at Infinity Asset Management in Sao Paulo. "With his demonstrations of strength, he's showing we're on the right track."
State-controlled oil producer Petroleo Brasileiro SA was among the best performers on the benchmark equity index Tuesday, rising 3.4 percent, after pledging to cut investments and reaffirming plans to sell assets to trim debt. The oil giant's efforts to recover from a corruption scandal that entangled former executives, politicians and the nation's largest builders, are also contributing to improve Brazil's image before investors.
"It's very important for Petrobras, a company that affects a lot the Ibovespa's performance, to execute a technical, consistent and responsible strategy now," said Adeodato Volpi Netto, the head of capital markets at Eleven Financial Research. The producer accounts for 10 percent of the index's weighting.
Watch Next: Brazil's Temer on Economic Reforms, Corruption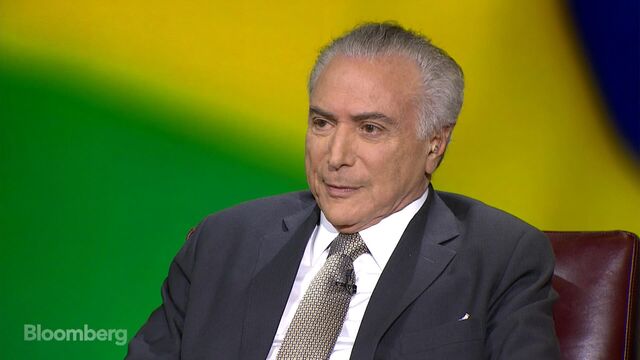 As the real appreciated, pulp producers Fibria Celulose SA and Suzano Papel e Celulose SA, which get most of their revenue from exports, were among the biggest losers on the Ibovespa.
Before it's here, it's on the Bloomberg Terminal.
LEARN MORE