Michel Temer Vows to Spend Political Capital on Reforming Brazil
By
The new president wants to limit spending and repair budget

'I'm taking a tougher stance,' he says during interview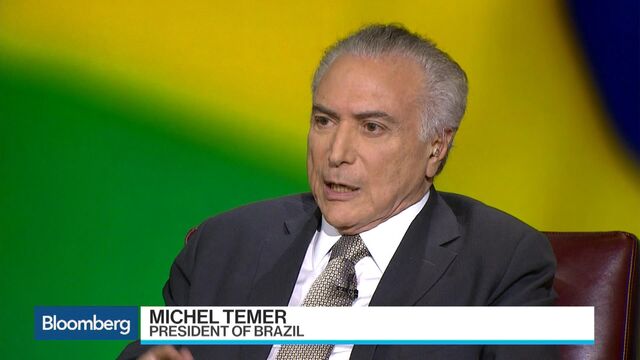 Brazil's President Michel Temer vowed to push ahead with unpopular measures to revive a troubled economy, saying his lack of electoral ambition gives him a free hand to act.
In an interview at Bloomberg's headquarters in New York, Temer said he would spend all his political capital to shore up public accounts, expressing confidence that Congress would approve his proposals by the middle of next year to limit public spending and reform pensions. While he signaled he would be tougher on granting further raises for civil servants, he said the treasury could find room to provide aid for debt-stricken states.
"I have no electoral ambition for 2018, therefore I will be at ease to face apparently unpopular issues," Temer said Monday, on the eve of addressing the United Nations General Assembly. "Now that I've definitively taken office, I'm taking a tougher stance in politics and economics."
Investors welcomed the comments as a sign the government would not give in to pressure or ease its reform drive.
"It's an important message right now to show the world what this government has come to do," said Carlos Kawall, chief economist at Banco Safra.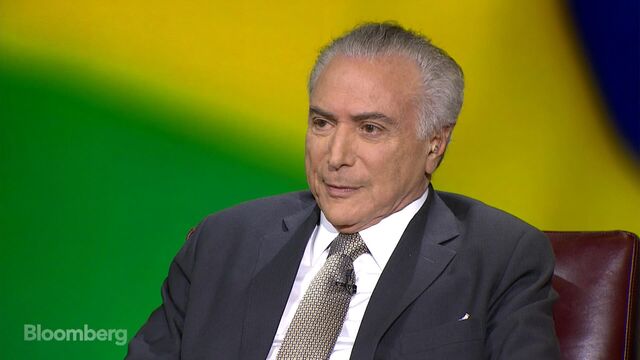 A 75 year-old constitutional lawyer, Temer this year inherited a deeply divided country rattled by recession and a two-year corruption scandal that has heightened Brazilians' distrust of politicians. Inflation is running at 9 percent and unemployment is at its highest since 2004. Following the impeachment of his predecessor Dilma Rousseff on Aug. 31, Temer has faced small but persistent protests challenging his legitimacy.
For a look at some of Brazil's current troubles, click here.
"We're still in a very difficult situation, economically speaking," he said. "Even if we improve just a little bit next year, that would be a big step forward."
Boost Confidence
To boost investor confidence, much of Temer's agenda aims to reduce the government's role in the economy. Legislators will approve government bills to cap public spending rates and curtail payouts on retirement benefits by the end of 2016 and the middle of 2017, respectively, he said.
Some investors have grown impatient with the government's progress on the budget amid political infighting, as lawmakers in Temer's own coalition balk at some of his proposals ahead of municipal elections next month. Following a rally that made Brazil's currency and stock market the world's best performers this year, both have cooled over the past month.

Temer was forced to change his target for the 2016 primary budget deficit to 170.5 billion reais ($52 billion) from the 96 billion-real gap Rousseff had been aiming for. He faces pressure from legislators, including members of his Brazilian Democratic Movement Party, or PMDB, to boost pay of civil servants who make up a key part of their constituency.
"We will still have a small budget deficit in 2018," he said in reference to the primary result. "It will take two or three years to eliminate."
While Temer in June granted wage increases for government workers that the previous administration had guaranteed, he has since opposed hikes for judiciary employees.
Temer's Difficulties
One of Temer's difficulties is that he neither has a popular mandate for controversial measures nor is he particularly well-liked. Only 14 percent of those polled in a July opinion survey by Datafolha considered the Temer administration good or great, compared with 13 percent for Rousseff's government in April.

Part of the mistrust of Temer's government stems from his party's involvement in a two-year corruption scandal that has landed business leaders in prison and embroiled top politicians. Three of Temer's ministers resigned amid allegations of corruption or trying to cover up graft.
Temer said on Monday there would be no obstruction to the ongoing probe known as Carwash, even if it increases its focus on his own party. "Carwash will continue until it reaches its conclusion, and all the crimes are uncovered," he said.
Appointments to state-run companies now follow technical, not political criteria, Temer said, adding that his pledge not to intervene in companies like Petrobras and Banco do Brasil doesn't mean he won't monitor them and suggest action plans for them.
The president was accompanied in the interview by cabinet members, including Foreign Minister Jose Serra, a former presidential hopeful who is said to be eyeing another shot at the country's top job. Serra took the floor on several occasions to offer his views on the state of the economy.
In addition to the federal budget, the president faces other challenges to revive growth and confidence in Latin America's largest nation. Several states face a potentially explosive financial crisis, even after they reached an agreement in June with the administration that delayed debt payments to the Treasury in exchange for adopting spending restrictions.
Last week, 14 states said they could be forced to declare a state of emergency and threatened to use their representatives in Congress to delay major votes if they don't get additional help from Temer.
While the federal government's June agreement with states stands, the Finance Ministry is studying whether there's room in the budget to "do anything else" to help, the president said on Monday.
Convincing Investors
During this week's visit to New York, Temer will meet with investors and advertise his plan to auction off airports, railroads, utilities and oil fields this year and next. He traveled to China earlier this month to attend the Group of 20 leaders' summit. During his travels, he met with executives to promote Brazil as a safe bet for foreign capital.
Temer's success to a large part will hinge on convincing skeptics that the worst of Brazil's crisis is over. He will have to tackle a laundry list of obstacles to doing business that places Brazil toward the bottom of a World Bank ranking on the subject.
There are early signs that the economy may have hit bottom after contracting for six consecutive quarters. Analysts surveyed by the central bank expect growth of 1.4 percent next year, which would be the biggest expansion since 2013.
"My only objective is to put Brazil on track," said Temer.