China Skirts Criticism at Summit as Obama Ally Goes Off Message
By and
Leaders avoid reference to sea dispute ruling against China

Obama and Duterte exchange greetings after embarrassing spat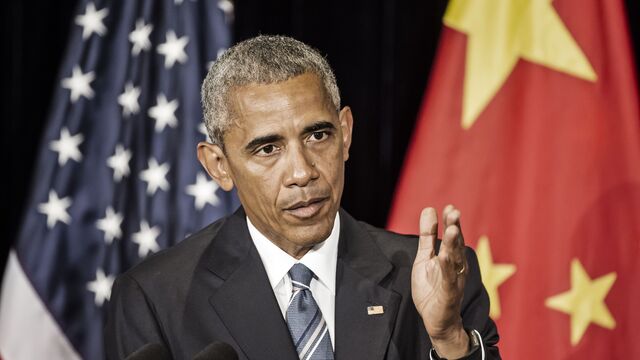 China emerged relatively unscathed this week from an annual summit where U.S. allies in Asia have previously criticized Beijing for its actions over disputed maritime territory.
The meeting ended on Thursday without any official reference to a binding international court ruling in July that rejected China's claims to more than 80 percent of the South China Sea. Moreover, the headlines were dominated by a spat between U.S. President Barack Obama and the leader of the Philippines, an American ally that brought the case against China.
China would be "pretty happy with the outcome," said Mark Beeson, professor of political science and international relations at the University of Western Australia. "There's been no explicit criticism or even mention really of the potential conflict situation in the South China Sea and China's behavior and claims."
China's attempts to assert its dominance over the South China Sea, one of the world's busiest shipping lanes that carries more than $5 trillion in annual trade, have angered Southeast Asian nations with competing claims such as Vietnam and the Philippines. The waterway has become a flash point in a broader tussle for regional influence between China and the U.S. in Asia.
For an explainer on China's maritime push, click here
Yet the meeting of 18 world leaders in the sparsely populated landlocked nation of Laos again underscored the inability of the 10-member Association of Southeast Asian Nations to unify over protecting the interests of key members. The bloc wants to maintain neutrality and is reluctant to alienate either of the big powers, according to Zhang Baohui, director of the Center for Asian Pacific Studies at Lingnan University in Hong Kong. "Asean is becoming irrelevant," Zhang said.
Created in 1967, Asean is governed by consensus, so all members must agree to any statements. That leaves it vulnerable to lobbying by countries such as China, which diplomats have said uses its economic sway over poorer nations like Cambodia and Laos to limit criticism.
This week China got some help from an unexpected source: Philippine President Rodrigo Duterte. Just before his arrival in Laos, Duterte picked a fight with Obama, saying he would curse the president if he brought up criticism over a drugs war that has killed thousands in the Philippines.
Shaking Hands
Obama then canceled a one-on-one meeting with Duterte, who later expressed regret for the insult. While they later shook hands before a gala dinner, the damage was done.
In a statement, Asean leaders merely warned that land reclamation in the South China Sea "may undermine peace, security and stability." Over the past three years, China has reclaimed more than 3,000 acres in the Spratly Island chain, 30 times more than Vietnam.
Asean summit chairman, Laos Prime Minister Thongloun Sisoulith, praised the meeting for its "frank, candid and constructive exchange of views on regional and international issues of common interest and concern."
Duterte also advocated a "soft landing" on the disputes with China and said the Philippines was in "backdoor" talks to reduce tensions after Chinese ships were spotted near the contested Scarborough Shoal. Since the arbitration ruling, speculation has risen that China could seek to build on the shoal and extend its land reclamation to the north of the Spratlys, where it has built three airstrips capable of handing military aircraft.
Phone Hotline
Asean leaders insisted the summit was successful in establishing the ground work for peace, pointing to an agreement with China to set up a hotline to help avoid accidental military clashes in the South China Sea and to develop guidelines for unplanned encounters at sea.
They also set a goal of reaching a framework by next year for a "code of conduct" for parties in the South China Sea. Negotiators have been working toward a pact for more than a decade without major progress, even as navies boost cooperation.
"The focus for Asean is to ensure that peace and stability persists in the region," said Arrmanatha Nasir, a spokesman for Indonesia's foreign ministry, refuting any suggestion Asean had succumbed to Chinese pressure.
Obama on Thursday sought to put a focus on the arbitration ruling. The Permanent Court of Arbitration said China's land reclamation and other efforts to assert control over the South China Sea had "aggravated" tensions, "inflicted irreparable harm" to the environment and "violated" Philippine sovereign rights.
'Raises Tensions'
"I recognize this raises tensions," Obama said in a speech to Asean nations. The ruling is binding and "helped to clarify maritime rights in the region," he said.
The U.S. has also encouraged its allies to develop bilateral defense relationships. Japan has agreed to provide two large patrol ships and lend five used surveillance planes to the Philippines. Indonesia, the Philippines and Malaysia last month agreed on joint naval patrols.
In Vientiane's cavernous National Convention Center, where streams of delegations criss-crossed across marble floors and red carpets, the flurry of activity belied any major progress.
"They've done the normal sort of Asean thing -- anything that is uncomfortable or difficult they kind of gloss over or ignore," Beeson said. "They haven't really done anything to criticize China or to put their own ostensible consensus in jeopardy. It's the usual kind of non-event in a way."
— With assistance by Angela Greiling Keane
Before it's here, it's on the Bloomberg Terminal.
LEARN MORE