China's South China Sea Claims Dashed by Hague Court Ruling
by and
Court rules against China's efforts to control South China Sea

China says ruling is null and void and won't respect it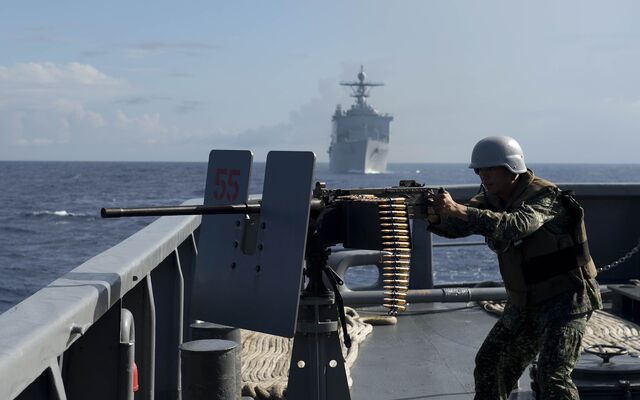 China's prestige as a rising global power suffered a blow as an international tribunal said its efforts to assert control over the South China Sea exceeded the law.
The ruling is a rebuff to years of Chinese activity in the waterway. Under President Xi Jinping, China has built a web of artificial islands with runways and lighthouses. It has shooed away planes and ships from other nations, and its coast guard has clashed with fishing boats. At the heart of Xi's actions is a bid to restore China to great power status and push back against decades of U.S. influence.
China boycotted the process and dismissed the ruling. The outcome may empower other claimant states and undercut Xi's efforts to present China as a responsible player on the world stage. The risk is it now hardens its stance over a waterway that hosts about $5 trillion of trade a year and is a link for global energy shipments.
"There was no evidence that China has historically exercised exclusive control over the waters or their resources," the Permanent Court of Arbitration in The Hague said Tuesday in a statement. As such there was no legal basis for the country's claim, it said.
The ruling went beyond what analysts had expected, and prompted an immediate response from Beijing.
'The Worst'
"The ruling is as bad as was possible," Hu Xijin, editor-in-chief of the Communist Party-run Global Times, wrote in a Weibo post. "This is the worst, the most extreme version of several possible scenarios."
The case was brought by the Philippines, arguing that China's claims of historic rights don't comply with the United Nations Convention on the Law of the Sea. While the court says the ruling is binding, it lacks a mechanism for enforcement. China's assertions are based on a 1947 map showing vague dashes -- known as the nine-dash line -- that cover about 80 percent of the waterway.
For a QuickTake explaining China's territorial disputes, click here.
China's options for responding range from the benign -- seeking talks with other claimants and reducing its military presence in the waters -- to the belligerent. The biggest response would be to start building on the Scarborough Shoal, which it seized from the Philippines in 2012.
China's military said it would "firmly protect" its maritime rights and interests.  "The award is null and void and has no binding force," its Foreign Ministry said in a statement.
Still, "as a builder of the international order and maintainer of regional peace, China will continue to peacefully solve the disputes through direct negotiations with parties concerned," Foreign Minister Wang Yi said.
While the U.S. doesn't take a position on the claims, it worked diplomatic channels to garner support for the court's jurisdiction ahead of the ruling, and it has continued to undertake what it calls "freedom of navigation" maneuvers, sending Navy ships near disputed waters.
"It is our expectation that both parties will comply with their obligations and exercise restraint," State Department spokesman John Kirby said in a statement.
'Hard Look'
The spat more broadly reflects a tussle for influence in the western Pacific between the U.S., which has dominated the region since World War II, and a rising China. U.S. Senator Dan Sullivan, a Republican member of the Armed Services Committee, called for the U.S. to take a "hard look" at basing a second aircraft carrier strike group in the region and cast the ruling as a chance for the US to further boost alliances in the region.
Many of the court's findings concerned the rights to territorial seas generated by various features. China has reclaimed some 3,200 acres (1,290 hectares) of land and built ports, lighthouses and runways. Under UNCLOS, man-made islands don't generate maritime entitlements beyond the natural state of the feature.
'Severe Blow'
"This is a severe blow for China -- it drives a legal coach and horses through China's position that it has historical rights within the nine-dash line," said Euan Graham, director of the international security program at the Lowy Institute for International Policy in Sydney.
China conducted test flights Tuesday at airstrips on newly reclaimed land at Mischief and Subi reefs, Xinhua said, confirming the facilities had been completed. The trial shows the sites can handle civilian flights safely, it said.
"The ruling is likely to push China to a more confrontational position and it will inflame regional tensions," said Ni Lexiong, director of the Sea Power and Defense Policy Research Institute at the Shanghai University of Political Science and Law. "China is likely to carry out more military exercises in the concerned waters in the near term."

Chinese assets barely reacted to the ruling, which came after domestic markets closed. Both the offshore yuan and China stock futures trading in Singapore held on to their gains.
Philippine Foreign Secretary Perfecto Yasay told reporters the country was studying the ruling and called for restraint. "The Philippines strongly affirms its respect for this milestone decision as an important contribution to ongoing efforts in addressing disputes in South China Sea," Yasay said.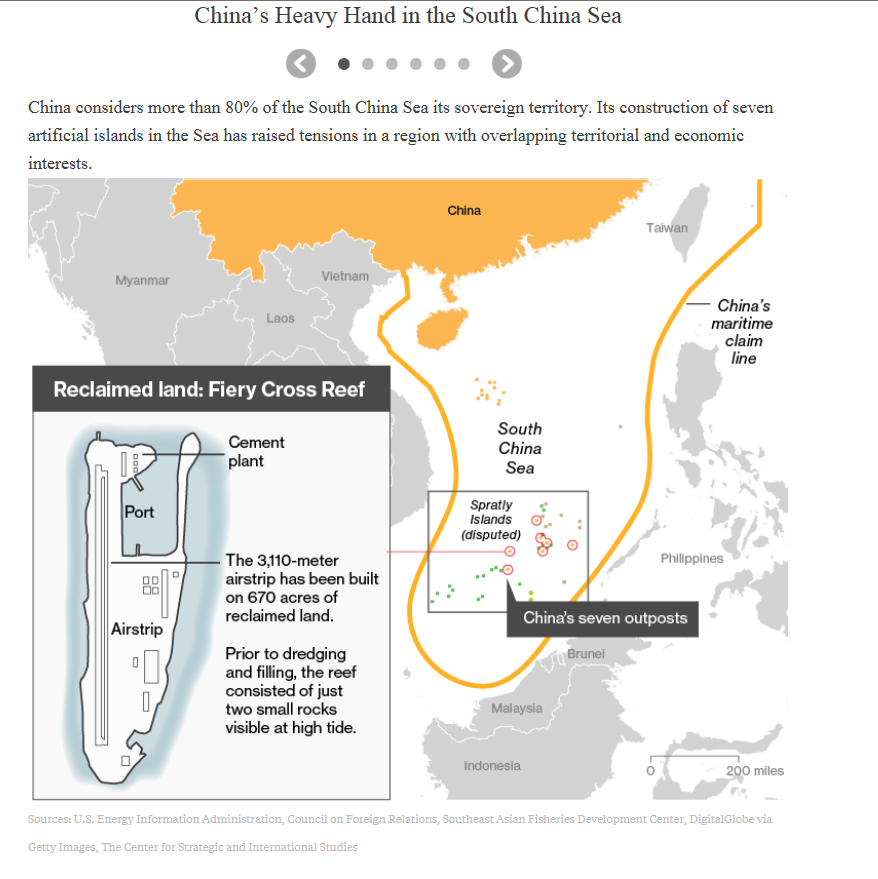 The court found that:
Scarborough Shoal doesn't generate a 200 nautical mile (370 kilometer) exclusive economic zone, known as an EEZ

Mischief Reef, Second Thomas Shoal and Subi Reef were submerged at high tide in their natural condition and don't generate a 12 nautical mile territorial sea or EEZ

Johnson Reef, Cuarteron Reef and Fiery Cross Reef, on which China has completed a 3 kilometer airstrip, are high-tide features that generate a territorial sea, but not an EEZ 
Taiwan-held Itu Aba is also a high-tide feature and doesn't generate an EEZ 


The court found China caused "severe harm" to the environment with its island-building and breached UNCLOS regulations by harassing Philippine vessels.
"Vietnam strongly supports resolving sea disputes through peaceful measures, including diplomatic and legal procedures, without using or threatening to use force in accordance with international law," Foreign Ministry spokesman Le Hai Binh said in a statement.

---
Five Ways China Lost in Tribunal's Ruling on
South China Sea

---
Before it's here, it's on the Bloomberg Terminal.
LEARN MORE