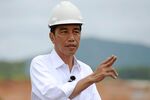 Indonesia has begun counting tax receipts as part of an amnesty that aims to recover as much as 560 trillion rupiah ($42.7 billion) that individuals have hidden abroad. President Joko Widodo, known as Jokowi, hopes to boost government coffers by as much as 165 trillion rupiah this year, but the central bank estimates a more modest 53 trillion rupiah. About 3.7 trillion rupiah was declared in the first two weeks of the amnesty, which runs until March 2017. The Indonesian economy, the biggest in Southeast Asia, has been growing well below its potential and the government needs revenue to finance an ambitious agenda.
1. Why is Indonesia offering amnesty now?
Coal and gold prices, which help drive Indonesia's economy, are down. That means Jokowi needs to boost revenue wherever possible. The budget deficit is forecast to reach 2.5 percent of gross domestic product this year, close to the mandated ceiling of 3 percent. Jokowi says he needs more than $400 billion to fund infrastructure plans that include constructing ports, roads and railways. The state budget can finance about 40 percent of that, with 31 percent coming from private investors. The revenue from the amnesty will also be used to finance rural development, health care and education.
2. How much money is at stake, and where did it go?

Wealthy Indonesians moved funds to tax havens or low-tax locations, such as Singapore, following an economic crisis and ethnic riots in the 1990s. Indonesia's former finance minister, Bambang Brodjonegoro, has said neighboring Singapore is holding an estimated 2,700 trillion rupiah of assets owned by Indonesian companies and individuals. The country of 255 million people also has an abysmal track record in terms of general tax compliance: out of the 120 million people who should owe taxes, only 27 million are registered, and even fewer have been paying up.

3. How does amnesty work?
Individuals and companies will be charged between 2 percent and 10 percent in penalty interest, depending on how soon they participate in the program and whether they only declare funds or repatriate assets as well. That compares with a corporate tax rate of 25 percent and a top personal income rate of 30 percent.
4. What happens to repatriated funds?
Money brought back to Indonesia can be invested in instruments such as bonds sold by the government, infrastructure projects and regulated real-estate investment trusts. The limited number of financial institutions appointed to manage the funds must submit regular reports to the tax office and ensure the money stays onshore for at least three years.
5. Has Indonesia tried amnesty before?
A so-called Sunset Policy was introduced in 2008 to allow Indonesians to regularize their tax affairs, generating revenue of about 7.4 trillion rupiah. It's been called a soft amnesty, which many people ignored because it didn't forgive their total tax liability.
6. Where else has tax amnesty been tried?
Italy, India, Germany and Australia are among the nations that have tried to counter capital flight to tax havens by offering some type of temporary amnesty. Greece, desperate to boost revenue, is working on incentives to attract money parked in Switzerland. Russia recently concluded an amnesty designed to reclaim billions stashed away in the years following the breakup of the Soviet Union. Tax evaders largely shunned an amnesty offer in Pakistan. In the U.S., Republican presidential nominee Donald Trump proposes permitting a one-time repatriation of overseas corporate earnings at a discounted 10 percent tax rate, even though a 2004 repatriation amnesty was criticized for helping chief executives more than it helped regular Americans.
7. What are the markets saying?
On the day the amnesty bill was approved by the parliament in June, the rupiah strengthened 1.2 percent and the Jakarta Composite Index of shares rose 1 percent. The return of Sri Mulyani Indrawati, a former World Bank managing director, as finance minister has boosted confidence in the plan.
The Reference Shelf
A QuickTake explainer on Indonesia's rising tide of economic nationalism.
A QuickTake explainer on secret Swiss bank accounts that aren't so secret anymore.
A Bloomberg Law report on the tax amnesty program.
Before it's here, it's on the Bloomberg Terminal.
LEARN MORE